Space Tourism is the term that's come to be used to mean ordinary members of the public buying tickets to travel to space and back.
Many people find this idea futuristic. But over the past few years a growing volume of professional work has been done on the subject, and it's now clear that setting up commercial space tourism services is a realistic target for business today.
Virgin Galactic, the world's first commercial spaceline owned by Sir Richard Branson's Virgin Group and Abu Dhabi's aabar Investments PJS, completed the first rocket-powered flight of its space vehicle, SpaceShipTwo (SS2) on April 29.
"The first powered flight of Virgin Spaceship Enterprise was without any doubt, our single most important flight test to date," said Virgin Galactic Founder Sir Richard Branson, who was on the ground in Mojave to witness the occasion. "For the first time, we were able to prove the key components of the system, fully integrated and in flight. Today's supersonic success opens the way for a rapid expansion of the spaceship's powered flight envelope, with a very realistic goal of full space flight by the year's end. We saw history in the making today and I couldn't be more proud of everyone involved."
The test began at 7.02am local time when SS2 took off from Mojave Air and Space Port mated to WhiteKnightTwo (WK2), Virgin Galactic's carrier aircraft. Upon reaching 47,000 feet altitude and approximately 45 minutes into the flight, SS2 was released from WK2.
A guest at a charity auction at Cannes has paid 1.2 million euros ($1.5 million) for a trip into space with Leonardo DiCaprio. The winning bidder paid to travel into orbit on a Virgin Galactic spaceship in a seat next to DiCaprio's sometime in 2014.
Virgin Galactic, a commercial spaceflight company owned by Richard Branson's Virgin Group, has accepted more than $70 million in deposits from about 580 individuals who wish to travel to space.
The company is currently accepting bookings for the trips for a deposit of $200,000.
OK we travel to space, but where we will stay?
At Space Hotel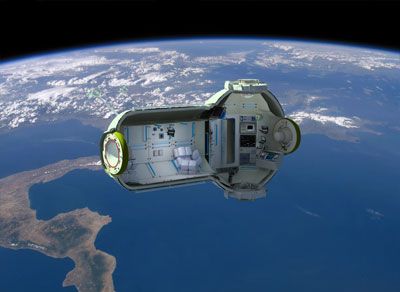 Orbital Technologies is developing the Commercial Space Station which will incorporate the first Space Hotel. Partnered with Russian Federal Space Agency (Roscosmos) and S.P. Korolev Rocket and Space Corporation (Energia), developer of the Soyuz space vehicle and Mir Space Station module of the International Space Station, Orbital Technologies will utilize established technology for its deployment. The Space Hotel will be capable of accommodation up to seven guests for periods from 3 days to six months and will orbit at 250 miles above Earth.
Japan's leading architectural, engineering and general contracting firm; Shimizu Corporation also has a space hotel project. The company says the Space Hotel is a large-scale space structure consisted with a 240m-long elevator shaft and four functional elements. Even non-trained people can enjoy staying in the Space Hotel in Low Earth Orbit.
Tour participants will spend pleasant time viewing down the transparent blue Earth, thin veil atmosphere, beautiful floating clouds and the dawn of the Earth. In addition, they will enjoy astronomical observation, sports, and meal under microgravity as well as communications with the Earth.
64 guest rooms plus 40 staff rooms are arranged in a 140m diameter ring. This ring rotates at 3rpm, which produces an artificial gravity of 0.7G, and tour participants can feel comfortable and relaxed in the guest rooms.