WTM London 2018 will be the world's local meeting place as the event adopts an increased regional focus and evolves into seven co-located events under one roof.
WTM London has about 5,000 exhibitors from 182 countries and regions, holding almost one million business meetings with 10,500 senior buyers – leading to £3.1 billion in business deals.
Furthermore, ideas are generated at WTM London, with about 100 sessions taking place and input from 350 senior industry experts.
Inspiration Zones will be added to the seven regions of the event – UK & Ireland, Europe & Mediterranean, Middle East & North Africa, Americas, Asia, International Hub, and Africa – to make the event more focused on specific destinations.
The new focus will put the spotlight on each of the regions, with the hubs acting as a focal point to highlight the different cultures, challenges and issues.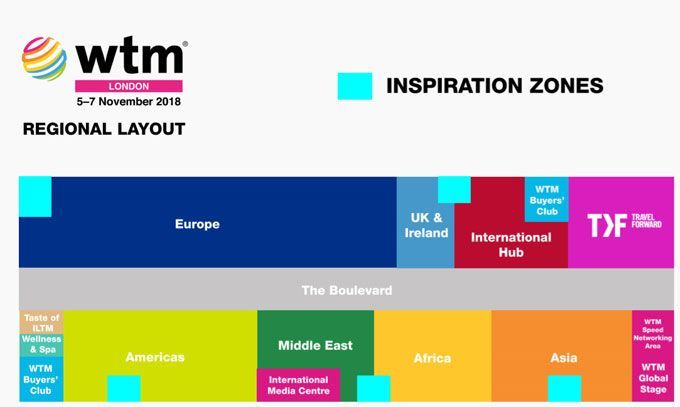 The Inspiration Zones will host regional-focused content sessions on a range of subjects and sectors, as well as networking events. For example, each Inspiration Zone will host a regionally focused session giving insight into the regional travel and tourism industry, including ForwardKeys on the China market, Mintel focusing on the United Kingdom & Ireland travel industry while Euromonitor International will shine a spotlight on the Middle East & Africa.
WTM London, Senior Director, Simon Press, said: "About 50,000 people attend WTM London every year, with almost one million business meetings leading to £3.1 billion in industry.
"However, we are always striving to make the event even more relevant and beneficial for our exhibitors and participants. A regional centre point in the form of hubs will allow each region to debate its specific opportunities and challenges in all sectors. Furthermore, the inspiration zones will be used for specific regionally-focused networking opportunities."
Further changes for WTM London 2018 will see the WTM Global Stage become an Amphitheatre holding 400 delegates. It will continue to host the main session at the event including the WTM & UNWTO Ministers' Summit.