Qatar Airways has officially opened its new Premium Lounge at Singapore Changi Airport at Terminal 1, on Friday 14 February 2020.
The new Singapore lounge serves as the benchmark and blueprint for Qatar Airways' future Premium Lounges worldwide. Featuring an ultra luxurious interior and enhanced offerings, the new Premium Lounge aims to narrow the gap between business and first class lounges.
Qatar Airways Group Chief Executive His Excellency Mr. Akbar Al Baker said: "We are thrilled to have launched our latest international Premium Lounge at Singapore Changi Airport. The lounge design is inspired by modern-day Arabic architecture, reflecting Qatar Airways' heritage.
"Qatar Airways has already set one industry benchmark with our award-winning Business Class seat, Qsuite, now we are redefining the new standard for business class lounges. We want to ensure that the onground experience offered to our passengers matches our iconic five-star airline experience. As the first Qatar Airways lounge following this design concept, it will serve as a new standard for all our Premium Lounges going forward."
"Singapore marks our fifth international Premium Lounge, and we are delighted to develop our portfolio worldwide, offering sophisticated, modern and spacious lounges to our passengers, who can expect to receive exceptional services like never before throughout their journey with Qatar Airways."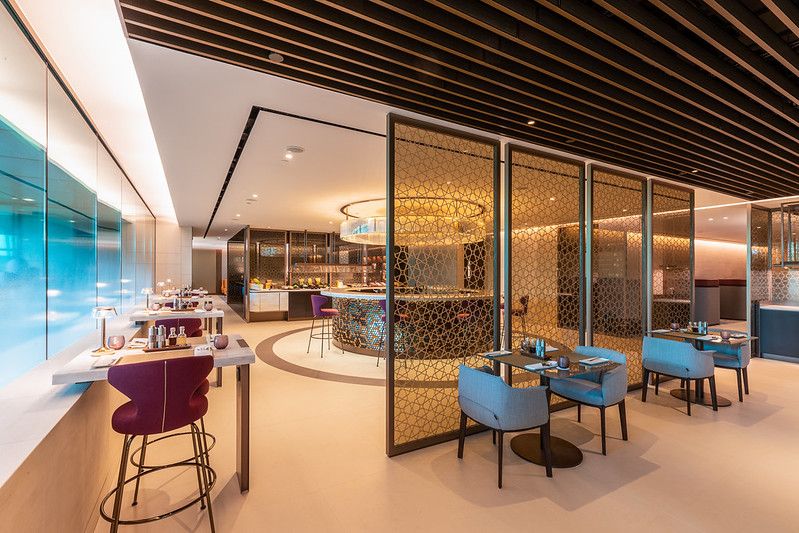 Spanning approximately 700 square metres to accomodate over 85 passengers at once, the Premium Lounge operates daily from 7:30 am to 2:00 am, offering Qatar Airways Business Class passengers a sophisticated environment with contemporary Arabic design elements.
The grand entrance showcases Qatar Airways' signature "Marhaba" engraved stand-stone wall with a luxurious display of fresh white orchids. A botanical patterned wall inspired by Singapore's affinity to horticulture and greenery is also added for a local touch.
Thoughtfully planned for different travellers' needs, the lounge features seven different seating areas including the Principal Lounge, Quiet Pods, Garden Bistro, High Seating, Martini Bar, Brasserie and Private Lounge.
Catering to a premium culinary standard, the lounge is equipped with a full kitchen for freshly-prepared à la carte food orders on demand, on top of an existing buffet spread offering an international menu. A dedicated mixologist is also available at the centrepiece Martini Bar, offering mocktail and cocktail options to complete the five-star lounge experience.
Guests wishing to relax in a quiet environment can occupy one of the five Quiet Pods, which offer a cozy, semi-private space equipped with sound proofing, reading lights, a coat hanger and universal charging points.
Other unique features include custom furniture pieces that offer both style and comfort to each passenger. This includes a carefully designed sideboard, strategically placed next to the seats, and includes a lamp, universal plug point, wireless charger and a compartment suitable for storing handbags and personal belongings.
Qatar Airways has a growing portfolio of Premium Lounges in key markets. These exclusive Arabic-inspired lounges are located in London, United Kingdom, Paris, France, Beirut, Lebanon, and Bangkok, Thailand.