Whether for international travel or due to having symptoms, we are in need of COVID-19 tests.
Coronavirus tests are now available for all persons experiencing symptoms. Not only patients but travelers also need to get a Covid-19 test as many countries require Negative Covid-19 test results from travelers as borders reopening and international travel resumes.
The U.S. Centers for Diseases Control and Prevention says there are two kinds of tests that are available for COVID-19: antibody tests and viral tests.
An antibody test might tell you if you had a past infection. An antibody test might not show if you have a current infection because it can take 1–3 weeks after infection for your body to make antibodies.
A viral test tells you if you have a current infection. The testing process involves taking a swab of your nose and/or the back of your throat. The swab samples are then analyzed by the scientists in special laboratories. WebMD says, "It may take a lab about 24 hours to run your test. But you might not get your results for several days."
In the UK, the British Government aims to return test results within 48 hours of a swab being taken by officials at regional testing sites, mobile testing sites, satellite centers, or NHS facilities. However, test results may take up to 72 hours to be returned for home test kits, reports Express.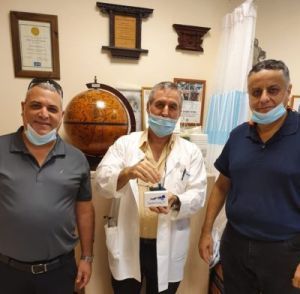 Israeli scientists are testing a new ultra-fast gargle-and-spit test for coronavirus on hundreds of patients, and report that so far it is proving 95-percent accurate. The Sheba Medical Center and Israeli company Newsight Imaging have built a USB-powered machine the size of an ashtray, which takes just one second to conduct a light analysis of mouthwash that a patient has gargled. "This system is very rapid, cheap, and is looking reliable. It's suitable for mass screening, as well as airport screening, screening at nursing homes, and even screening at home," Prof. Eli Schwartz, head of the trial and of Sheba's Center for Geographic Medicine, told The Times of Israel.
The machine, called the SpectraLIT, does not require any chemicals, and no medical skills are required to operate it. If the new screening method becomes widespread and makes testing more accessible it will save a great time and money for all of us. According to the article, the tube and specially-formulated mouthwash that are given to patients will cost 25 cents and once the machines are in mass production, they will be available from $200.
Eyal Yatskan, CTO & Co-founder Newsight Imaging revealed, "The corona pandemic forced us to be extremely creative. With our team of experts in chip design, optics and microbiology, in a great collaboration with Prof. Schwartz and his team, we were able to utilize our ground-breaking advantages in the machine vision world, validated in our 3D technology, into the spectral analysis world, and specifically to virus detection. Our AI based solution is unique as we have developed all the technology solution starting from a spectral chip, through its firmware, boards, and of course AI algorithms."
"We are very excited about this collaboration between Sheba Medical Center's ARC program and Newsight. I am confident that given Newsight's leading technology and ARC's innovative approach and ecosystem of collaborators, we will able to provide cutting-edge diagnostic solutions that could be transformative in our battle with COVID-19 and beyond. ARC, which stands for Accelerate, Redesign and Collaborate, aims to bring to market game-changing innovation, and Newsight is a perfect partner to join the ARC global ecosystem," added Dr. Eyal Zimlichman, Deputy General Director, Chief Medical Officer and Chief Innovation Officer.
Photo Credit: Newsight Imaging