Accor announced the opening of its first MGallery hotel in Athens, Greece. Athens Capital Hotel – MGallery is bringing the brand's captivating style to the very central location of Syntagma Square.
This new beacon of hospitality signifies the arrival of the MGallery Hotel Collection in Greece, introducing visitors to this upscale, cultural and highly visited city through a stay that embodies art in all its expressions, contemporary gastronomy and bespoke accommodations.
Athens Capital Hotel – MGallery is the perfect starting point from which to discover Athens, a unique European metropolis which embodies an indulgent combination of ancient character and contemporary lifestyle through sightseeing, high-end shopping and art in all its forms. From the Acropolis of Athens to the Odeon of Herodes, a remarkable landmark awaits behind every turn, and this truly experiential hotel will forge unforgettable memories for its guests by leading them on an evocative journey through the city's hidden gems.
The hotel boasts 177 guestrooms, including 18 suites and one impressive Presidential Suite which will provide an unparalleled experience of hospitality. Each room is its own aesthetic universe, celebrating the sheer elegance of pure lines and noble materials with designs that subtly integrate Greek symbols and patterns, whilst its views showcase the vibrant Greek capital in all its glory. Delightful cuisine and charming service are hallmarks of the hotel's restaurants and bars, providing an experience that's both soulful and refined, sparking feelings of warmth in guests and allowing them to form a genuine connection with the city. The MFlavours Main Restaurant will take diners on a journey to the Mediterranean in its refined yet relaxed setting, while the property's Galerie Café on the ground floor will serve as the area's newest and most in-demand urban meeting point; the ultimate hot spot to converge in the beating heart of Athens.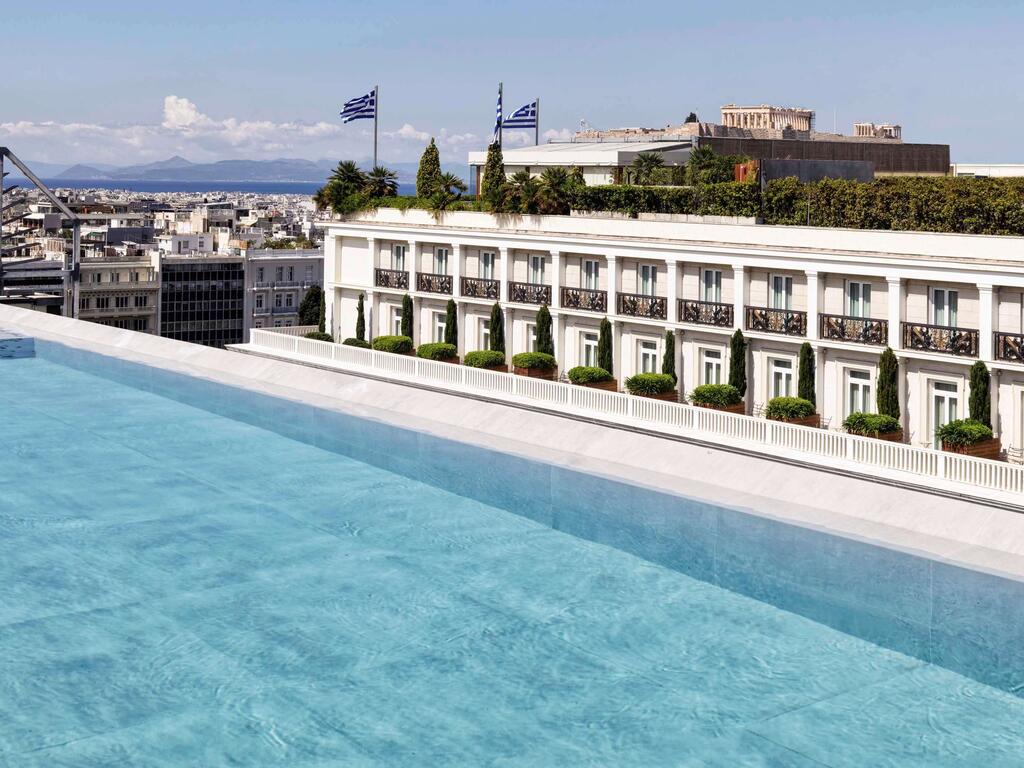 The Mappemonde Rooftop Pool Bar is the city's new place to be, sharing its panoramic views of this multifaceted destination from morning until night. It is graced by the most impressive part of the Mappemonde installation, a stunning collection by George Lappas which was created in 1988 and includes 3,000 pieces, most of which are staged along the hotel's atrium area spanning from the 10th floor to the lobby, creating an impressive interactive masterpiece to trigger the curious minds.
Every MGallery Hotel Collection stay is enriched with unique storytelling; this is why each one leads its guests on a journey through its own special Iconic Object, an item of great significance to the city, and Memorable Moments, an experience which introduces guests to the distinctive character of the area. At Athens Capital Hotel – MGallery, the Iconic Object is the emblematic Akrokeramon, a show of architectural finesse which graces the city's neoclassical buildings and is symbolic of the hotel's philosophy and unique sense of hospitality. Its Memorable Moment, crafting the traditional Komboloi, is here to draw guests on a journey through time to an authentic Greek workshop, to help foster memories that they will never forget.
Mr. Jean-Charles Delgado, COO of Accor Southern Europe, stated: "We look forward to the opening of Athens Capital Hotel as it is the first ever MGallery Hotel Collection in Greece and will introduce this storied Accor brand as a premium addition to the excellent establishments which comprise our presence in the country. From its unparalleled location on Syntagma Square, this hotel will come to be synonymous with the capital city itself, the one place where guests can experience the true meaning of Athens. We are happy to have joined forces with a group whose core values we share, Lampsa Hellenic Hotels SA, in welcoming the MGallery philosophy to Athens and Greece. This significant partnership speaks to the hotel's unique ambience and excellent services. We truly believe that the opening of this new hotel will bring a new era in the Athenian hospitality."