Following the declaration of the World Health Organisation about COVID-19 as a pandemic, Meetings on the Bridge took the necessary precautions and performed its program online.
Meetings on the Bridge (MoB) is the international co-production and networking platform organised within the scope of the Istanbul Film Festival in collaboration with Anadolu Efes. Meetings on the Bridge Short Film Workshop was initiated with the support of Istanbul Development Agency (ISTKA) in 2017 aiming to highlight the importance of the short films for the careers of new generation filmmakers and to contribute to the increase of high-quality productions with international potential.
MoB Short Film Workshop will also be organised online between 14-23 September with the support of Asteros Film and in collaboration with Short By Short and Film Rental İstanbul.
The teams of 5 selected projects will be working with acclaimed short film writers, directors and producers on script, production, project packaging and pitching.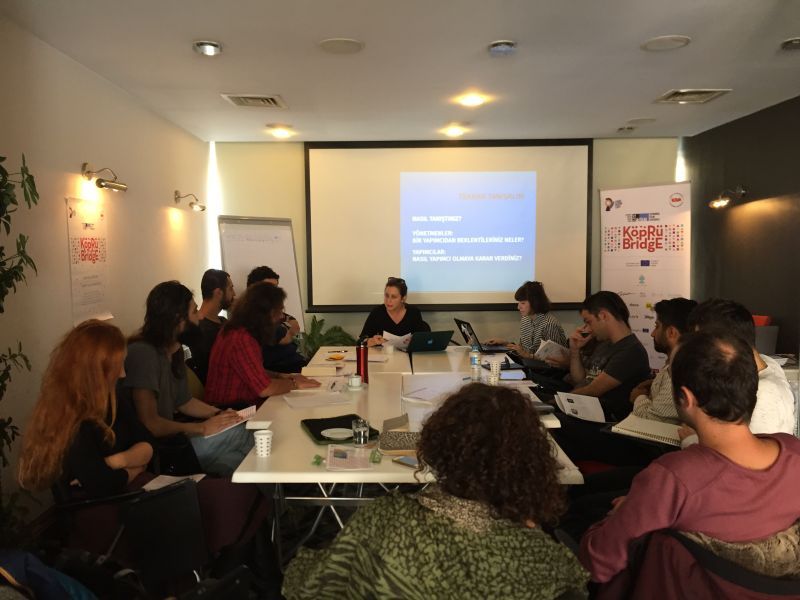 They will also get feedback on their projects from a director of photography, an artistic director, an assistant director, a production manager and a casting director who will analyse the projects from their point of view as film professionals.
Support for Projects:
Short by Short workshop scholarship for two projects
Short By Short 5000 TL production support and Film Rental İstanbul – Red Raven 4.5K camera support
*the first project that starts shooting will be supported.
PROJECTS SELECTED FOR THE 5TH SHORT FILM WORKSHOP
Director: Hasan Aydın, Producer: Betül Tanacıoğlu Aydın
Director: Onur Canpek, Producer: Bersis Yılmaz
Director: Tilbe Cana İnan, Producer: Onur Sefer
Director: Can Koçak, Producer: Mehmet Ali Balioğlu
Director: Müge Temel, Producer: Ezgi Kızıltan
Trainers
Annamaria Aslanoğlu – Producer, İSTOS Film
Nazlı Elif Durlu – Writer, director
Ziya Demirel – Writer, director
Gülin Üstün – Head of Meetings on the Bridge
Beste Yamalıoğlu – Meetings on the Bridge Coordinator
Panelists
Deniz Eyüboğlu – director of photography
Ezgi Baltaş – casting director
Murat Çelik – production manager
Serdar Yılmaz – art director
Ulaş Parlakyıldız – first assistant director
For the rules and regulations, submission form and further information: https://film.iksv.org/en/workshops-and-funds/short-film-workshop