Pre-eminent hotel and resort brand Aman has signed a long-term partnership to manage Aman Residences in one of the most vibrant destinations for global travelers, Bangkok.
Aman Nai Lert Bangkok, which will comprise of branded residences as well as a luxury hotel, slated for completion in 2023.
Aman Nai Lert Residences Bangkok's formal sales launch is scheduled for 10 September. A preview gallery of the residences has also been newly completed in time for the launch.
Led by Ms. Naphaporn "Lek" Bodiratnangkura, CEO of Nai Lert Park Development, Nai Lert Group has invested over THB 6 billion into developing its hospitality portfolio, which now includes Aman Nai Lert Bangkok. Carrying an extraordinary legacy forward, Ms. Bodiratnangkura is a fourth-generation member of Thailand's revered Nai Lert family.
Nestled in the century-old tropical gardens of Nai Lert Park, Aman Nai Lert Bangkok will offer a unique connection to the rich heritage and history of Bangkok enhanced by the gracious traditions of Thailand. A haven of calm amid the leafy embrace of its namesake park, residences of unrivalled style and luxury will rise from its leafy canopy alongside a 52-suite Aman hotel.
Aman has always envisioned its destinations as tranquil sanctuaries and is the revered pioneer in the ultra-luxury and niche segment of hideaway resorts. Aman Nai Lert Residences Bangkok represents a unique opportunity for its permanent residents; an unmatched address infused with the Aman way of living, centred on understated, elegant and architecturally designed environments – a perfect complement to the cosmopolitan bustle of Bangkok.
Housed within a 36-storey edifice in Nai Lert Park, Aman Nai Lert Residences Bangkok will be built in the spirit of Aman and located on floors 11 to 28 providing a lofty sanctuary amidst the lush oasis of the park. With uninterrupted views of Nai Lert Park and the Bangkok skyline, the residences will be limited in numbers with no more than 50 units split across 18 floors. The one-, two-, and three-bedroom units and penthouses have a private entrance, offer an abundance of space and most feature private terraces.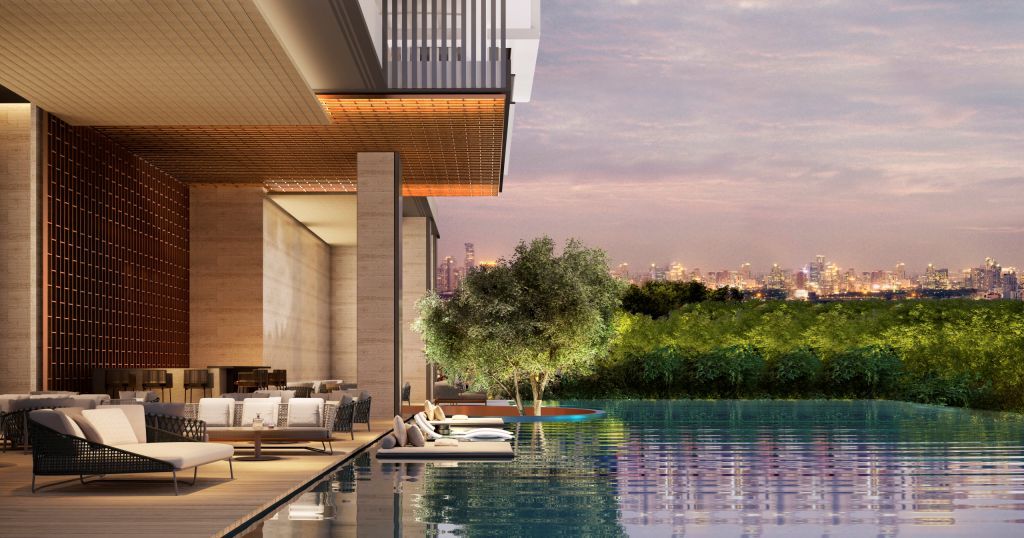 Residents and their guests will have access to several exclusive residents-only facilities. These will include a private Dining Room & Lounge serviced by its own dedicated chefs, a Garden Lounge with a library and business centre opening directly onto Nai Lert Park, and a private infinity swimming pool on the 30th floor. A private Aman Fitness Centre and Yoga/Pilates Studio will be for the exclusive use of residents and their guests, who will also enjoy preferential access to the hotel's comprehensive Holistic Wellness Centre and all its facilities. Residence amenities will also include a private Aman Kids' Club and a children's swimming pool, as well as a private garden within Nai Lert Park. At this moment in time, access to space and nature has never been so important.
In addition, among the intuitively selected additional offerings at the pet-friendly property are the Nai Lert Butlers, in-residence spa and salon, sommelier, chef and dining services, and "away from home" maintenance.
Meanwhile, floors 9 to 19 will house just 52 Aman Nai Lert Bangkok hotel suites along with Arva, Aman's Italian all-day dining concept, Nama, a Japanese restaurant, the Aman Cigar Club and a 1,500-square-metre Holistic Wellness Centre, which will include a fully integrated medical clinic, a wellness lounge, and a spa house.
"Aman has always sought the finest locations in the world, and we recently expanded our vision to include select cities. Thailand holds a special place in our heart ever since the conception of Amanpuri, and our brand, in Phuket over 30 years ago. Aman Nai Lert Bangkok will further cement our vision to bring the Aman ethos to global cities. We look forward to opening this world-class development which celebrates the exquisite legacy and gracious traditions of the Nai Lert family and fusing it with own unique formula" commented Vladislav Doronin, Chairman and CEO of Aman.
"We are honoured to have been entrusted with the privilege of operating Aman's flagship development in Bangkok" says Ms. Bodiratnangkura. "Nai Lert Group takes pride in its spirit of hospitality and we are pleased to be able to weave our legacy with Aman's."
Aman Residences offer owners all the beauty, simplicity, and warm hospitality of an Aman resort, balanced with the perfect seclusion of a private home in the world's most remarkable locations. Currently, Aman Residences are located in 15 global destinations, including Aman New York (coming soon), Amanpuri (Thailand), Amanoi (Vietnam), Aman Niseko (2023) and Amanemu (Japan), Aman Miami (2023) and Amanyangyun (Shanghai, China).
Enveloped within the secluded, eight-acre private oasis, Aman Nai Lert Residences Bangkok is in proximity to shopping malls, cultural centres, hospitals, and international schools. Completion and handover of the Aman Nai Lert Residences Bangkok, offered under a long-term, 30-year leasehold ownership, are estimated for the end of 2023.