The latest trends from the European cities reveal important insights that show the attractions' visitation on the rise this summer compared to the spring.
European Cities Marketing (ECM) and TCI Research partner to monitor the COVID-19 city tourism rebound with the TRAVELSAT© Cities' Heartbeat Dashboard.
This partnership promotes and delivers unique and timely destinations' data to ECM members, with a focus on Visitors' experience, City e-reputation and Resident sentiment. The exclusive Dashboard enables cities across Europe to monitor the pace, the profile, and the quality of visitation rebound in the region.
The latest trends from the Cities' Heartbeat Dashboard include:
Visitation of iconic attractions in August has significantly rebounded (foot traffic x 2 compared to May/June), with a larger presence of tourists vs local visitors (74% in August vs 39% in May). In July/August, 1 in 4 visitors came from 300+ kms away.
Though still volatile, the European Cities' e-reputation recovers, seeing its Net Sentiment Score rising from -12 in Mid-March (crisis peak) to over 40 points in September in average.
After decreasing in July and August, visitors' satisfaction measured in 21 iconic sites rebounds in September reaching a level in line with pre-COVID-19.
The specific visitor sentiment related to sanitary safety reached 52% of positivity during summer.
Residents interviewed in 6 cities in Europe (Barcelona, Paris, London, Stockholm and Rome) still see tourism as a very positive driver for their city. 7 in 10 state tourism needs financial support to help the local economy recover. They also express a strong need for a sustainable tourism development and willingness to take part in the local tourism development.
"Data are essential to navigate in rough seas. We are proud to deliver timely data to ECM Members while tourism is back. The holistic approach covering visitors and residents' sentiment is showing both positive trends and vigilance points for measuring and guiding the expected return to growth in the new COVID-19 era". says Olivier Henry-Biabaud, CEO of TCI Research TRAVELSAT©.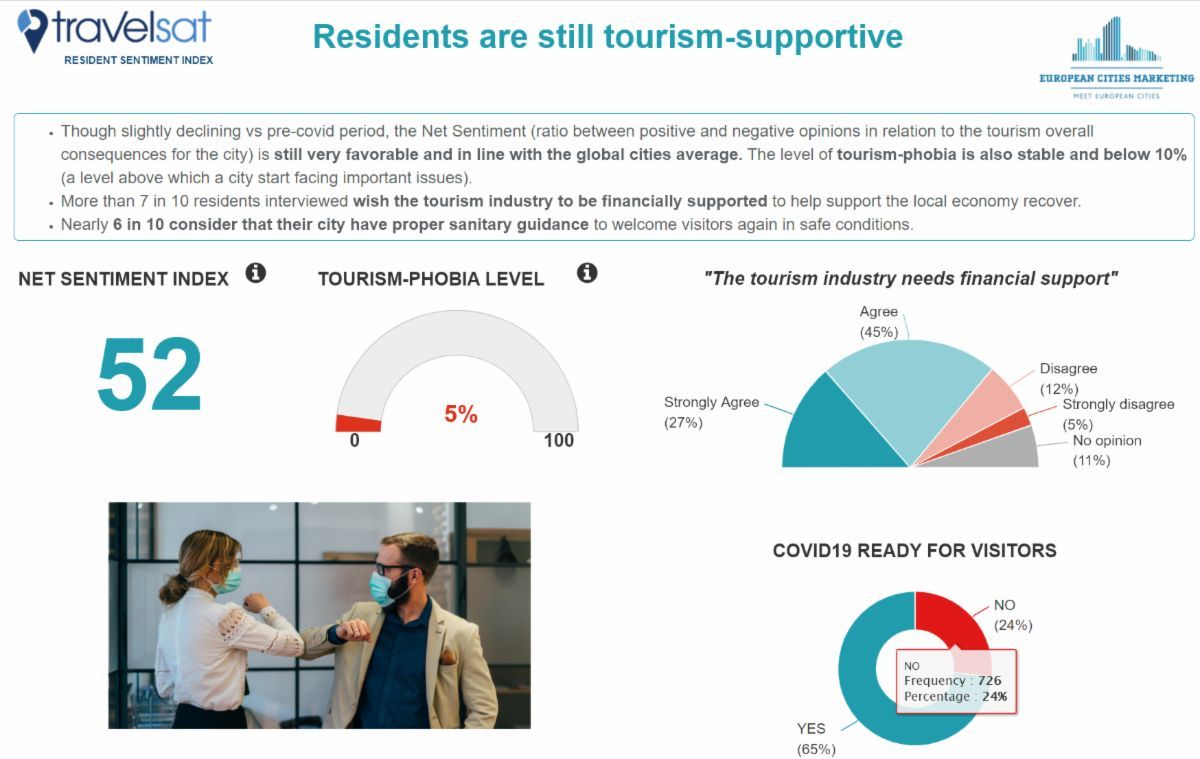 Petra Stusek, ECM President, adds "In a time of crisis, it's more than ever crucial for our members to have access to relevant data that will help them in their daily work. This new partnership with TCI Research allows us to emphasise on the quality of the image people have of our cities whether it's about the sanitary safety, the satisfaction of visitors and also the resident's sentiments. We strongly believe the data revealed from this tool will inspire our members on their path to recovery."
As part of the #ANewTomorrow initiative, ECM's latest webinar on "Planning for Recovery" held on October 7 featured a presentation of the Cities' Heartbeat Dashboard.
Olivier Henry-Biabaud together with 2 ECM member cities London and Valencia illustrated how reputation, satisfaction and sentiment are essential key milestones to prepare cities to recovery in an inspiring presentation.
Check the webinar here
All ECM members have exclusive access to the TRAVELSAT© Cities' Heartbeat Dashboard.