Bvlgari creates an Italian sensorial experience with its new Bvlgari Allegra fragrance collection.
With five eaux de parfums and five magnifying essences, Bvlgari Allegra offers myriad combinations to create a uniquely personal scent. From the composition to the bottles inspired by colored gems, this fragrance collection is both joyful and precious.
"All roads lead to Rome, all magnificent ingredients lead to Rome, and all fragrances lead to Rome," says Jacques Cavallier about his creations for Bvlgari.
Inspired by the history and lifestyle of Italy, the master perfumer put his passion and art into crafting the five Bvlgari Allegra eaux de parfums and five Magnifying essences. The multiple combinations are the fruit of superb creativity.
For the fragrances, the citrus notes of Riva Solare evoke an endless Italian Riviera holiday, while the roses of Fiori d'Amore are like kisses in the eternal city. The gourmand amaretti and orange blossom in Dolce Estasi are inspired by the attachment to family and childhood memories. The cocktail of fruity notes in Rock'n'Rome echoes a spritz aperitivo shared at sunset. And the chypre accord of Fantasia Veneta with patchouli, peach and vanilla is an invitation to extravagant Venice masked balls.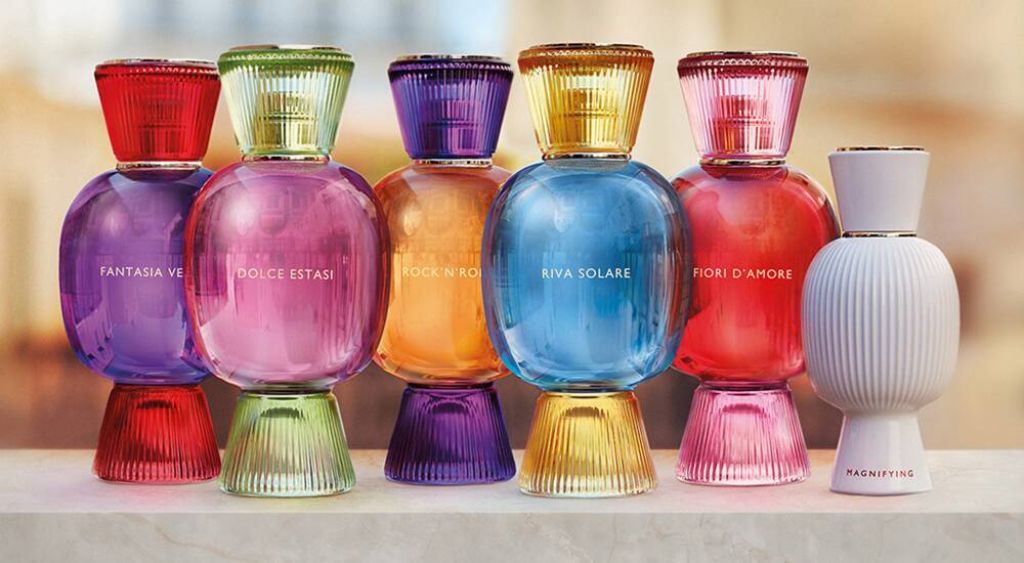 The glass bottles are inspired by the sculptured elegance of Roman columns and the colors of precious gems, like the ruby red and purple amethyst of Fantasia Veneta. Each of the fragrances can be combined with an essence to create a truly personal scent. The five Magnifying essences have white bottles, symbolizing the purity of the ingredients: musk, bergamot, rose, patchouli and vanilla. These natural gems echo Bvlgari's celebrated jewelry expertise. The Roman Maison pays the same meticulous attention to the gems and plants it uses, and to the planet. The Bvlgari Allegra collection is made entirely in Europe and protected by packaging that uses recycled materials. The glass bottles are designed to facilitate recycling.
Bvlgari chose artist and model Solange Smith to embody the different facets of the new fragrance collection. From a dip in the Mediterranean in Capri to a café terrace in Rome, Solange embraces the eaux de parfums and essences in a whirlwind of joy, love and exuberance, a perfect ode to Italian dolce vita.