The European Commission today announced the creation of a Digital Green Certificate to facilitate safe free movement inside the EU during the COVID-19 pandemic.
The Digital Green Certificate will be proof that a person has been vaccinated against COVID-19, received a negative test result or recovered from COVID-19.
It will be available, free of charge, in digital or paper format. It will include a QR code to ensure security and authenticity of the certificate.
The Commission will build a gateway to ensure all certificates can be verified across the EU, and support Member States in the technical implementation of certificates. Member States remain responsible to decide which public health restrictions can be waived for travellers but will have to apply such waivers in the same way to travellers holding a Digital Green Certificate.
The Digital Green Certificate will cover three types of certificates –
vaccination certificates,
test certificates (NAAT/RT-PCR test or a rapid antigen test), and
certificates for persons who have recovered from COVID-19.
The Commission will build a gateway and support Member States to develop software that authorities can use to verify all certificate signatures across the EU. No personal data of the certificate holders passes through the gateway, or is retained by the verifying Member State.
All people – vaccinated and non-vaccinated – should benefit from a Digital Green Certificate when travelling in the EU. To prevent discrimination against individuals who are not vaccinated, the Commission proposes to create not only an interoperable vaccination certificate, but also COVID-19 test certificates and certificates for persons who have recovered from COVID-19.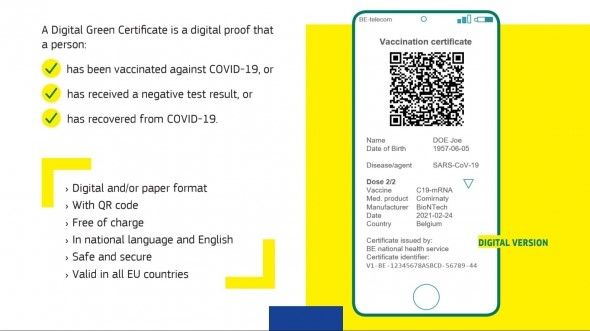 The Digital Green Certificate will be valid in all EU Member States and open for Iceland, Liechtenstein, Norway as well as Switzerland. The Digital Green Certificate should be issued to EU citizens and their family members, regardless of their nationality. It should also be issued to non-EU nationals who reside in the EU and to visitors who have the right to travel to other Member States.
The Digital Green Certificate system is a temporary measure. It will be suspended once the World Health Organization (WHO) declares the end of the COVID-19 international health emergency.
Can European Tourism Sacrifice by Not Allowing Travelers from China?
On an EU-wide basis, the health pass will only be valid for EMA-approved vaccines, but individual member states can deviate and accept other vaccines.
Hungary, the Czech Republic and Slovakia are all using, or plan to use, Chinese and Russian vaccines, which currently are not European Medicines Agency – EMA approved.
Despite the pandemic, China is still the number one source market for international tourism. Spain alone attracted almost 700,000 Chinese in 2019.
China To Only Allow Visitors who have had Chinese-made vaccine
In contrary to the EU's decision not allowing travelers who have had Chinese-made vaccines, China is resuming visa processing for foreigners from dozens of countries, but only if they have been inoculated against Covid-19 with a Chinese-made vaccine. The announcements made by Chinese embassies in about 20 countries this week vary slightly for each country but mostly pledge a return to pre-pandemic visa processing for some groups, so as to resume "people-to-people exchanges in an orderly manner", reports The Guardian.
In Europe; Belarus, Hungary, Montenegro, Turkey, and Serbia authorized the use of Chinese vaccines. Thailand, Malaysia, Laos, the Philippines are some of the countries in Asia that will receive Chinese vaccines, according to CGTN.
More than 60 countries have authorized the use of Chinese vaccines. China has donated or is donating COVID-19 vaccines to 69 developing countries in urgent need and is exporting vaccines to 43 countries.
"I believe that eventually both EU and China will ease their vaccine rules. Chinese COVID-19 vaccine manufacturers will be able to get authorization from EMA and China will also allow travelers who have had vaccines that are accepted safe to use by WHO", says Ozgur Tore, Managing Editor of ftnnews.com