Hamilton Hotel Washington, D.C. unveils a new standalone event space, The Schuyler, just six blocks from the White House.
Located in the lively downtown area of D.C., The Schuyler will serve as a premier destination for high-profile gatherings, weddings, corporate events, celebrations, and conferences.
The hotel partnered with Stonehill Taylor and RED Hospitality to transform the historic Almas Temple, a Masonic building constructed in 1929 for the Almas Shrine, into Washington D.C.'s newest 12,000 square foot, bi- level, multi-purpose setting for events of up to 1,200 people.
The Schuyler was named in honor of Eliza Hamilton, wife of Alexander Hamilton, and her sisters. Eliza and the two oldest Schuyler sisters, Peggy and Angelica, were socialites, philanthropists, and consummate hostesses known for playing an active role in entertaining royalty, artists, diplomats and renowned leaders of the time. Emblems of strong, modern women during the time of the American Revolution, The Schuyler sisters' elegance, forward-thinking spirit, and modernity serve as inspiration for the smart design and versatility of this eponymous event space.
"We are thrilled to announce The Schuyler as the newest addition in the renaissance of the Franklin Square neighborhood, joining D.C.'s newest museum, Planet Word and the renovated Franklin Square Park" says Mark Driscoll, Managing Director at Hamilton Hotel Washington D.C.
"The marquee event space fills a gap in Washington, D.C., offering top of the line event capabilities while preserving the rich history of its original structure. We couldn't be more excited to unveil this new project and continue to promote Washington D.C. as a world class destination."
The Schuyler is ideally located at 14th and K Street, facing the soon-to-be reopened Franklin Square Park, which is undergoing a $13.9 million renovation. The event space conveniently features an adjacent subterranean parking garage with unrestricted in/out valet parking. For those taking public transit, The Schuyler is less than a two minute walk from McPherson Square Station (Orange, Blue and Silver lines).
Location
Arriving by air or train travel is also easily accessible with a ten minute drive from Ronald Reagan Washington National Airport (DCA), forty-five minute drive from Washington Dulles International Airport (IAD), and just under an hour drive from Baltimore-Washington International Airport (BWI), and just under 15 minutes by car from Union Station.
Design
Having previously served as home to the Washington chapter of the Almas Shriners, The Schuyler's design honors its past while forging a future as a modern event space. The renovated space maintains the original, multi-colored terra cotta facade of the Almas Temple, original flooring and column structures, while other interior elements have been renovated to suit modern day event needs. Guests are offered a unique sense of arrival via an illuminated tunnel that is juxtaposed with the dramatic grandeur of the main event space.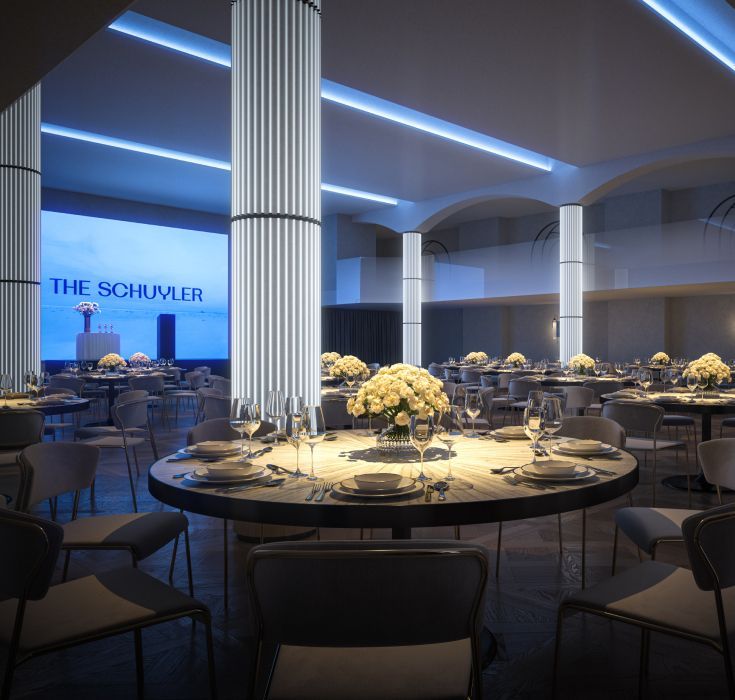 The Schuyler's main event space combines a refined 21st century aesthetic along with highlighting the building's unique Art Deco past, all while seamlessly weaving in the new technological offerings. New additions by Stonehill Taylor include illuminated columns with adjustable LED stripes with over one million custom color combinations, handcrafted, artisan arches between existing columns, and design elements such as a state of the art felt acoustic panel layered on the Mezzanine level to soften the space.
The Schuyler can accommodate up to 700 guests reception style and up to 450 guests seated, and features a mezzanine level with unobstructed views of the main ballroom for additional seating, over 4,000 square feet of pre-function space, four flexible breakout rooms, a VIP green room, custom staging capabilities, and on-site storage to accommodate every event need.
Audio-Visual Capabilities
The venue will play host to the vision of creative companies and individuals looking to produce bold, inspired and unforgettable experiences. The Schuyler features top-of-the-line technology and services, with audio-visual capabilities by Dobil AV such as dynamic and static lighting, projectors and monitors, providing an ideal canvas for D.C.'s most iconic events. Additional audio-visual elements include complimentary wifi, brand-supporting lighting technology, full-ceiling state of the art sky-hook rigging system, a 12 foot by 9 foot retractable screen, as well as the flexibility for guests to bring their own teams for ultimate event customization.
Food & Beverage
Helmed by seasoned Food & Beverage Director Joseph Palminteri, The Schuyler offers a full suite of in-house catering services through Hamilton Hotel's Via Sophia, the sophisticated, modern osteria on property, as well as SOCIETY, D.C.'s first luxe microbar. Guests can create a custom dining experience to suit each event need, including everything from passed hors d'oeuvres to a full three-course seated dinner. The space, which offers an industrial catering kitchen, allows for outside caterers including a list of preferred partners from some of the top vendors in the Washington, D.C. area.
The Schuyler will open in March 2021, and event bookings can be made by visiting https://www.theschuylerdc.com/
Originally designed by the renowned French-born architect Jules-Henrí de Sibour in 1922, Hamilton Hotel Washington, D.C. is located at 1001 14th Street, NW, minutes from many of the city's popular sites and monuments. Hamilton Hotel offers stylish accommodations, amenities, extraordinary service and some of D.C.'s most exciting dining options at Via Sophia and luxe micro-bar, Society. The hotel is listed on the D.C. Register of Historic Places and the National Register of Historic Places.
Photo credit: Douglas Friedman