Since the start of the pandemic, we are canceling our vacations, postponing bucket-list trips, and attending virtual conferences. We are looking forward to packing our suitcases again and travel as we did before. But how has the pandemic changed the hotel experience?
Hilton's recent To New Memories campaign revealed that 94% of Americans surveyed plan on doing just that once travel restrictions lift, and that 91% of those who travel say that their hotel experiences are a memorable part of their trip.
What can travelers expect as they hit the road now and in years to come?
Evolving Hotel Design – When You Step Foot in the Hotel Lobby
Lobbies have historically been designed to encourage social interactions, but the pandemic has changed these expectations, and as people venture out of their homes, crowded spaces may deliver a sense of anxiety. But balance that with the basics of human nature: People ultimately will want to gather and engage with one another again. These human and cultural interactions are often one of the main reasons why people love to travel!
That's why the future of our hotel public space design will gracefully embrace social distancing, enable contactless guest journeys, and deliver innovative new ways of blurring the lines between indoors and out. Now, more than ever, spaces will be designed to give people the choice to socialize or not, to curate the landscape of their own experience, and to feel safe as they venture back outside of their isolated home cocoons.
For example, the lobby bar is often the epicenter of energy within our hotels, where people anticipate and seek out denser occupancy. By introducing the amenity of flexible and adaptable spaces, our guests will have the choice of personalizing their environment to deliver more connections or seek out protective comfort. The thoughtful introduction of architectural screens activated with biophilia and art will be coupled with smaller scale movable dividers and creative seating designs to allow for a more adaptable and customizable space for evolving guest needs.
On a parallel design track, we are working hard with engineers and scientists to identify solutions to purify the air, ensure a variety of clean surface solutions and introduce biophilia. Providing more connections with natural light and air is not only helpful in delivering safer environments, but these venues are also the spaces that our guests find warmer and more inviting.
While the pandemic has fueled a dramatic evolution in how we approach design for our hotel lobbies, the changes are still consistent with our previous goals of creating warm and comfortable spaces that people will enjoy occupying and reconnecting with travel.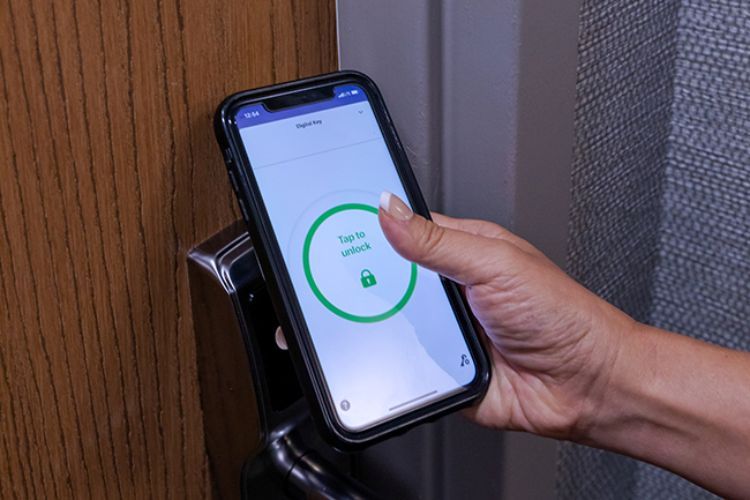 Contactless Guest Experience – From Check-In to Check-Out
As consumer expectations shift, so does Hilton's approach to providing the best guest experience possible – and this means that future travelers will experience a digital transformation in hotels.
Before even stepping foot on property, guests are quickly embracing and opting for a contactless experience with the ability to check-in and choose their rooms from the palm of their hand using the Hilton Honors app.
When a guest uses the Hilton Honors mobile app to check-in online, they can also request a Digital Key on their smartphone to access their hotel room, fitness center, pool and other hotel areas requiring a key. After a long day of travel, Honors members can digitally check-in and swiftly bypass the Front Desk to head straight to their room, using Digital Key to unlock their door.
Since its 2015 launch, Hilton's industry-leading Digital Key technology has expanded rapidly. It is now available to guests in 80% of Hilton's more than 6,400 hotels in 45 countries around the world and has been used to electronically open more than 28 million doors.
The contactless options don't stop there. Three years ago, Hilton announced the launch of its proprietary, first-of-its-kind, high-tech guest room that enables guests to personalize and control every aspect of their stay from their mobile device. This technology also helps to reduce contact with some of those high-touch areas such as light switches, thermostats and TV remotes, providing guests with extra peace of mind, particularly given the current circumstances.
Aside from technology, travelers will also notice more minimalism within hotel rooms and community spaces. It has been a few years since Hilton removed extraneous items like throw pillows, but other similar items such as in-room notepads, pens, brochures and room-service menus are disappearing, too, replaced in some cases with QR codes.
Emphasis on Cleanliness – In Your Room Away from Home
Guests will find that their future travel experiences will include more transparency regarding cleaning standards. In the past, cleaning was something that the industry tried to accomplish behind-the-scenes when few guests would be around to see it happen. Now, in a significant shift, guests find it reassuring to see housekeeping teams around the hotel as they carry out our more rigorous cleaning regimes as part of Hilton CleanStay – and this mindset is here to stay.
For example, guests will notice a room seal on their door signifying that the space has been thoroughly cleaned by hotel staff and is ready for entry. Rather than daily room service being the norm, guests will also have the opportunity to select which cleaning services or room materials they'd like to experience, or avoid, during their stay, such as replenishing soap or towels.
These new standards aim to provide yet another level of reassurance to hotel guests and will continue to evolve based on their needs.
Creativity at Play – Reimagining Dining
Pandemic or not, humans have an innate need to connect with each other – and a passion for doing so with food or drinks. The hospitality and restaurant industries saw the extreme lengths that people will take to do so despite the current challenges, especially during the winter months as friends and families gathered outside in igloos or in parkas huddled around outdoor heaters.
Throughout this unique time, Hilton Team Members have employed some ingenious strategies to deliver exceptional food, drink and service. As an example, for events, Conrad DC used to regularly use buffet-style meal sets. Now, event attendees are presented with individually portioned food, properly presented and artfully as well as thoughtfully displayed. This evolved experience maintains the luxury standards while incorporating Hilton EventReady with CleanStay best practices.
While moments like virtual wine tastings may fade, new products such as to-go cocktail pouches and grab-and-go meal sets are expected to have a place in the hotel experience as an add-on to a guest's stay or event offerings.
Trusted Brands Become Home Base for "Comfort Travel"
Recent surveys from around the world show that people are eager to travel – and are already planning their trips. The biggest motivator? Reconnection with the people and places they love.
Stepping out into the world again will require courage for some, however, and they will look to brands like those in the Hilton portfolio to ease them back into travel – hotels that allow them to maintain the routines that have brought them comfort over the past year. Will the hotel be clean and disinfected? Is the staff ready to welcome visitors back? Can they go contactless with their check-in and use their phone as their room key? What if they need to change or cancel their trip? Can they maintain their fitness and wellness routines while on the road?
A familiar name like Hampton by Hilton, DoubleTree by Hilton, or Homewood Suites by Hilton has never been more important to many travelers.
Hilton has placed an emphasis on programs such as its Digital Key and contactless check-in, enhanced booking flexibility, additional training for Team Members on the latest health and safety protocols and new approaches to fitness centers and dining. Even the marketing campaign, To New Memories, is designed to remind people of what they love about travel and reassure them that Hilton is ready now for their return.
Additionally, the pandemic has changed the way the world works out. From Shanghai to New York, in just a year, people dramatically adjusted their daily exercise routines and creatively reimagined their living spaces to make room for stationary bikes, yoga mats or just a place to take a deep breath from time-to-time – uninterrupted.
Programs like Hilton's Five Feet to Fitness, which offers a fully equipped workout space just five feet from the bed, seem especially prescient. Available in select hotels, Five Feet to Fitness rooms feature more than 11 different pieces of fitness equipment and accessory options.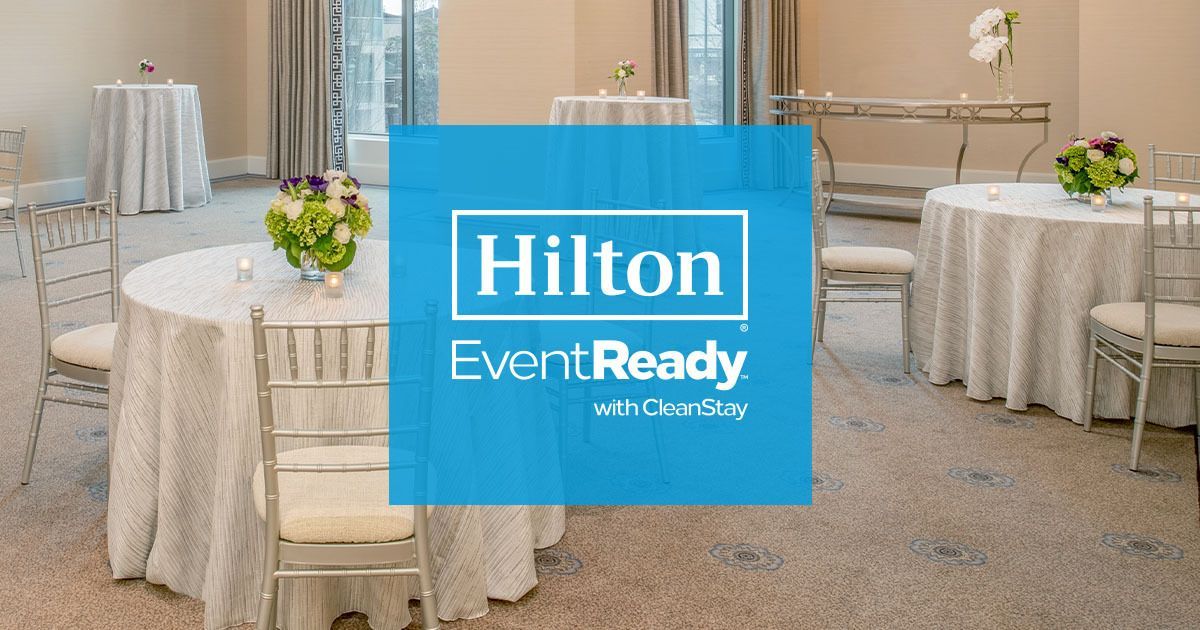 Flexible Offerings – Attending a Meeting or an Event
Over the course of the year, people around the world have truly embraced a new-found sense of flexibility, growing increasingly comfortable with meeting using online video and gathering attendees from home offices across the globe. And, while the convenience of turning on your computer five minutes before a meeting has, at times, been appreciated, the power and importance of in-person events, and the subsequent connections that arise from them, is undeniable.
As the world emerges, the current untethered office is going to start to merge more with in-person events – making the ability to successfully deliver truly hybrid events even more critical. Already, event planners are looking for spaces that allow a combination of on-site and expanded on-screen attendees, as well as seeking expert support to help them execute the events.
As part of Hilton EventReady with CleanStay, Hilton's approach to elevated cleanliness and customer service as it relates to meetings and events, the company recently launched a set of EventReady Hybrid Solutions. This new suite of offerings directs event planners to Hilton's hybrid-ready hotels while also providing them with planning resources, including an expanded Hilton EventReady Playbook and flexible customer offers. And the results? While these resources continue to expand and evolve, first-adopter event planners enthusiastically report expanded attendee numbers, high engagement and positive attendee satisfaction – all during an incredibly complex time.
Exclusive Perks and Ongoing Support for Loyalty Members – When Booking a Stay and Beyond.
The pandemic provided an opportunity for loyalty programs to prove their value and commitment to their members. Time and again, Hilton was among the first to offer reassurance that the company was on the side of travelers, even when they couldn't travel. Some of these modifications include automatically extending Point expiration dates and status, and rolling out 2021 program changes to provide greater flexibility for Hilton Honors members.
Whether travelers choose to stay for one night on a business trip, or over a long weekend with their families, one thing is for certain – Hilton Honors members will continue to enjoy exclusive access to flexible benefits, special offers and elevated experiences. Members will also always get the lowest price on all Hilton branded hotels when they book directly on Hilton.com or the Hilton Honors app.
Additionally, the award-winning guest-loyalty program for Hilton's 18 brands will continue to provide members with the ability to earn Hilton Honors Points on eligible Hilton hotel spend, as well as with relevant partners, to redeem for free nights across more than 6,400 Hilton hotels and with select partners.
Hilton Honors continues to evaluate the program to meet the needs of its members and provide greater value. For 2021, Hilton Honors cut the status qualifications in half, lowered milestone bonus night thresholds, and extended Free Weekend Night Reward certificate expiration dates for Hilton Honors American Express card members, among others – and this commitment to provide members with flexibility and value will continue into the future.