Hot on the heels of The Kimpton Goodland Hotel – Fort Lauderdale Beach's opening, Botanic at The Goodland opens as a signature new restaurant adjacent to the boutique hotel.
Headlined by seasoned and native South Floridian, Executive Chef Rashaad Abdool, Botanic takes inspiration from the farms, fields, and waters of Florida. Beautiful and breezy, it features cocktails concocted with fresh juices and shareable plates that encourage guests and locals to linger and connect over their meals.
"With the opening of Botanic, The Kimpton Goodland Hotel is set to become a must-visit destination for anyone in search of an authentic and stylish experience in Fort Lauderdale's North Beach Village neighborhood," said Nils Bergmann, Kimpton Goodland Hotel's General Manager.
"This spot was designed with both guests and locals in mind, and we hope that they serve to connect those two audiences through food, drink and beyond."
The Talent
Executive Chef Rashaad Abdool, a culinary expert with 10+ years of experience in fine dining and high-volume service, joins the new hotel's team from his most recent Executive Chef role at The Diplomat Prime and previous Executive Sous Chef role at Stephen Starr's Steak 954 restaurant. He specializes in beautifully crafted and plated Mediterranean style dishes. His vision for Botanic at The Goodland includes smaller, shareable plates made of locally sourced and fresh ingredients. Exciting future projects for Botanic include seasonal wine dinners and curated chef's table experiences.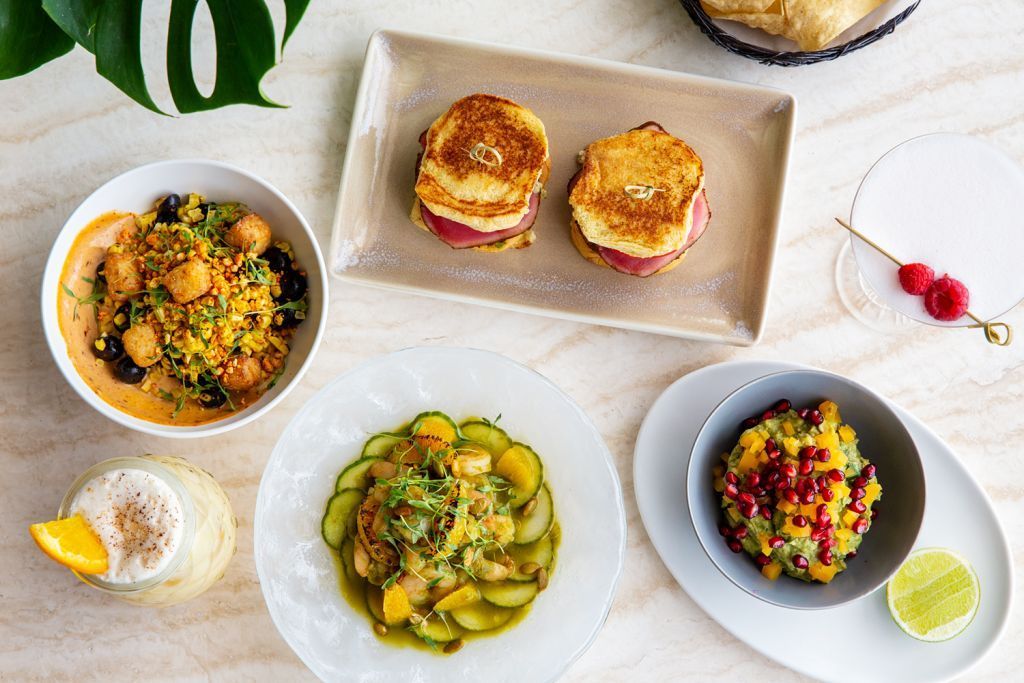 The Taste of Authentic South Florida
Open for breakfast and dinner, Botanic at The Goodland is a new American restaurant rooted in the traditions of regional South Florida cuisine, with a culinary program focused on bold, healthful, and eclectic flavors that honor local ingredients and the Latin and Caribbean influences that have shaped the region.
The menu is comprised of more than 20 dishes that can be easily shared or combined to build a traditional meal. From fresh-made ceviche to house favorites like grass-fed flank steak and pappardelle, and a breakfast menu that delivers creative spins on traditional favorites like French Toast with orange-vanilla challah, apple raisin compote, and maple syrup, Botanic is guaranteed to please all palettes.
The restaurant's beverage program embraces the thriving cocktail culture of South Florida, with an array of classic and tropical-inspired offerings. Rum, gin, and tequila all play a prominent role, while carefully selected wines and local craft beer round out the offerings.
The Look and Feel
Botanic's design leans into a nostalgic, mid-century feel, in keeping with the Goodland's overall ambiance and heritage. A curated selection of vintage and eclectic finds adds a layer of depth complemented with rich textures and details like wood and woven wall coverings. Floral pattern touches are also sprinkled in throughout decorative pillows and art accents, bringing a decidedly Sunshine State lushness to the experience. Botanic's intimate indoor setting provides multiple seating options including couches, occasional chairs, and communal tables. Al-fresco dining overlooking the pool is also available, as well as a cozy private dining room reserved for small parties and intimate gatherings.
Coming Soon
Debuting in late May is Botanic's poolside counterpart, Good Bar. At Good Bar, a retro vibe prevails, featuring an effortlessly cool design that is light and breezy, with pastel furnishings, varied seating types, and a cheeky blue and white striped awning. Providing a laid-back respite from the standard Fort Lauderdale scene, Good Bar is a place where cares dissipate and the good times roll. Featuring easy drinking cocktails made up of gin and tonics, inventive frozen drinks and patio-perfect whites and rosés as well as, a concise 15-item menu of shareable plates and lighter fare, some of which is shared with the Botanic menu. Fish tacos, avocado toast and a great selection of flatbreads lead the way. A killer playlist complements its cool and airy ambience, giving locals and guests a chance to mix, mingle and kick back.
Later in the fall, The Kimpton Goodland will introduce a third restaurant and bar concept to round out the experience atop its eighth-floor rooftop pool. This gorgeous space will feature stunning views of the Intracoastal and the ocean, plus a full bar with small plate options.