Following the launch of nine new rides, including the world's tallest swing ride, along with a whole new F&B and retail experience at BOLLYWOOD PARKS™ Dubai, Dubai Parks and Resorts™ has monumental plans for the rest of 2021 with its array of exciting launches.
These include two world-first rides and record setting thrills inspired by the Now You See Me and John Wick movies at MOTIONGATE™ Dubai, the region's first and a world record breaking wooden coaster at BOLLYWOOD PARKS™ Dubai, and the launch of the Middle East's first LEGOLAND® Hotel at LEGOLAND® Dubai.
Rami Mashini, Vice President Sales, Marketing and Strategic Partnerships at DXB Entertainments said: "Being one of Dubai's leading tourist destinations, we are dedicated to continually think about ways to innovate and expand our incredible theme parks. We promise amazing experiences to our guests and this year will see Dubai Parks and Resorts launch record breaking concepts that will set the standard for theme parks in the region, and will raise the thrills at the park to new heights. It is an exciting time for everyone as people are able to move around Dubai more freely, and international travellers can start to plan their trips to Dubai. We couldn't be happier to be launching these world-first rides, and an incredibly unique hotel destination for families this year, so we can look to the future together and have something exciting to look forward to."
This year, the region's largest Hollywood-inspired theme park, MOTIONGATE™ Dubai will substantially add to its offering as the park will become home to the first ever theme park coaster that has been inspired by the global hit action franchise, John Wick, as well as introducing the world's fastest single-car spinning coaster that has been based on the popular heist thriller franchise, Now You See Me. Reaffirming the already established popularity of MOTIONGATE™ Dubai among adult audiences, these roller coasters will also earn MOTIONGATE™ Dubai the impressive record for the maximum number of rollercoasters in a single theme park in the Middle East.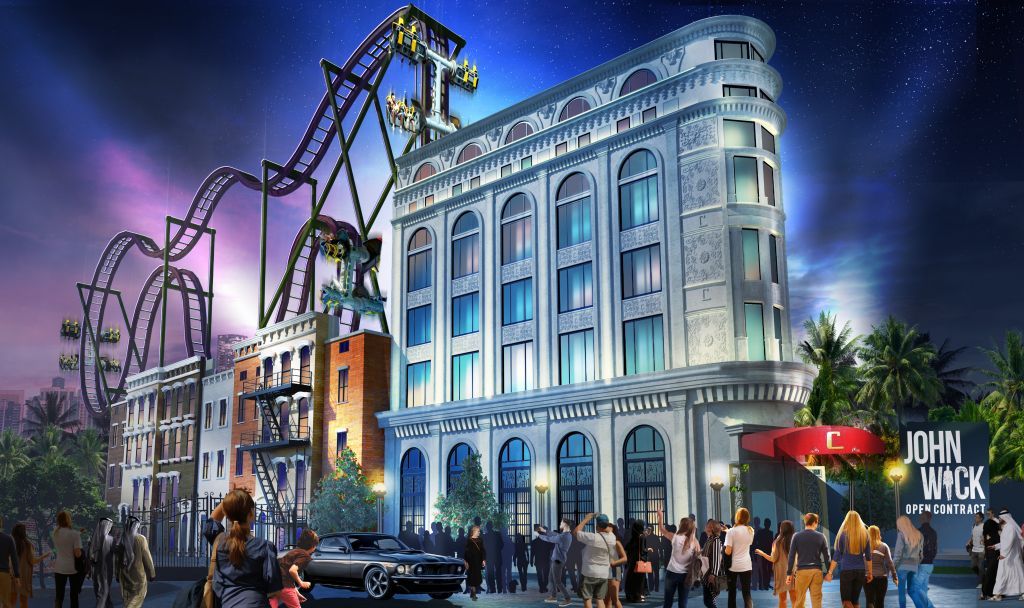 Adding to Dubai Parks and Resorts™' title of the Middle East's largest integrated theme park destination, BOLLYWOOD PARKS™ Dubai will continue its exciting year of record-breaking activity when it launches the region's first-ever wooden coaster later this year. With a track length over 1km and speed of 88km/h, the high thrill coaster will boast 33 discrete moments of 'airtime', which is the most moments of airtime in any wooden coaster in the world, and will grant the park its second world record of the year. The exciting launch leads on from the re-launch of the region's only Bollywood inspired theme park in January 2021, that saw BOLLYWOOD PARKS™ Dubai introduce an entire new offering that included the world's tallest swing ride, the 460ft Bollywood Skyflyer, nine action-packed world-class rides and attractions, and authentic food, beverage and retail options.
Dubai Parks and Resorts™ is also set to officially launch the Middle East's first LEGOLAND® Hotel this year. The 250 room unique hotel has been built with children in mind as its star guests and will give families the chance to truly immerse themselves in a playful LEGO® themed world.
Dubai Parks and Resorts™ continues to operate with enhanced health and safety measures in-line with current guidelines from the UAE Ministry of Health and Prevention, and approved international practices from the World Health Organisation. To keep visitors and staff safe, all parks enforce social distancing measures, contactless payment, reduced capacity in rides, shops and restaurants, and enhanced cleaning and disinfection measures.