DoubleTree by Hilton celebrates its latest milestone as the brand enters its 50th country and marks its debut in Germany.
Germany's first DoubleTree by Hilton property opens in Frankfurt: DoubleTree by Hilton Frankfurt Niederrad.
Over the past 50 years, the brand has experienced rapid global expansion and continues to serve as a symbol of hospitality for business and leisure travelers around the world. DoubleTree by Hilton now has more than 615 properties with over 141,000 rooms, with recent openings in unique destinations including DoubleTree by Hilton Surabaya (Indonesia), DoubleTree by Hilton Santiago Kennedy (Chile) and DoubleTree by Hilton Perth Waterfront (Australia). The brand also has a robust global pipeline of more than 200 properties including DoubleTree by Hilton Cote des Arcadins Beach Resort & Spa (Haiti), Doubletree by Hilton Rome Monti (Italy) and DoubleTree by Hilton Putrajaya Lakeside (Malaysia).
"DoubleTree by Hilton is one of the portfolio's fastest growing brands and we are delighted to celebrate the 50th country milestone and our first hotel in Germany," said Shawn McAteer, global brand head, DoubleTree by Hilton.
"We look forward to expanding our global footprint to develop more properties in key destinations, from overwater bungalows in sought-after resort locations to high rise rooftop bars with 360-degree views of major city skylines."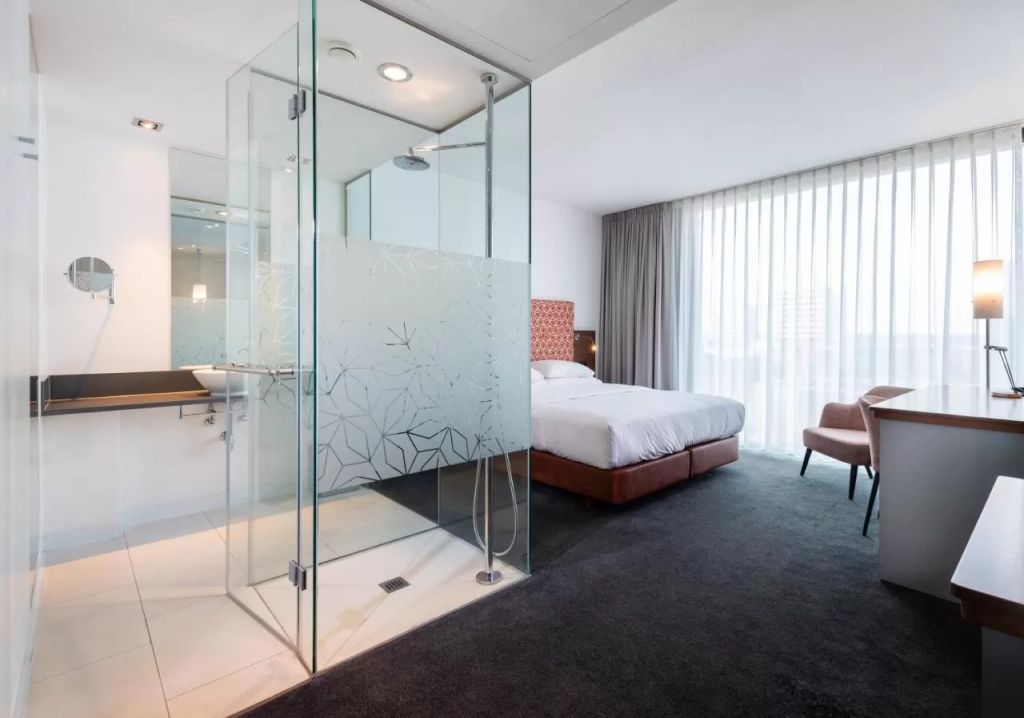 One of the major factors behind the brand's successful expansion over the past decade is the increase of conversions of non-Hilton properties, with DoubleTree by Hilton Frankfurt Niederrad serving as a prime example. In fact, 64 percent of DoubleTree by Hilton's global properties are conversions, including the most recently opened DoubleTree conversions – DoubleTree by Hilton Noumea Ilot Maitre Resort (New Caledonia) and DoubleTree by Hilton Lubbock (Texas).
Approximately five miles from Frankfurt Airport and nearby the light rail and Frankfurt-Niederrad train station, DoubleTree by Hilton Frankfurt Niederrad is ideal for both business and leisure travelers. The 146-room property is conveniently located in the business district nearby major corporate offices such as Nestle Deutschland, Nintendo of Europe, Universal Pictures International and more. The hotel is also in close proximity to museums, walking trails, the shopping district and other popular attractions, such as the Frankfurt Zoo and Eschenheim Tower.
Each room at the DoubleTree by Hilton Frankfurt Niederrad features floor-to-ceiling windows with picturesque views of the city's unique skyline, specialty beds designed specifically for Hilton to ensure a comfortable night's sleep and a 24-hour fitness center with Precor equipment and Sony applications allowing guests to track their performance. Guests can enjoy unique food and beverage offerings including an all-day restaurant with a terrace seating area, serving traditional European dishes and an assortment of German beers and specialty cocktails. The property also offers multifunctional meeting and event space that can host up to 140 attendees.
As a response to the COVID-19 pandemic, DoubleTree by Hilton Frankfurt Niederrad is participating in the Hilton CleanStay Program to help guests enjoy a clean and safe experience during their stay. The new standards under Hilton CleanStay include a Hilton CleanStay Room Seal to show that a room has not been accessed since being thoroughly cleaned and disinfected, additional cleaning of common areas and items, innovative disinfection technology and flexible housekeeping options.
DoubleTree by Hilton Frankfurt Niederrad will mark Hilton's eighth property in Frankfurt, joining Hilton Hotels & Resorts, Hilton Garden Inn and Hampton by Hilton to provide travelers with even more hotel options in the city. As the global hospitality company's largest market in Continental Europe, Hilton has 34 open hotels in Germany and nearly 20 in the development pipeline.
DoubleTree by Hilton is part of Hilton Honors, the award-winning guest-loyalty program for Hilton's 18 world-class brands. Members who book directly through the preferred Hilton channels have access to instant benefits, including a flexible payment slider that allows members to choose nearly any combination of Hilton Honors Points and money to book a stay, free standard Wi-Fi and an exclusive member discount that can't be found anywhere else. Members also enjoy popular digital tools available exclusively through the industry-leading Hilton Honors mobile app.