Formula 1 has announced a record-breaking race calendar for 2022. FIA's World Motor Sport Council approved 23 Grand Prix.
The season will begin in Bahrain on 20 March and finish in Abu Dhabi on 20 November, one month before Christmas – with Miami hosting the first of two races in the United States.
Due to ongoing pandemic conditions, China will not be included on the 2022 calendar. China will be restored to the calendar as soon as conditions allow. Turkey is also not included on the 2022 calendar.
"The 2022 season follows an unprecedented two years for Formula 1 in which the COVID-19 pandemic resulted in a revised calendar of 17 races in 2020 and 22 races in 2021 – a huge achievement given the international nature of the sport," said F1 in a statement.
"While we hope the virus recedes further in the coming months for everyone around the world, we will continue to closely monitor the situation and work closely with the promoters and national authorities."
President and CEO of Formula 1 Stefano Domenicali said, "We are excited to announce the 2022 calendar as we prepare to enter a new era for the sport with brand new regulations and cars for next year that are designed to create closer racing.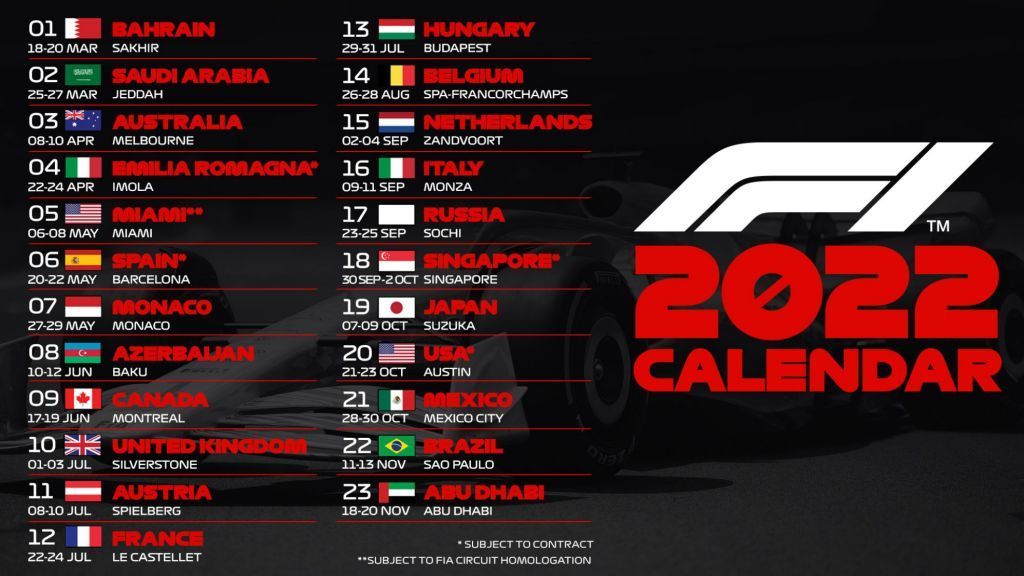 "We are very pleased with the interest in Formula 1 from places that want to host races and the growth of the sport and believe we have a fantastic calendar for 2022 with destinations like Miami joining famous and historic venues. The pandemic is still with us, and we will therefore continue to be vigilant and safe – to protect all our personnel and the communities we visit."
Jean Todt, FIA President said, "The 23 Grands Prix in 2022 will be an exciting showcase for the all-new cars and I am looking forward to it."
Most recently in F1, Valtteri Bottas secured his first race victory in more than a year while Max Verstappen reclaimed the championship lead from Lewis Hamilton in an engaging Turkish Grand Prix, which was run last week on Oct. 10.