While in the UK we're left dreaming of a white Christmas year after year, there are countries around the world that are living the dream.
For those of us unable to travel, it seems that we are destined to miss out on the snow each year. Yes, we experience snowfall but, as research from Betway Insider shows, we just never seem to experience it at Christmas.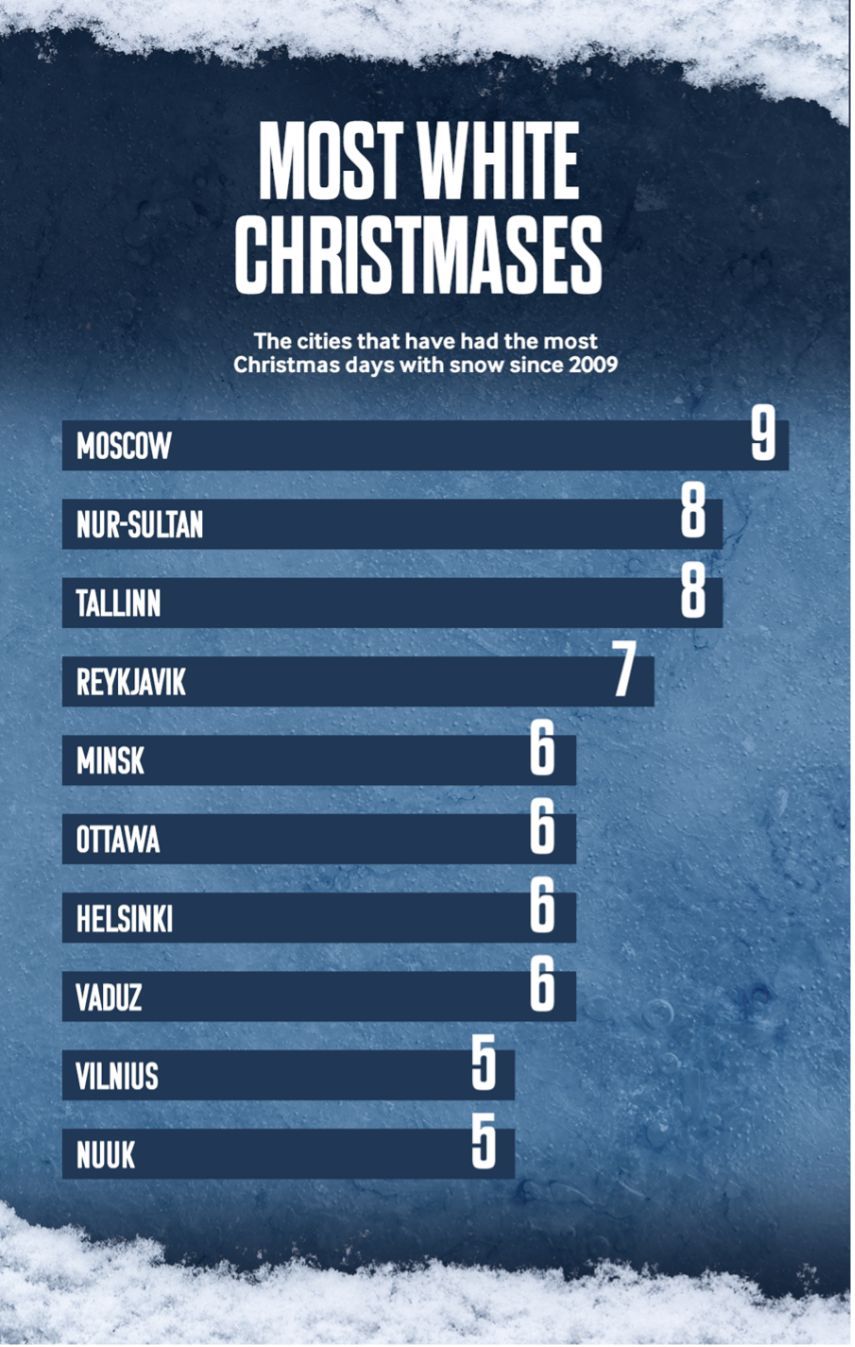 So, where do we need to go if we want to see the white stuff on Christmas Day? Is there a particular country or city that gives us the very best chance to experience the magic of a white Christmas? The same research from Betway Insider seems to point us towards Russia.
What's to love about Russia?
If you are going to go on the hunt for a white Christmas, and Russia seems the logical destination, then it's best you know a little more about the country and what to expect. The truth is that Russia is an amazing destination for tourists. As the largest country in Europe and Asia, it spans an incredible 17 million square kilometers. Much of this land remains untouched.
No matter what you're seeking, Russia is bound to have it. From stunning scenery in National Parks to amazing architecture in Red Square, Russia is a country that offers something for all tourists. On top of all of this, what makes Russia even better is that you have a great opportunity to experience a white Christmas which is always guaranteed when visiting regions within Russia's Far East and the Arctic.
Moscow – the snowiest capital city
For many, Red Square may be what draws them to Russia's capital city. Its architecture is unique and, in its own way, beautiful. However, Moscow has another draw too. It is the capital city where you are most likely to experience a white Christmas. What other reason do you need to give it a visit?
Records have been kept since 2009 showing where snow falls each Christmas and which cities are blessed with making the white Christmas dream a reality. These records show that in this time, Moscow has experienced nine white Christmases. That means that there have only been two where the snow has failed to appear and we are still waiting to see what this year brings. Looking at past Christmases, it's fair to say that Moscow has a pretty decent chance of being covered in snow again this year.
Are there any alternatives to Russia?
Moscow may be the city that has experienced the most white Christmases since 2009, but that doesn't mean that you won't see this anywhere else. Both Nur-Sultan and Tallinn come in a close joint second with eight white Christmases each. In third place, there is Reykjavik which has still seen an impressive seven. There are plenty of destinations where you can see a white Christmas day.
For those of us in the UK, the chances are that a white Christmas will remain but a dream. To experience what a white Christmas is all about it may be time to book a ticket and explore.