While travel is a weary topic these days, one thing is for sure: people are on the hunt for where they want to visit next, once they're comfortable.
New data from HomeExchange's "True Meaning of Vacation" report reveals what's giving Americans pause when it comes to booking a trip.
The findings paint a picture of a freer American than in previous years – with more than 6 in 10 Americans (61%) who have ever traveled for longer than one week noting that unplugging from everyday life and getting a change of scenery is one of their top priorities when it comes to a vacation. Additional priorities include exploring a new place (60%), visiting historical sites (47%), eating new foods (39%), interacting with local people (21%), and fully immersing themselves within another culture (19%).
The study, commissioned through independent third-party research firm YouGov, also reveals that Americans are itching to travel again and make up for lost time, with over 1 in 3 Americans (35%) noting that they are planning to take a much-needed vacation sometime in 2022 after the COVID-19 pandemic impacted previous vacation plans. What's more, nearly one-fourth of Americans (24%) say that they plan to take more trips this year than they normally would to make up those missed trips.
Priorities and the desire to travel aside, Americans are also extremely concerned with the ever-rising cost of travel and how it relates to their plans. Of Americans who have ever taken a vacation for longer than one week, the survey found that nearly 1 in 4 (23%) noted the costs of lodging (e.g., hotels, home rentals, etc.) was one of the biggest contributors to the duration of their vacation, with the expenses surrounding travel (e.g., airfare, gas, trains, etc.; 28%) and available time off work (22%) also contributing.
In fact, lodging plays such a large factor that 58% of Americans in this same group said they would book twice as many vacations as they typically plan if they were able to obtain free lodging.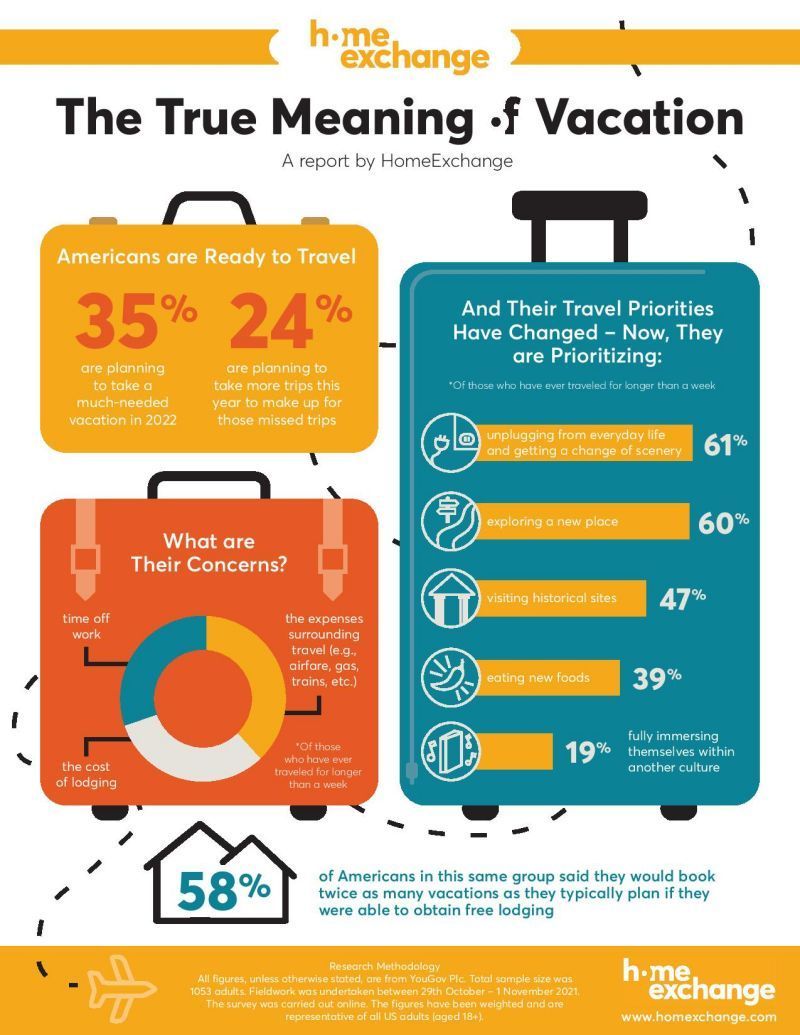 "The travel industry is changing before our eyes and many Americans are taking stock of what they value most, especially as it applies to the how, when and why of traveling," said Emmanuel Arnaud, CEO at HomeExchange.
"Americans are keen to get back to traveling again, but now with the mindset of making every experience count, no matter where in the world they find themselves. It's clear that Americans are looking for travel options that allow them to not only unplug to switch off from the chaos of the last 18-months, but also allows them to do so in a way that is cost-affordable and worthwhile from start to finish. At HomeExchange, we strive to bring a full, immersive experience to our travelers, and our unique residence exchange makes this possible each day."