Turkey on Friday observed the Canakkale Victory and Martyrs' Day, which marks the anniversary of a key 1915 victory during World War I.
President Recep Tayyip Erdogan commemorated the soldiers killed during the campaign, saying that the Battle of Gallipoli was a "testimony to the bravery of our nation."
"The Canakkale Land Battles are a great heroic epic which displays our nation's highest virtues of patriotism, sacrifice, and courage," he said.
Saying that the victory in Canakkale is significant not only for Turkiye but also for far-flung regions of the Balkans, Middle East and other places, Erdogan said: "Canakkale expresses our shared fellowship."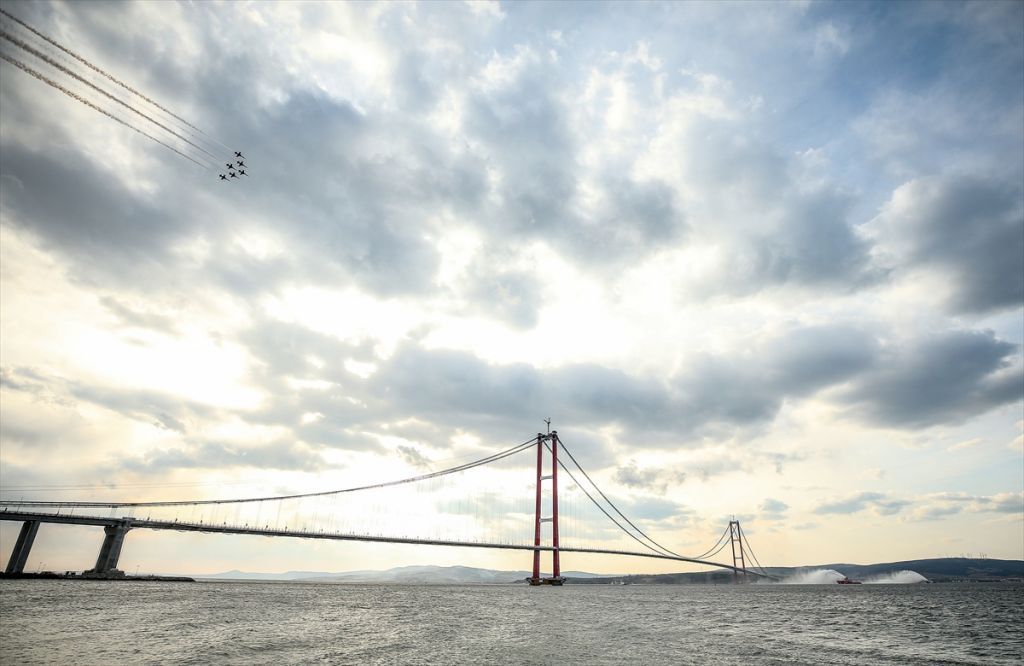 1915 Canakkale Bridge and Malkara-Canakkale Highway Opened
Today also marks the opening of the 1915 Canakkale Bridge and Malkara-Canakkale Highway. Turkish President Recep Tayyip Erdogan, South Korea's prime minister Kim Boo-kyum, and Turkish Transport and Infrastructure Minister Adil Karaismailoglu attended the inauguration of the 1915 Canakkale Bridge and Malkara-Canakkale Highway on March 18, 2022.
1915 Canakkale Bridge is now the world's longest middle-span suspension bridge. It links Europe and Asia and its architecture is unique with its colors, figures and soars higher than the Eifel tower on either bank of the Dardanelles — a strait in Canakkale province between the Aegean Sea to the south and the Sea of Marmara to the north.
Shaped to symbolize an artillery shell as a tribute to the legendary World War I Battle of Gallipoli, also known as the Canakkale Naval Victory in Turkey, the spires tower 318 meters (1,043 feet) high, with a mid-span of 2.023 kilometers (1.26 miles), symbolizing the 100th anniversary of the Republic of Turkey's foundation.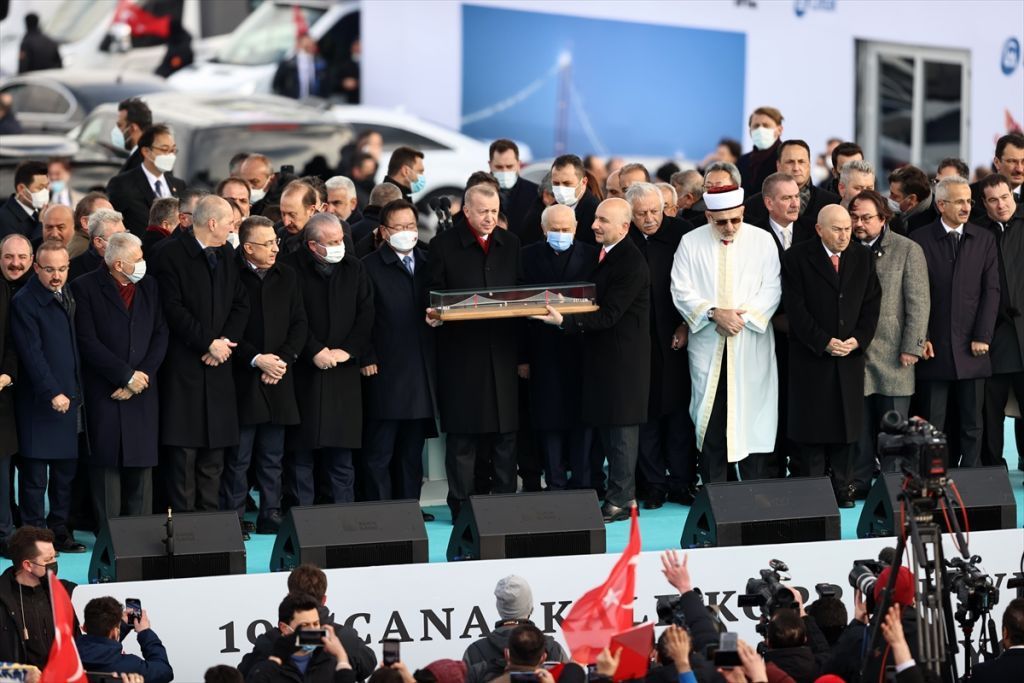 Red-and-white towers represent the Turkish flag, while the total length of the bridge is 4.608 kilometers (2.9 miles).
Construction had been ongoing since the groundbreaking ceremony on March 18, 2017.
President Recep Tayyip Erdogan said during the ceremony that Turkey opened the world's longest midspan suspension bridge, leaving behind Japan, which had held the top place.
President Erdogan stated that "An investment of 2.5 billion euros ($2.76 billion) was made for the 1915 Canakkale Bridge, whereas our country's annual gain in time, fuel consumption and carbon emissions will be 415 million euros."
"Calculations indicate that this project will contribute 5.3 billion euros in production to our economy, employment for 118,000 people and 2.4 billion euros in national income," he added.
The aerobatic team of the Turkish Air Force ' Turkish Stars' perform at the inauguration of 1915 Canakkale Bridge and Malkara-Canakkale Highway in Canakkale, Turkey on March 18, 2022.
Source: AA