Fairmont Mayakoba debuts its much-anticipated beach club, Maykana, this September, offering an intimate day and night experience.
Maykana will offer five food & beverage outlets, grand terraces with magnificent views of the Caribbean coast, opulent private cabanas for a more exclusive experience, sea-side pools, sunken fire-pits.
Maykana's luxurious and texturized palette is complete with touches of cool shades representative of the mangrove and canals that surround the property. The breathtaking adult-only rooftop features a bar, infinity pool overlooking the Caribbean Sea, and sunken circular lounge areas reminiscent of cenotes. It will be a design masterpiece paying homage to Mexican heritage.
Maykana, which translates to "welcome basket", will be the heart of the property and inclusive of all travelers. With "May" (from the Mayan culture where the property is located in) standing for the properties' desire to invite guests to experience local history and culture through the five elements of nature representative at the beach club: air, water, fire, earth, aether and "Kana" (basket in Mayan language) meaning the basket that ties everything together, Fairmont has created a home away from home through the new beach club.
The beach club's new food and beverage offerings include: Fuego, the bohemian-chic, Tulum inspired restaurant; Gaia Seafood Restaurant, Maykana's signature restaurant;Cielo Rooftop Bar; Aqua and Brisas Terraces, all with Mayan influences to satisfy all cravings imaginable. These bespoke restaurants will offer an exquisite culinary experience for guests to dine and enjoy the stunning vistas and Mayakoba's primer view of the Caribbean sunset.
Brisas will be open for breakfast, lunch, and dinner. A fresh à la carte breakfast will be offered daily and will transition into an all-day menu by noon. Menu highlights will feature mezze, Mediterranean shareable bites, and tropical cocktails, inspired by other locations in the Caribbean, all while relaxing and enjoying a breeze with ocean views.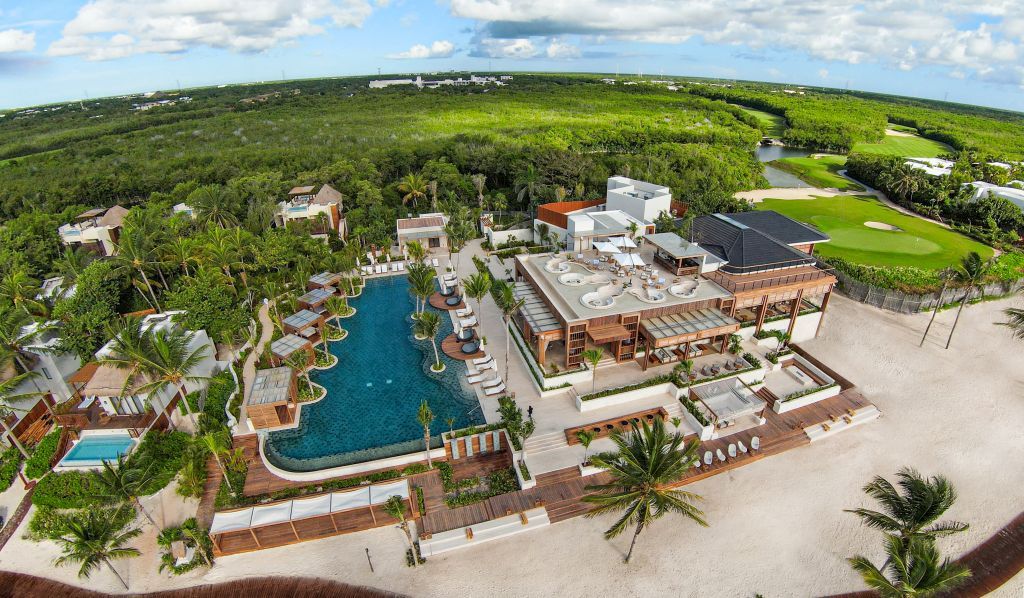 Gaia will bring the element of the land to Maykana, translating to Mother Earth in Greek. As Earth is 71% water, Gaia will feature fresh, local seafood from Mexico as well as other parts of the world. Their fresh seafood will serve as their signature product and be displayed in the front of the restaurant for guests. International culinary preparations will differentiate the market, with less focus on traditional Mexican dishes. Gaia will serve as Maykana's signature restaurant.
Cielo Rooftop Bar will be Maykana's upbeat lounge for adults to imbibe and share conversation. With a primer view of the Caribbean and sunsets, Cielo will feature five seated nests surrounded by water with luxurious firepits. Guests can enjoy a daily sunset ritual and then move freely through the rest of the bar area.
Aqua is the perfect place to unwind with your favorite drink while enjoying fresh Latin flavors, while offering privacy and elegance. Surrounded with private pool-side cabanas, Aqua features a large palapa bar with 14 seats. Beach cocktails will be served by day, and an intimate dining experience by night.
To complete Maykana, Fuego, open for lunch and dinner, will capture an energetic, bohemian feel where you'll be able to enjoy your meal beach-side. The perfect Tulum-inspired spot for outdoor-dining and complete with a wood fire grill, guests will savor the raw flavors of life with simple, elegant food and drink.
The resort will continue to remain open throughout the renovation process, expected to be fully complete by the end of the year. Hotel visitors can expect to enjoy the cocktails, food, and elegance of Fairmont Mayakoba's new beach club by the beginning of this fall.