New York City remains the most expensive metropolis in the world for international schooling and Istanbul is the cheapest city in the Middle East for international schools.
'The Big Apple' is not the only US city in the most expensive cities list – San Francisco Bay Area is also the 4th most expensive city when it comes to international school costs. NYC has gotten even more expensive since 2021 with maximum prices topping $60,000 per year for the first time.
China has a total of four cities in the top 10 most expensive on our list (Beijing, Shanghai, Shenzhen and Guangzhou), while Switzerland follows with 3 (Zurich, Lausanne-Vaud and Geneva). London, a new entry to the top 10 last year, has risen three places to become the 7th most expensive city in the world for international schools.
Of the 76 cities included in this year's analysis by the International Schools Database, 43 showed an increase in median price since last year. In most cases this increase was marginal or below 10%, however the median price in certain cities increased beyond this – up to 19% in Panama City, 17% in Istanbul, 16% in Vienna and 12% in Guangzhou. Many factors, which will differ from country to country, could have caused this.
On the other side of the coin, the median price also reduced in several cities. Of the top 10 least expensive cities for international school costs, the median cost slightly reduced in 8 (Valencia, Penang, Johannesburg, Kampala, Kuala Lumpur, Phnom Penh, Copenhagen, Casablanca and Cape Town). Two notable exceptions regarding cost decreases are Sofia, which decreased by over 30%, and Johor Bahru, which decreased by 22%. Again, many factors which could be unique to each individual country may have contributed to these decreases.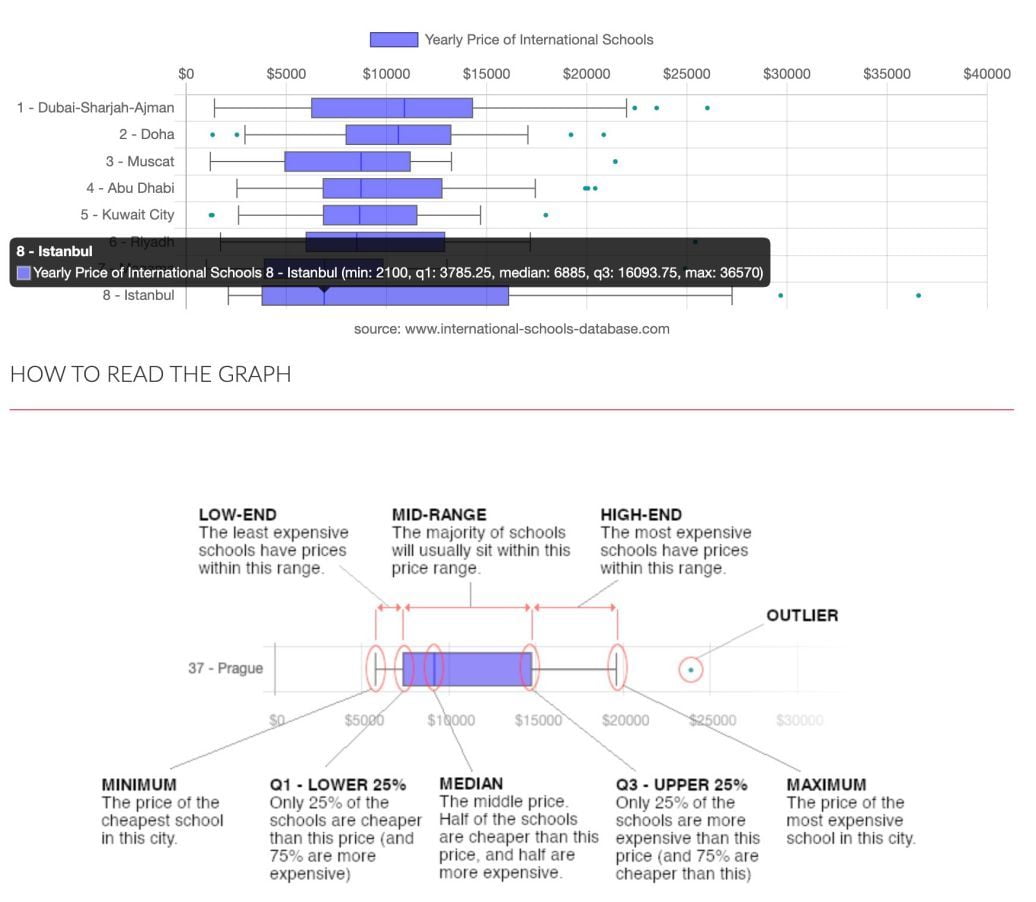 Istanbul – Cheapest City for International Schools
This year Dubai-Sharjah-Ajman has retained its title as the most expensive location in the Middle East for international schooling, with a median price of $10,891 per year. However, Doha is following closely behind with a median price of $10,591 – a difference of just $300 per year. So far Doha is the only competition Dubai-Sharjah-Ajman has, with prices at least 20% lower in all other cities in our analysis for the Middle East.
On the opposite end of the scale, Istanbul and Manama offer the lowest median prices for international schools in the region. However, the range of prices available in both cities is similar to Dubai-Sharjah Ajman and Doha. Costs in Istanbul range from $2,100 to $36,570, and in Manama the minimum price is $1,004 while the maximum is $24,912.
The remaining cities included in our research for the Middle East this year are Muscat, Abu Dhabi, Kuwait City and Riyadh. All have costs that are very similar to each other, with median prices ranging from $8,513 in Riyadh to $8,726 in Muscat. Minimum and maximum prices are also similar across all four cities, showing strong consistency in the region.
Worldwide Prices of International Schools 2022