The price of Turkey's first domestically-produced electric car Togg T10X is announced. Preorders for the new EV are scheduled to begin on Thursday, which is anticipated to fuel increased sales in the electric vehicle market.
The first model, a C-segment SUV named Togg T10X, will have a price ranging from TL 953,000 (around $50,230) to TL 1.22 million, the company said in a statement.
Pre-orders for the Togg T10X will be taken on March 16-27 on the Trumore digital platform and the Togg website "www.togg.com.tr".
The vehicle that went into production within five years from its design phase is being manufactured by a consortium of five Turkish companies called the Automobile Initiative Group of Türkiye, or Togg, in cooperation with the Union of Chambers and Commodity Exchanges of Türkiye (TOBB).
The model will feature a range of 314 or 523 kilometers (195 and 325 miles) depending on the battery size.
The twin-engine type will also be offered for sale in the coming period.
Togg T10X can reach from 20 percent to 80 percent battery level in less than 28 minutes with fast charging.
A 41.3-inch end-to-end screen experience consisting of a 12.3-inch instrument display and 29-inch infotainment screen, 8-inch touch control screen, in-car social camera, high-speed mobile internet and a digital cockpit with a Snapdragon processor, T10X' is also offered as standard.
The Togg T10X is designed to receive the highest level of 5 stars in all tests of the independent Euro NCAP program, which evaluates the safety of cars in the European market. The T10X provides a safe ride in all road conditions with its 7 airbags as standard, and advanced driver assistance systems that support a durable and solid infrastructure.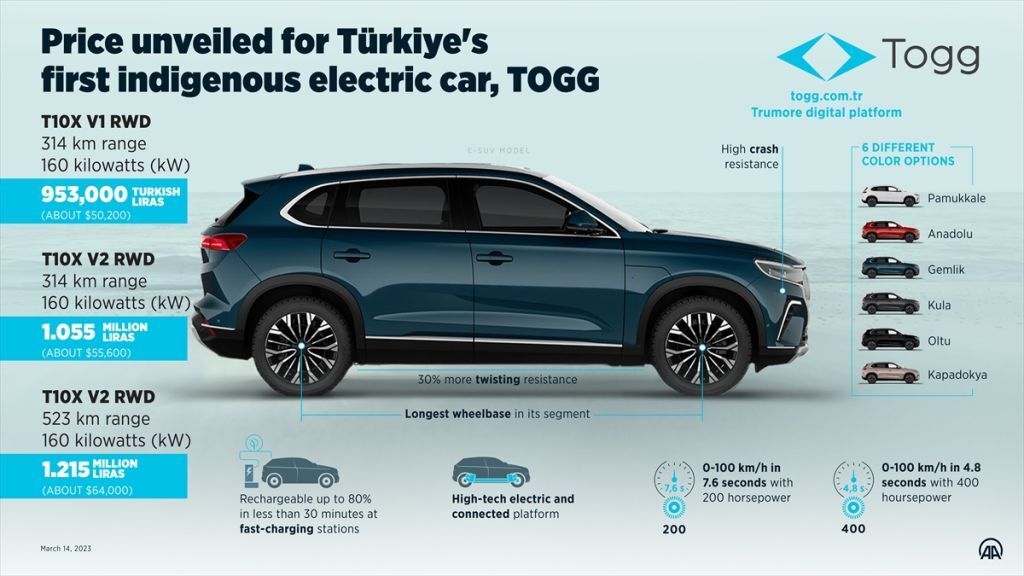 Source: AA