Air Tahiti Nui begins its new year-round, biweekly service between its Papeete base to and from Paris via the Seattle-Tacoma International Airport (SEA).
This new service will be combined with the five rotations programmed via Los Angeles, allowing Air Tahiti Nui to offer a total of seven flights per week between Paris and Papeete for the summer and winter seasons. After first inaugurating the Seattle route on October 5, 2022, the airline offers an extension to Paris.
"The opening of the new Tahiti-Seattle direct service was already an exciting achievement for Air Tahiti Nui," said Mathieu Bechonnet, Air Tahiti Nui's Managing Director.
"Beginning this new service to Paris this summer was a way for us to offer even more options for our client base in Tahiti to reach Paris while also allowing the Seattle region to enjoy more options to explore France and Europe." Bechonnet continues, "Our decision to move this to a year-round service is made possible today thanks to the great response we are getting from the market. We are really thrilled about the new business opportunities this represents for us and the dynamism it brings to our operations."
"We are very excited Air Tahiti Nui is launching their second new international service from SEA, only eight months since we first welcomed their initial launch from the Pacific Northwest to Tahiti," said Arif Ghouse, SEA Airport Chief Operating Officer.
"This new service provides an additional option for travelers between Metropolitan France and French Polynesia. And, of course, we say to those travelers – Don't forget Seattle! Stop along your way!"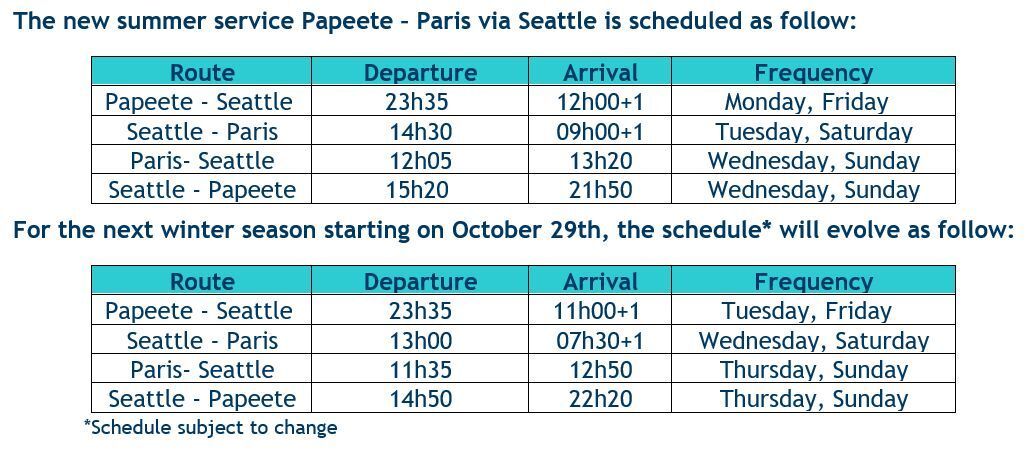 "We are excited to celebrate with Air Tahiti Nui – one of our newest global airline partners – as they launch their nonstop service between our hometown of Seattle and Paris, one of the world's most amazing cities," said Nat Pieper, senior vice president of fleet, finance and alliances at Alaska Airlines.
"Our robust loyalty and codeshare partnership continues to grow, including the sale of Air Tahiti Nui flights on alaskaair.com and the redemption of Mileage Plan miles for flights on Air Tahiti Nui."
"Air Tahiti Nui's new route launch from Seattle to Paris allows passengers to experience the beauty of the 118 islands of Tahiti, coastal mountains of the Pacific Northwest and one of the most iconic cities in the world, Paris," said Erika Pearson, Boeing's vice president of Commercial Sales and Marketing, Southeast Asia and Oceania.
"The Boeing 787 Dreamliner's advanced technology, unmatched fuel efficiency and exceptional passenger comfort, enables customers like Air Tahiti Nui to profitably open new routes."
In addition to the Paris route from SEA, Air Tahiti Nui is the first and only carrier offering nonstop flights connecting the South Pacific and the Pacific Northwest through its partnership with Alaska Airlines. Air Tahiti Nui operates this service twice weekly. For more information or to book a flight, please visit www.airtahitinui.com.