The Poconos Mountains are a beautiful stretch of American landscape that we should all be looking to enjoy, particularly if our homes are based anywhere near them.
For many Americans, holidaying at home has become a much more common activity lately and whilst some are still keen to jet off to somewhere exotic, it seems a shame to miss out on the beauty that's right on our doorstep. The Poconos couldn't be prettier, but better than that, they're full of activities that you can try too. If you can squeeze a weekend away into your busy schedule, then this is how you might like to spend it.
Stay at The Mohegan Sun Pocono
First things first, you're going to need somewhere to stay. There's plenty of choice up in the mountains, but if you like your hotel with a bit of entertainment then it doesn't get much better than The Mohegan Sun Pocono. This resort offers huge rooms as standard, with the basic packages being super affordable without scrimping on style. Of course, for those who want to really live the luxury life for the weekend, you could treat yourself to the Queen Bay Suite which, at more than 800 square feet, is enough to have a real party in. In terms of on-site entertainment, you'll be spoilt for choice. There's a comedy club, a racetrack and a casino, with all of the table games you could wish for, including poker. There are daily poker tournaments staged here, but only in No Limit Texas Hold'em. This will cater to those who prefer other poker variants like Omaha High, which dish out four hole cards to players instead of two and can be played with limit and pot limit rules. The casino's poker room is open from noon to 3am daily.
Explore The River, Up Close And Personal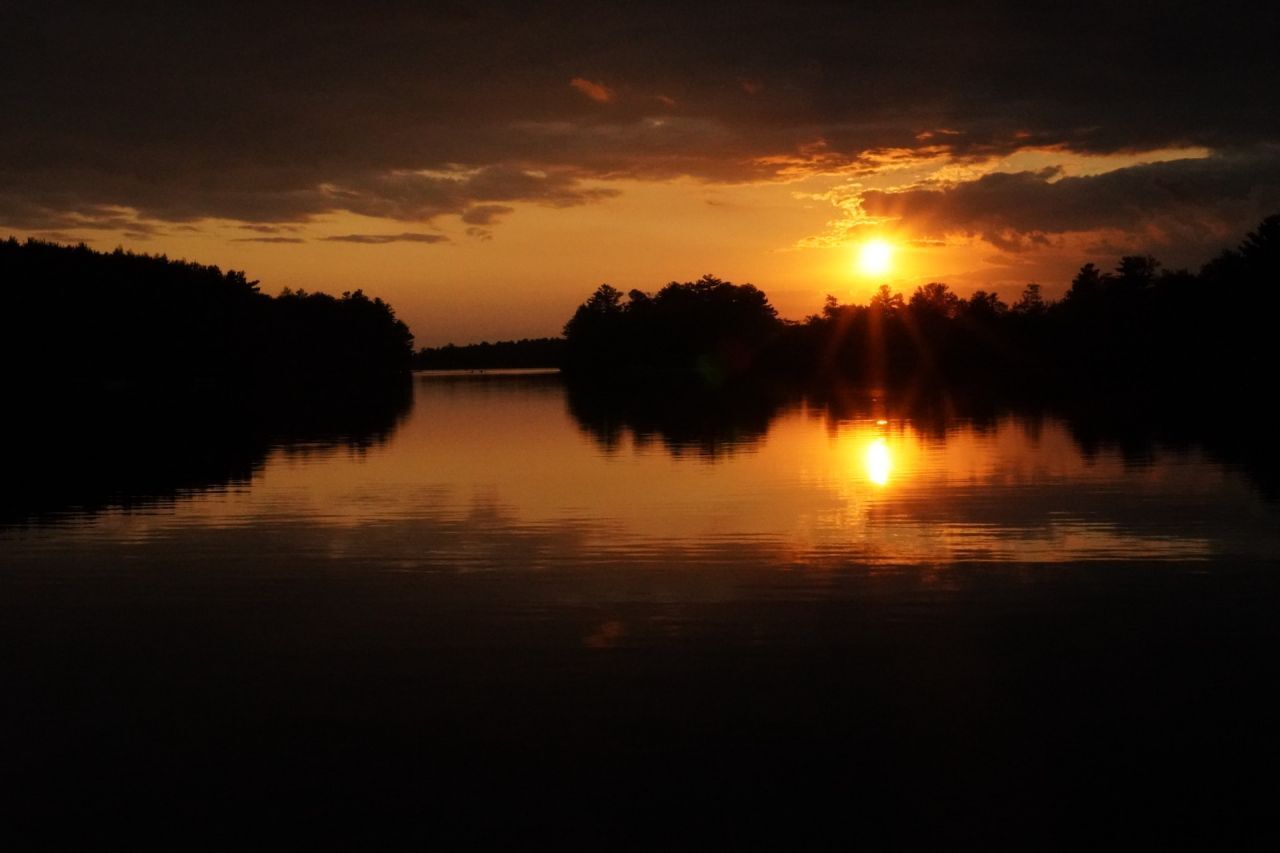 Enjoying the water at sunset is so romantic
The rivers around the mountains are full of beautiful things to see, so there's no better way to admire the views than from on the river itself. At Pocono Whitewater they've curated a selection of rafting experiences to suit all ages and levels of experience. If you fancy a relatively chilled out affair, then the mild water experience is probably best; it will allow you to paddle your way down a few miles of calm water. For adrenaline junkies there's the white-water experience, where you'll be battling against the flow or giving in to it. Perhaps the most unique experience that they offer here, though, is the Moonlight Rafting Adventure. This experience takes place, as you might imagine, at night time. You'll set off as the sun goes down behind the horizon, then travel down eight miles of river with the help of your guide and some fireflies. Boating by the light of the moon and stars is a stunning experience, that would be perfect for those who want to enjoy a romantic weekend. It's only made better by marshmallows and wine around the campfire on your return.
Eat at The Dock on Wallenpaupack
This area is spoilt for places to eat, but The Dock on Wallenpaupack might be one of the most picturesque. Situated on a deck sitting out over the lake, this eatery is just beautiful. During the summertime the terrace is the perfect place to enjoy some sunshine and watch the birds flitting across the surface of the lake, but in winter the cosy wooden cladding of the indoor dining room makes the inside feel nice and warm. You can still enjoy the views through the huge windows to all sides. The food is simple and home-cooked with a focus on good quality produce. It's clear that the team here value comfort food, so the menu is made up of belly-filling classics like fish and chips, homemade pizza, and possibly the best Philly cheese steak around. It's a warm and comforting joy to eat here, especially whilst overlooking the stunning lake.