Pegasus Airlines, on its path of fleet expansion with new generation aircraft, proudly announced the arrival of its 100th aircraft, an Airbus A321neo named "Cumhuriyet" ('Republic').
This addition is in commemoration of the 100th anniversary of the Republic of Türkiye. The aircraft, with the tail sign TC-RDP, embarked on its maiden voyage from Hamburg, Germany, and touched down at Istanbul Sabiha Gökçen Airport on 30 September 2023, at 6 pm.
A Tribute to the Turkish Republic
The aircraft was personally received by Mehmet T. Nane, the Chairperson of the Board at Pegasus Airlines, and Güliz Öztürk, the CEO of Pegasus Airlines, at the Airbus facilities located in Hamburg, Germany. Designed to honor the 100th year of the Turkish Republic, the aircraft showcases the silhouette and signature of Mustafa Kemal Atatürk on its tail. This addition, "Cumhuriyet", is the ninth of 16 aircrafts slated to join the Pegasus fleet in 2023. It also marks the 75th aircraft delivered under the Airbus order inked in 2012, which over time expanded to a total of 150 aircraft through subsequent agreements.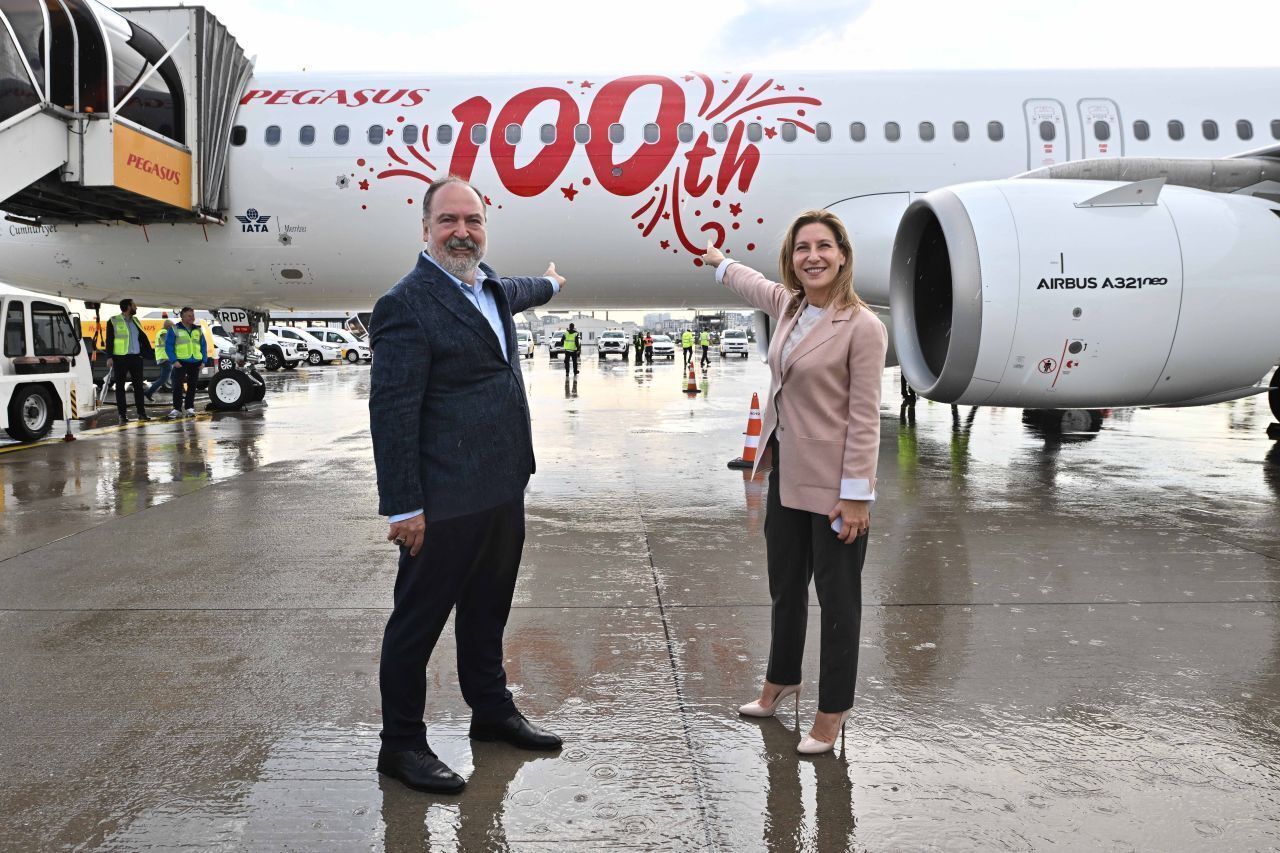 Pegasus' Vision for the Future
Güliz Öztürk, the CEO of Pegasus, conveyed her immense pride on this momentous occasion, stating, "With our new A321neo aircraft, Cumhuriyet, we've achieved the milestone of 100 aircrafts, especially during the Republic's centenary. Our vision is expansive, covering regions from Europe, Middle East, Africa, the Caucasus, and spanning the entirety of Türkiye. Our mission, driven by innovation, rationality, principles, and responsibility, is to streamline air travel with affordable fares, positioning ourselves as a leading low-cost airline."
She further highlighted the airline's commitment to the transformation initiated in Turkish aviation 18 years ago, emphasizing the strategic decision to incorporate A321neo aircrafts from 2021. Recognized as a game-changer, the A321 offers increased capacity with its extended fuselage, seamlessly integrating with Pegasus' existing operational structure. "This integration allows us to upscale our services without overhauling our operations. We're realizing significant value efficiencies," Öztürk added.
Pegasus' Modern Fleet
As of 25 September 2023, Pegasus boasts a fleet of 100 aircrafts, comprising 15 Boeing B737-800s, six Airbus A320ceos, 46 Airbus A320neos, and 33 Airbus A321neos. With an average age of 4.5 years, it stands as Türkiye's youngest fleet.
In conclusion, Pegasus Airlines continues to soar, marking significant milestones and reinforcing its commitment to excellence in the aviation industry.