The iconic band U2 dazzled fans and celebrities alike with the grand opening of their Las Vegas residency, "U2:UV Achtung Baby Live at Sphere," on Friday, Sept. 29.
The performance not only marked the band's debut at the Venetian Resort venue but also the official unveiling of Sphere, a state-of-the-art entertainment venue that has already become a visual marvel in the Vegas skyline.
The evening was particularly special as it marked the debut of Bram van den Berg on drums, stepping in for Larry Mullen Jr., who is currently recovering from back surgery. The band, consisting of Bono, The Edge, and Adam Clayton, delivered a mesmerizing performance that took fans on a nostalgic journey through their 1991 album "Achtung Baby" and the iconic "Zoo TV" tour.
U2's "U2:UV Achtung Baby Live at Sphere" is slated to run for 25 nights between Sept. 29 and Dec. 16. While several of the October dates are sold out, tickets for the remaining dates range from $400 to $1495.
About Sphere
Sphere, located at the Venetian Resort in Paradise, Nevada, is redefining live entertainment experiences. Boasting 17,000 seats, the venue is equipped with 168,000 square feet of high-definition LEDs and an astounding 167,000 speakers. Its exterior, standing over 360 feet tall, claims the title of the world's largest spherical structure.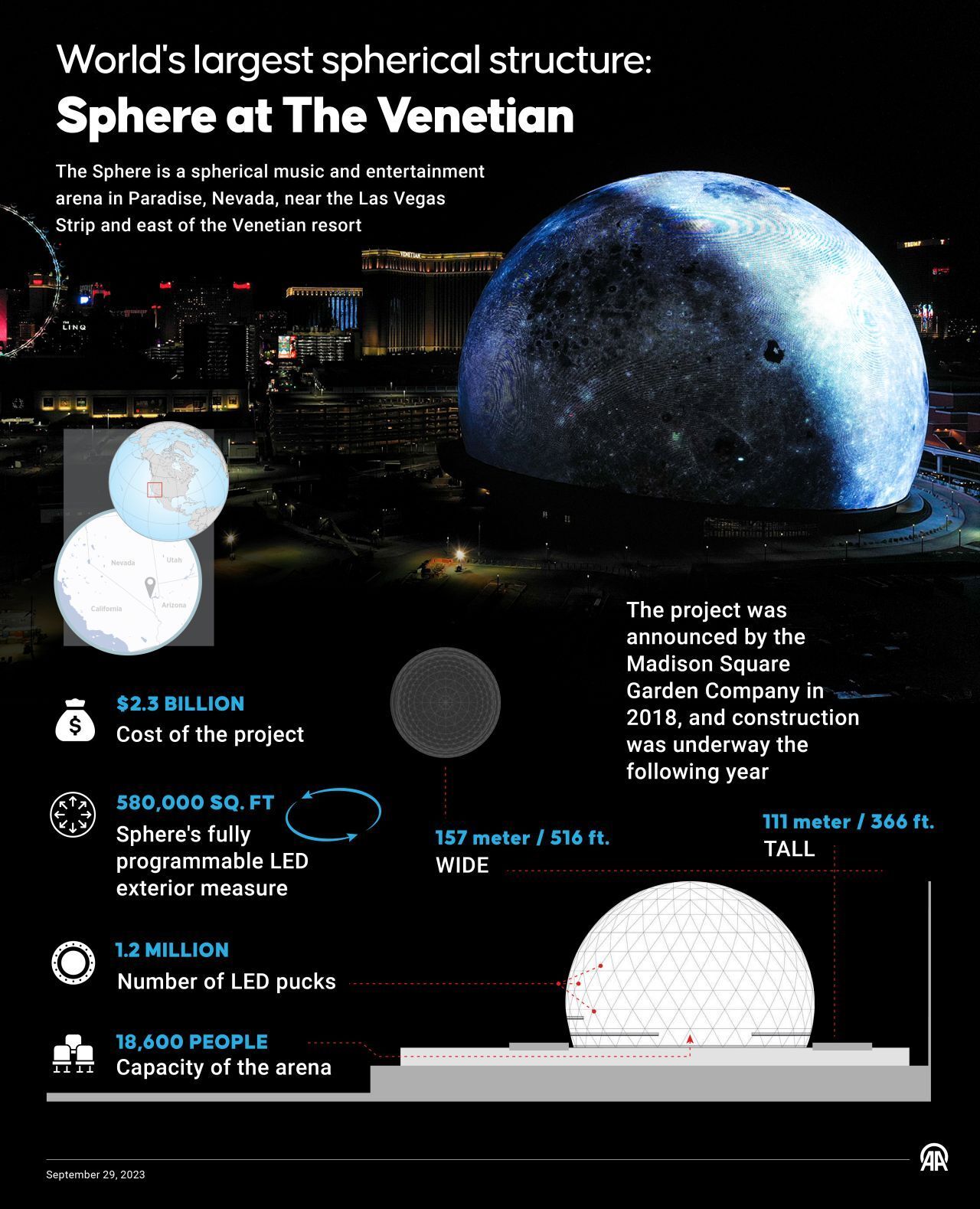 Sphere stands as the pinnacle of modern entertainment, reshaping the landscape of live performances by uniting top-tier artists, innovators, and tech enthusiasts. This venue harnesses advanced technologies to captivate the senses, offering unparalleled storytelling that transcends reality and imagination. With Sphere, audiences can immerse themselves in collective experiences on an unprecedented scale.
Celebrity Sightings
The event was a magnet for celebrities, many of whom took to social media to share their experiences. Acclaimed director Ava DuVernay shared a lively snapshot on her Instagram story, featuring herself alongside media moguls Gayle King, Oprah Winfrey, and Maria Shriver.
Power couple Orlando Bloom and Katy Perry were also in attendance. Bloom's Instagram story was a visual treat for fans, showcasing the Sphere's captivating visuals and a heartwarming sing-along moment with Perry to U2's classic "With Or Without You."
The debut night set a high bar for the remainder of U2's residency, promising fans an unparalleled blend of music, technology, and visual artistry. With Sphere now officially open, Las Vegas has added another jewel to its crown of entertainment venues.
(AA)