United Airlines has announced a significant revamp of its United Polaris international business class. This marks the airline's most ambitious upgrade in seven years.
By forging partnerships with renowned wellness brand Therabody® and luxury retailer Saks Fifth Avenue, United is set to redefine luxury in the skies, promising its customers "the best sleep in the sky."
This initiative is a direct response to the evolving needs and preferences of today's international travelers. A recent survey highlighted the importance of sleep during flights, with a staggering 83% of respondents emphasizing its significance. Furthermore, 61% of those surveyed admitted to choosing flights with sleep as a primary consideration. These statistics underscore the changing dynamics of air travel, where comfort and relaxation are paramount.
Therabody Collaboration: A Focus on Wellness
United's collaboration with Therabody is a testament to the airline's commitment to passenger well-being. Travelers aboard United Polaris business class will be treated to an exclusive onboard amenity kit. This kit, a blend of luxury and functionality, will feature a range of TheraFace skincare products, meticulously crafted to ensure passengers disembark feeling refreshed and rejuvenated.
Inside the amenity kit, passengers will discover a range of products, including:
TheraFace eye serum, a unique offering that United is proud to be the only U.S. airline to provide. This serum, enriched with ingredients like niacinamide, caffeine, and hyaluronic acid, promises to reduce puffiness and enhance skin hydration.
TheraFace face spray, a hydrating mist formulated with Vitamin B5 and aloe leaf juice, designed to soothe and protect the skin.
TheraFace cleansing towelette, allowing passengers to cleanse and refresh without drying out their skin.
TheraFace hand cream, a moisturizing blend that combats the dryness often associated with air travel.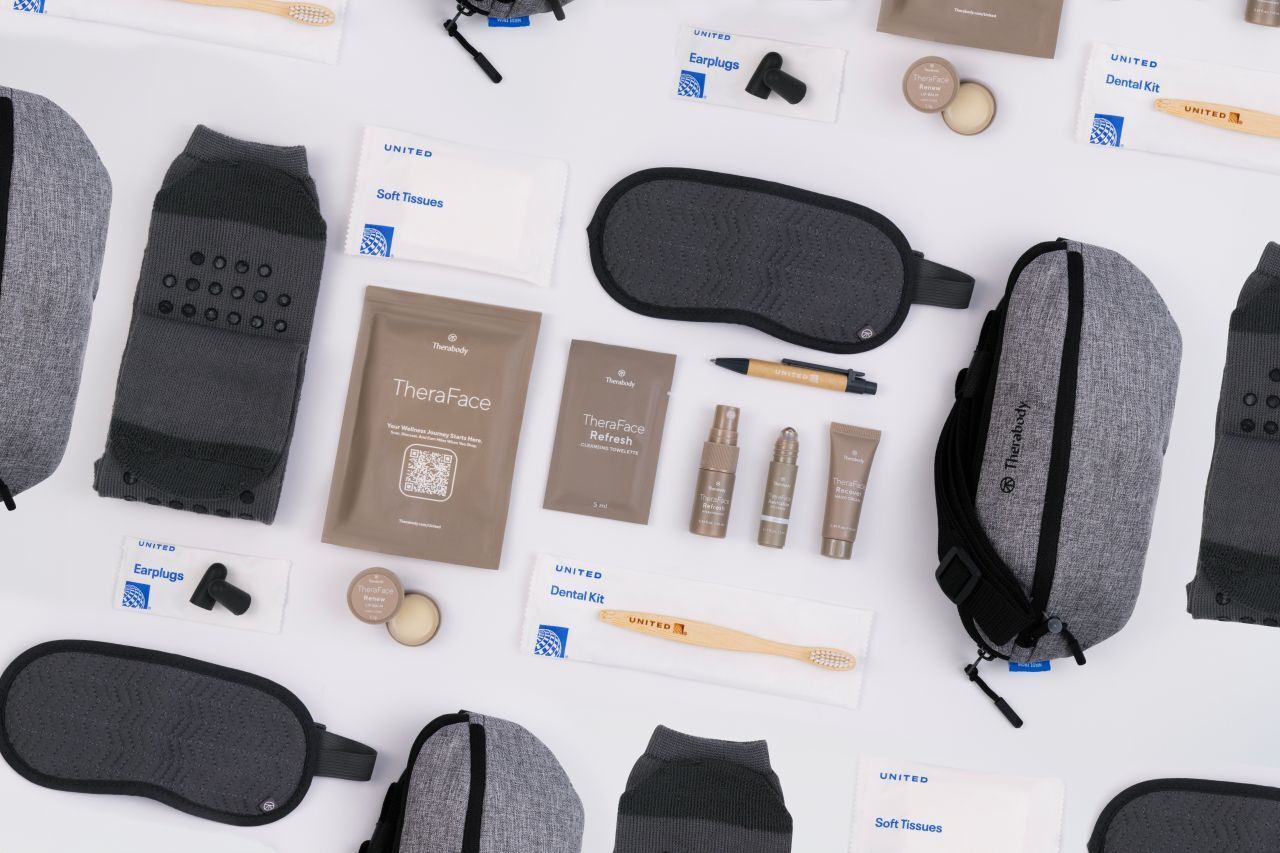 Beyond the in-flight experience, United is also enhancing its Polaris lounges. Come fall, these lounges will introduce Therabody's Reset Suites. Starting with lounges in New York/Newark and San Francisco, and eventually expanding to other major hubs, these suites will be equipped with cutting-edge Therabody wellness technology. Passengers can indulge in relaxation sessions with the Therabody Lounger or benefit from the therapeutic effects of the Theragun and RecoveryAir JetBoots.
Saks Fifth Avenue: Sustainability Meets Luxury
United's partnership with Saks Fifth Avenue brings sustainability to the forefront of luxury travel. The new bedding, curated for the signature United Polaris lie-flat seats, not only boasts a contemporary design but also features items crafted from recycled plastic. This sustainable approach aligns seamlessly with United's broader commitment to environmental stewardship.
A highlight of this collaboration is the limited-edition day blanket, designed by the critically acclaimed fashion designer Claude Kameni. Made entirely from recycled plastic, this blanket is not just a statement of luxury but also a testament to sustainable fashion. Kameni, recognized as one of the most influential Black designers in 2023, brings a unique blend of patterns and colors to the design, reflecting both Saks' fashion-forward ethos and United's modern brand experience.
A Growing Demand for Premium Travel
United's decision to enhance its Polaris offerings comes at a time when international travel is witnessing a surge in demand. The airline has reported a 20% increase in international bookings this year compared to 2022. Furthermore, bookings for premium cabin seats, including United Polaris and United Premium Plus®, have seen a 30% uptick.
Andrew Nocella, United's Executive Vice President and Chief Commercial Officer, expressed his enthusiasm about these enhanced offerings. He emphasized the airline's dedication to providing an unparalleled experience for international travelers, especially as demand surges.
In conclusion, United Airlines' latest collaborations with Therabody and Saks Fifth Avenue are set to redefine the standards of luxury air travel. By prioritizing passenger well-being, sustainability, and luxury, United is not just meeting but exceeding the expectations of today's discerning international traveler.