As the world emerges from the shadows of the Corona pandemic, Berlin stands resilient and rejuvenated, welcoming tourists with open arms.
The first half of 2023 alone saw an influx of approximately 5.7 million visitors, marking a significant resurgence in the city's appeal. Notably, the German capital witnessed a dramatic increase in tourists from Great Britain and the USA, with British visitors surging by almost 58 percent compared to the previous year.
This renewed interest in Berlin has spurred a wave of hotel openings, each establishment echoing the city's unique blend of history and modernity. As we approach the end of 2023 and look forward to 2024, the hospitality landscape of Berlin promises even more innovation and luxury, catering to the diverse needs of its global visitors.
Join us as we explore the latest additions to Berlin's hotel scene, where architectural marvels meet unparalleled service, and every guest is immersed in the authentic Berliner experience. Welcome to the heart of Europe's evolving hospitality narrative.
Here are the newest hotels in Berlin: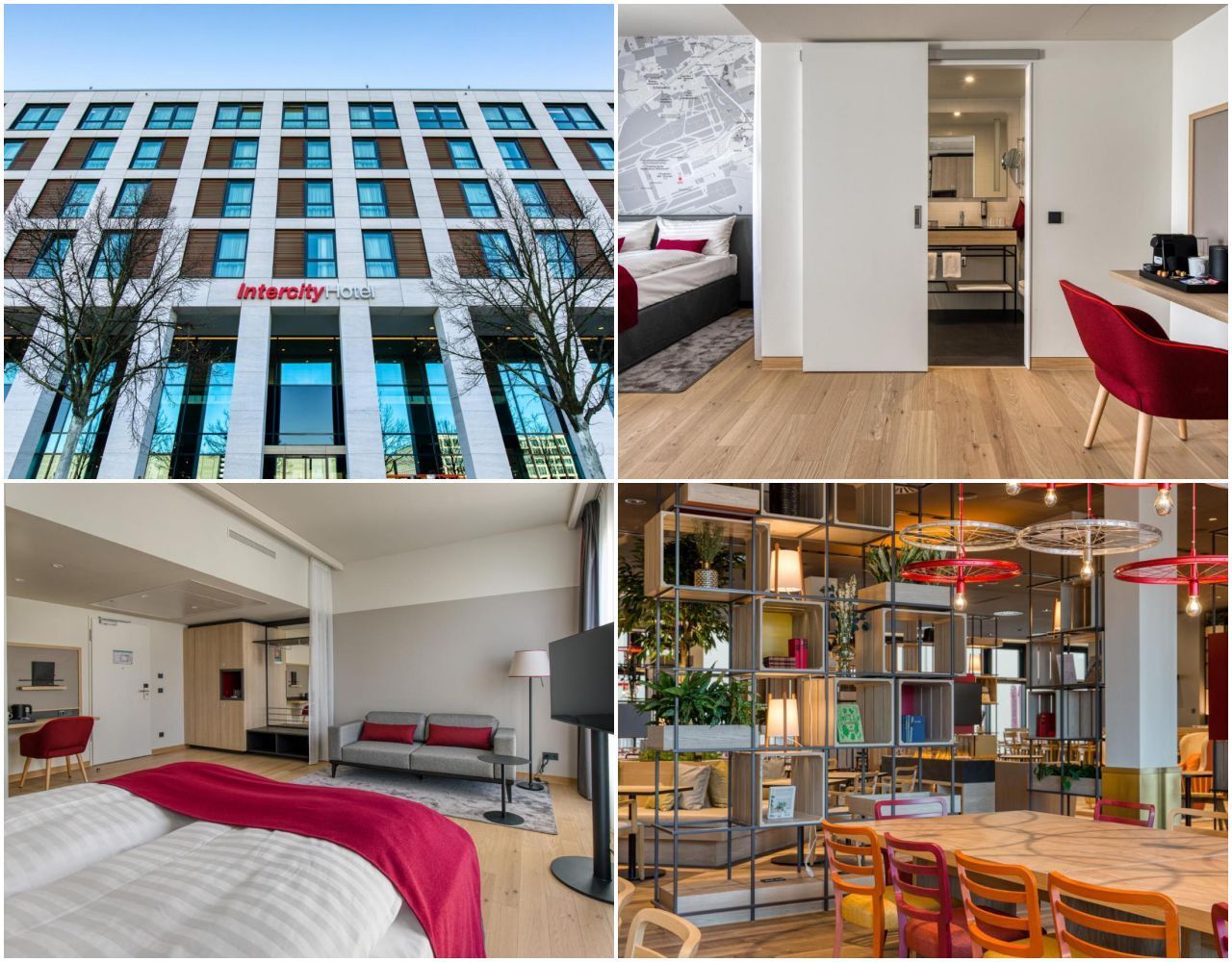 IntercityHotel Berlin Airport BER
Opening Date: January 2023
Address:

Willy-Brandt-Platz 5, 12529 Schönefeld
Situated directly at Willy-Brandt-Platz, the IntercityHotel Berlin Airport BER stands as a beacon of hospitality right at the heart of Berlin Brandenburg Airport. This six-story, 3-star establishment boasts approximately 360 rooms, ensuring a comfortable stay for guests from across the globe.
Convenience is paramount here. Terminals 1 and 2 of BER Airport are merely a short walk away. Designed by the renowned Matteo Thun, the hotel's interiors exude style and sophistication. Each air-conditioned room is equipped with modern amenities, including a flat-screen TV, safe, and hot water heater. For those seeking a touch of luxury, the superior rooms come with an added coffee machine.
Dining at the hotel is a delightful experience, with the restaurant serving a mix of regional and international delicacies. For relaxation, guests can head to the bar or the sun terrace, both offering a serene ambiance. Wellness enthusiasts will appreciate the cardio gym, sauna, and steam bath located on the 5th floor. As a token of hospitality, every room is graced with a complimentary bottle of water.
Connectivity is seamless with free Wi-Fi access throughout the premises. For business travelers, the hotel offers seven well-equipped conference rooms, making it an ideal choice for meetings at Berlin airport BER.
---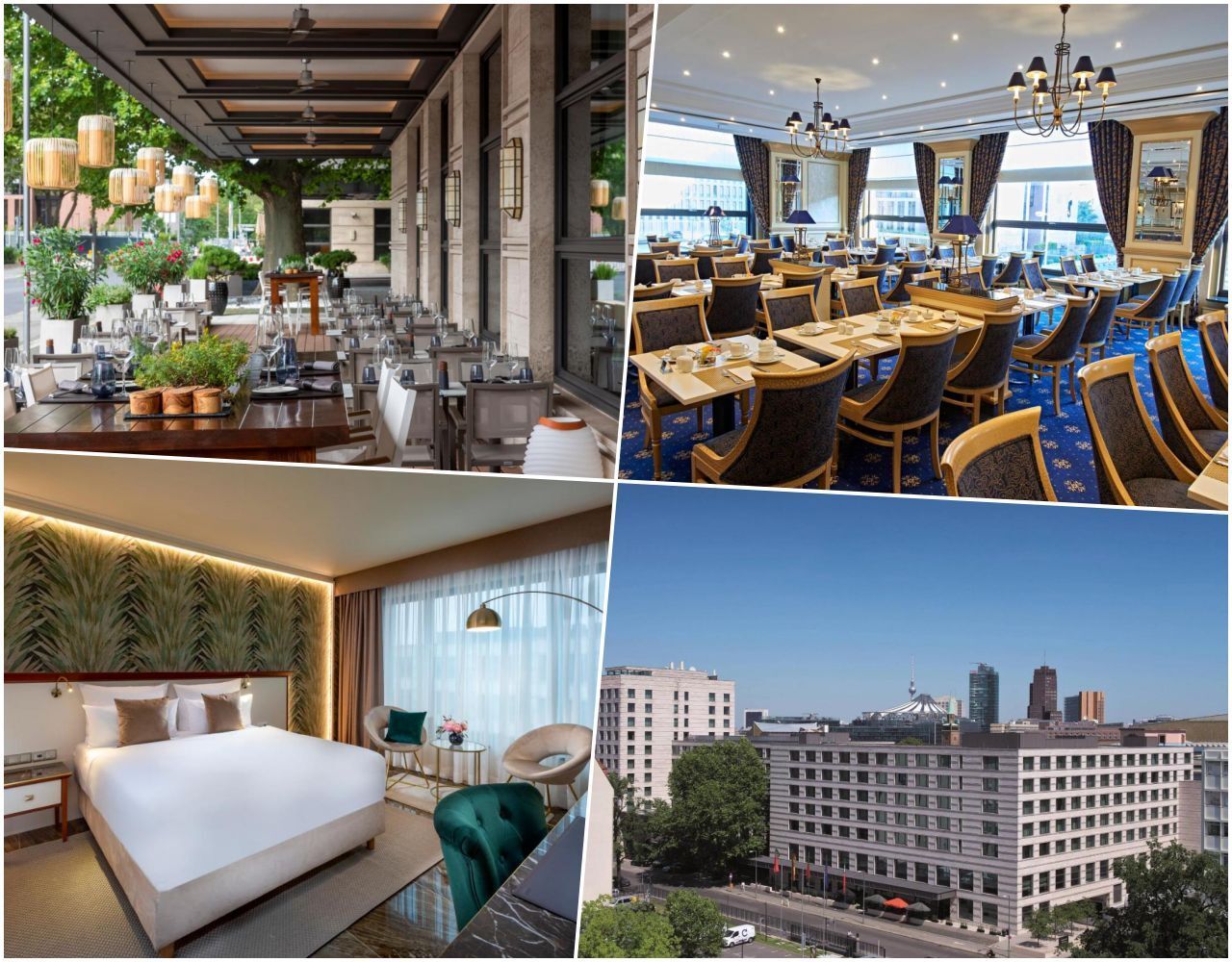 JW Marriott Hotel Berlin
Opening Date: January 2023
Address:

Stauffenbergstrasse 26, Berlin, 10785
Nestled on the bustling Stauffenbergstraße street, the JW Marriott Hotel Berlin stands as a testament to luxury and elegance. With 505 rooms, this hotel is uniquely positioned adjacent to Tiergarten, Germany's expansive urban garden spanning nearly 520 acres of lush greenery, serene lakes, and picturesque paths. The interiors, crafted by the renowned design firm El Ghoneimi, draw inspiration from the neighboring Tiergarten. A harmonious blend of dark green and warm browns, accentuated by radiant marble, creates a tranquil ambiance. Art pieces echoing nature's beauty adorn the spaces, while the hotel's Presidential Suite offers breathtaking views of Tiergarten and Berlin's skyline.
Dining at JW Marriott is an experience in itself. Emphasizing fresh, local, and sustainable produce, each dining concept promises a culinary journey. The Market Restaurant lets guests pick fresh herbs from the JW Garden, while the debut of JW Steakhouse in Germany offers a range of delectable meat dishes, complemented by vegetarian and vegan options. For a casual setting, the Berlin Baking Company serves refreshing juices, sandwiches, and salads. Guests can also indulge in the Lobby Lounge Bar's Champagne and Afternoon Tea, or explore the Cigar Lounge and the vibrant Bar 26, featuring the hotel's signature 'hanging garden'.
For events and meetings, the hotel boasts over 48 spaces covering 6,290 sqm, including Berlin's largest ballroom that can accommodate over 2,300 guests. Wellness enthusiasts will appreciate the hotel's spa, offering a pool, sauna, steam bath, and two treatment rooms spread across 347 sqm. With two fitness centers, guests can stay active during their stay.
---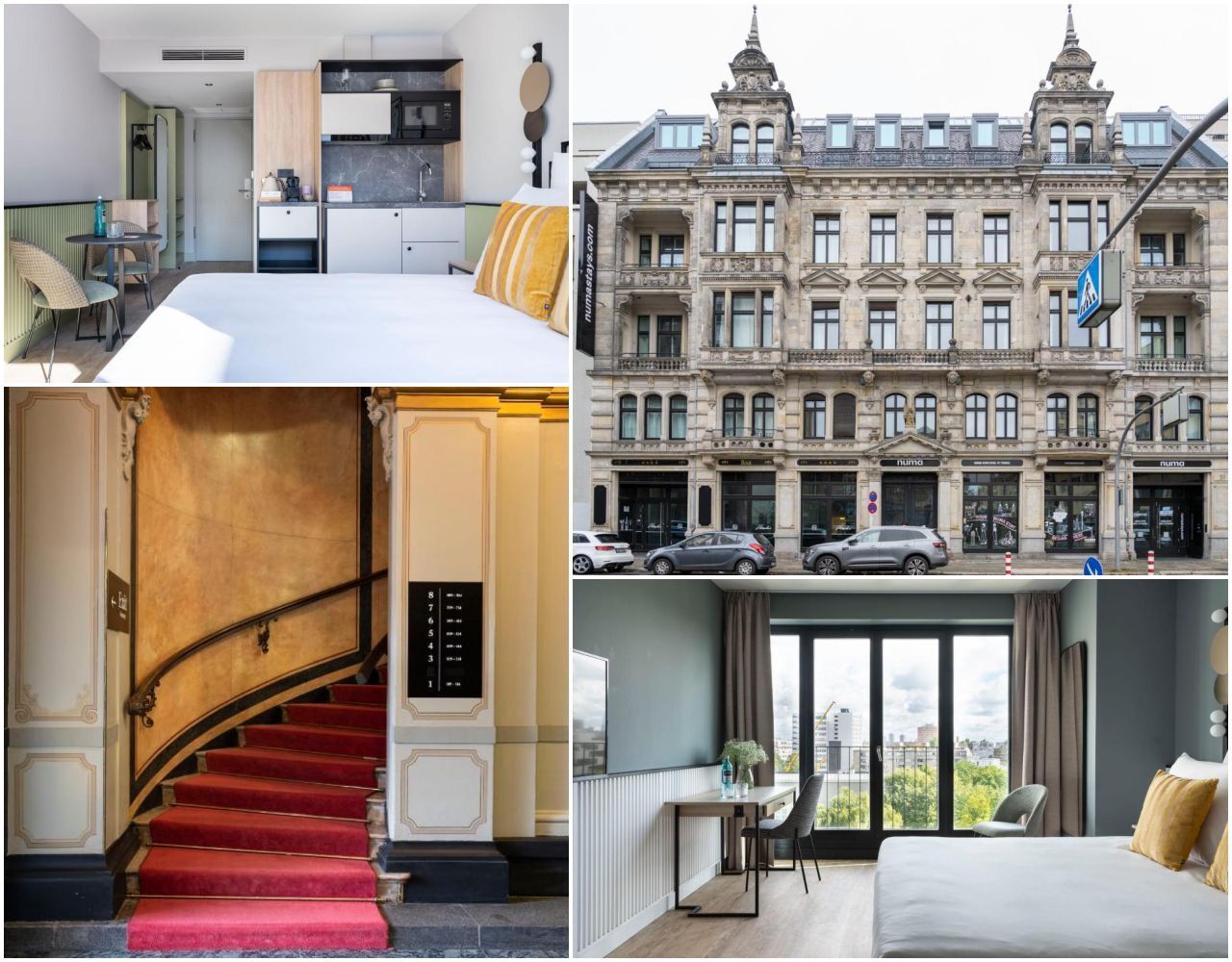 Hotel Numa Arc
Opening Date: January 2023
Address:

 Friedrichstraße 31, 10969, Berlin
The Hotel Numa Arc is prominently located in Friedrichstraße, right at the iconic Checkpoint Charlie in Berlin. Behind its neo-Renaissance façade, which has been standing since last year, is a contemporary boutique apartment building that houses 158 apartments, spread across seven distinct categories.
What sets this hotel apart is its modern approach to hospitality. Eschewing traditional amenities like a reception or buffet, it emphasizes a seamless and efficient guest experience. The hotel's design and ambiance are influenced by the Hygge lifestyle, characterized by warm, bright colors, soft lighting, and modern Scandi-style furnishings, all of which come together to create a cozy and inviting atmosphere for guests.
Numa Arc offers 61 rooms, each equipped with modern amenities such as a Smart TV, a comfortable box spring bed, and high-speed WiFi. For dining, guests can look forward to starting their day with a varied breakfast buffet that includes authentic Nordic dishes. Additionally, the hotel bar provides a curated selection of snacks and drinks for guests to enjoy.
Given its central location, the hotel serves as an ideal base for tourists and business travelers alike. It ensures easy access to major city attractions and is well-connected via public transport.
---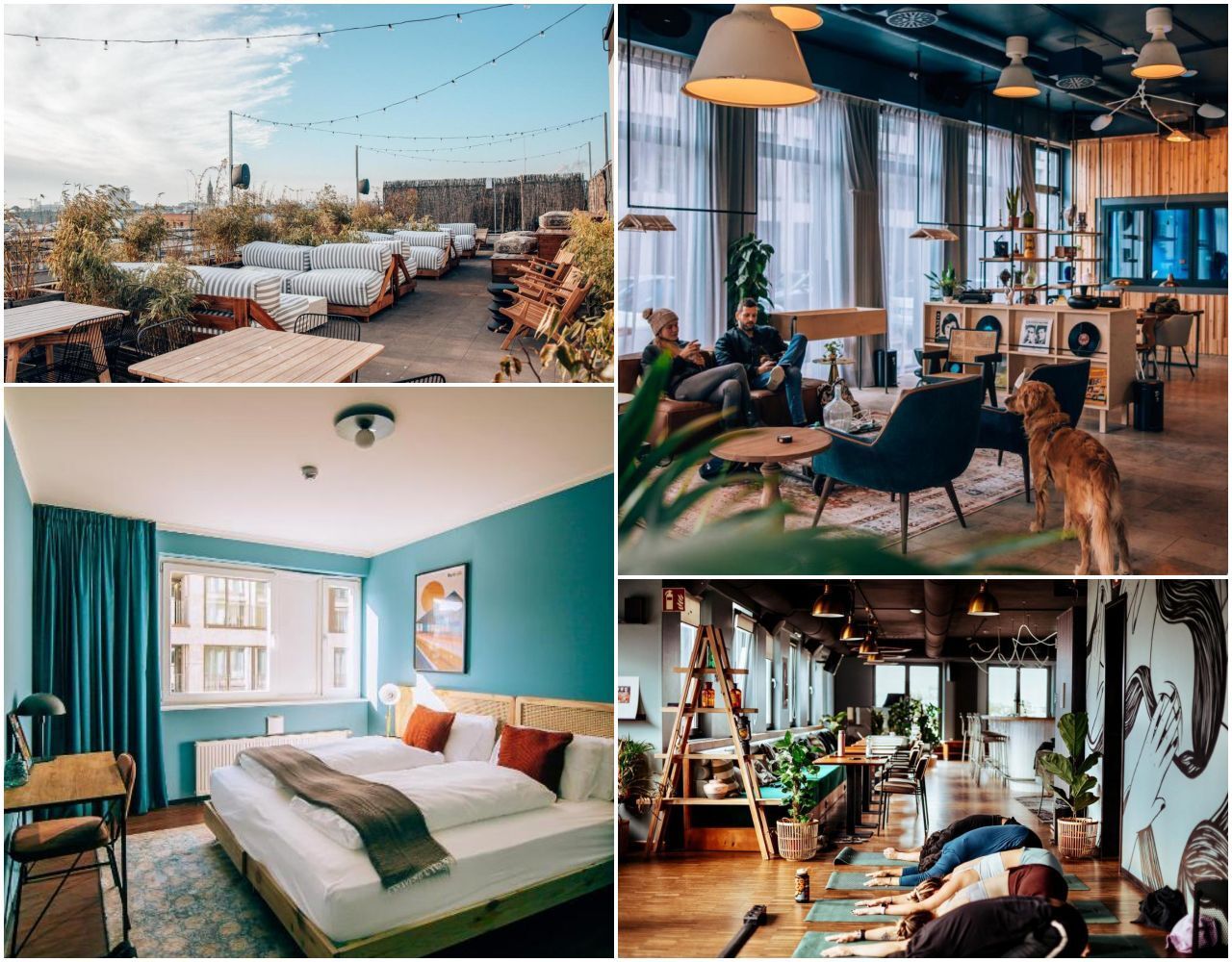 Selina Berlin Mitte
Opening Date: March 2023
Address:

Alte Schönhauser Str. 2, 10119 Berlin
Marking its debut in Germany, Selina Berlin Mitte offers a unique blend of accommodation and experiences across its 84 diverse guestrooms. Ranging from suites to shared spaces, the hotel caters to varied traveler preferences and budgets. Guests can indulge in the rooftop coworking space and bar, savor contemporary Israeli and Mediterranean dishes at HOWM, or grab a quick bite anytime from the 24/7 dining option. The hotel's rooftop, adorned with lush greenery and offering panoramic views of Berlin's iconic TV Tower, serves as a communal hub for yoga sessions, meditation, and a complimentary "welcome drink."
Art and culture are deeply embedded in the hotel's DNA. Each floor showcases a rich tapestry of artworks by local and international artists, blending various media like reclaimed wood, mirrors, and vintage pieces. Selina's design ethos, which emphasizes upcycling, is evident in the earthy, eclectic interiors with an industrial touch. Murals, gallery walls, and in-room art pieces narrate Berlin's story, with large-scale artworks by renowned artists such as Andrea Wan and Various & Gould gracing the spaces. The hotel's art collection, curated by Millecent, pays homage to Berlin's vibrant art scene.
Nestled in Berlin's historic Mitte district, Selina Berlin Mitte is a stone's throw from the city's renowned attractions, including Alexanderplatz and Museum Island. Its prime location on Torstraße places guests amidst a plethora of design stores, boutiques, and eateries. Beyond the urban allure, Berlin's green spaces, like the Tiergarten park and the scenic Spree River, offer a refreshing escape. Whether it's exploring Berlin's history, art, or nature, Selina Berlin Mitte stands as the perfect gateway to the city's multifaceted charm.
---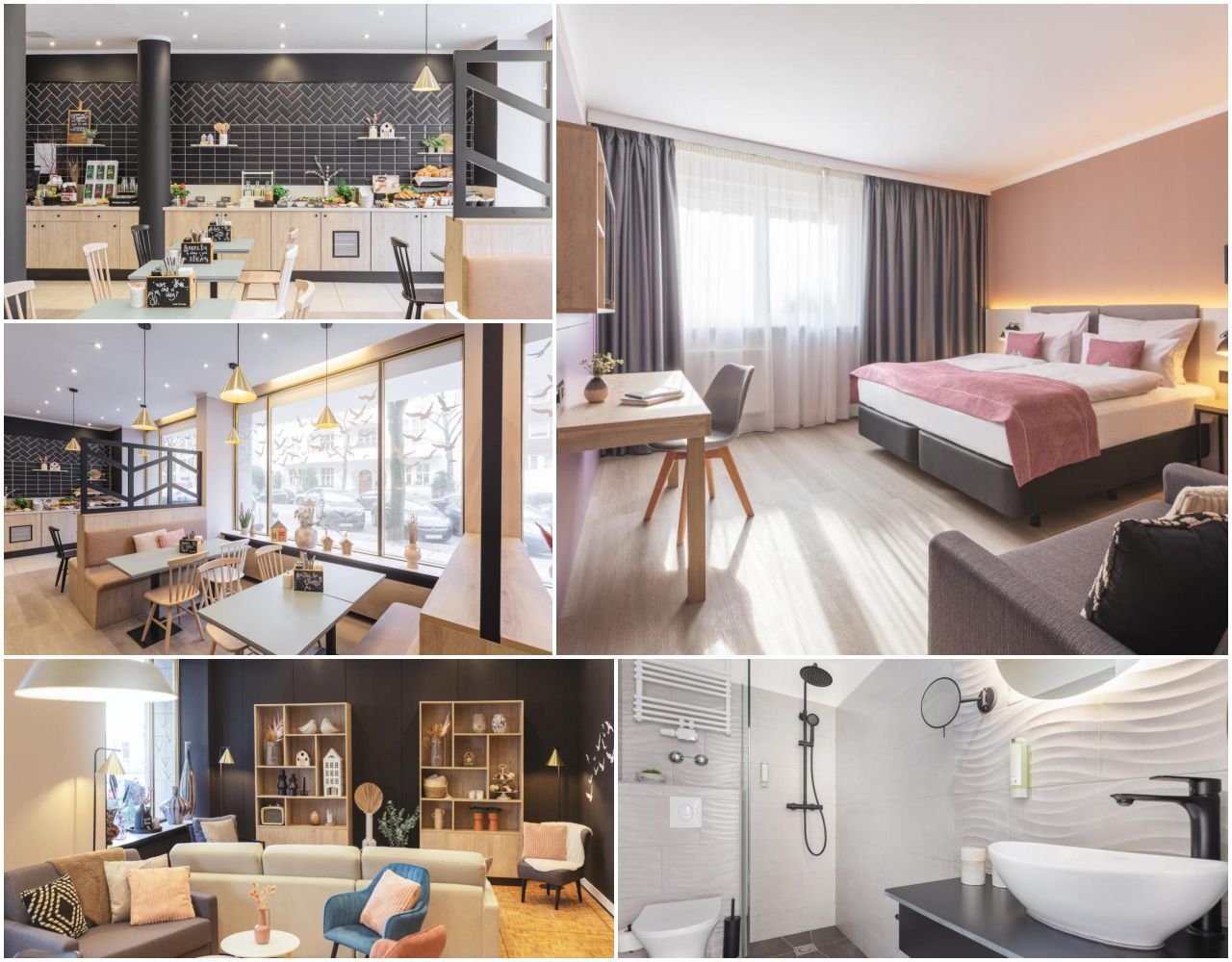 Yggotel Spurv
Opening Date: March 2023
Address:

 Paderborner Straße 10, 10709 Berlin
Nestled near the iconic Kurfürstendamm, the Yggotel Spurv Berlin offers guests a fresh and unique hotel experience, embodying the essence of Nordic coziness. Whether you're a business traveler or a leisure seeker, this hotel promises a serene escape from the city's hustle.
The hotel's design is deeply influenced by the Hygge lifestyle. Interiors are adorned with warm, bright hues, soft lighting, and modern Scandi-style furnishings, ensuring a homely ambiance. Guests can choose from 61 rooms, each thoughtfully designed with amenities like Smart TV, plush box spring beds, and high-speed WiFi.
Start your day with a diverse breakfast buffet, featuring authentic Nordic delicacies like smörrebröd and an enticing waffle station. For those looking for a quick bite or a drink, the hotel bar offers a curated selection of snacks and beverages.
Given its strategic location, Yggotel Spurv Berlin serves as an ideal base for city explorations. Attractions like the Kaiser Wilhelm Memorial Church and the Zoological Garden are within walking distance. Plus, with excellent public transport links, reaching Berlin's prime spots becomes a breeze.
---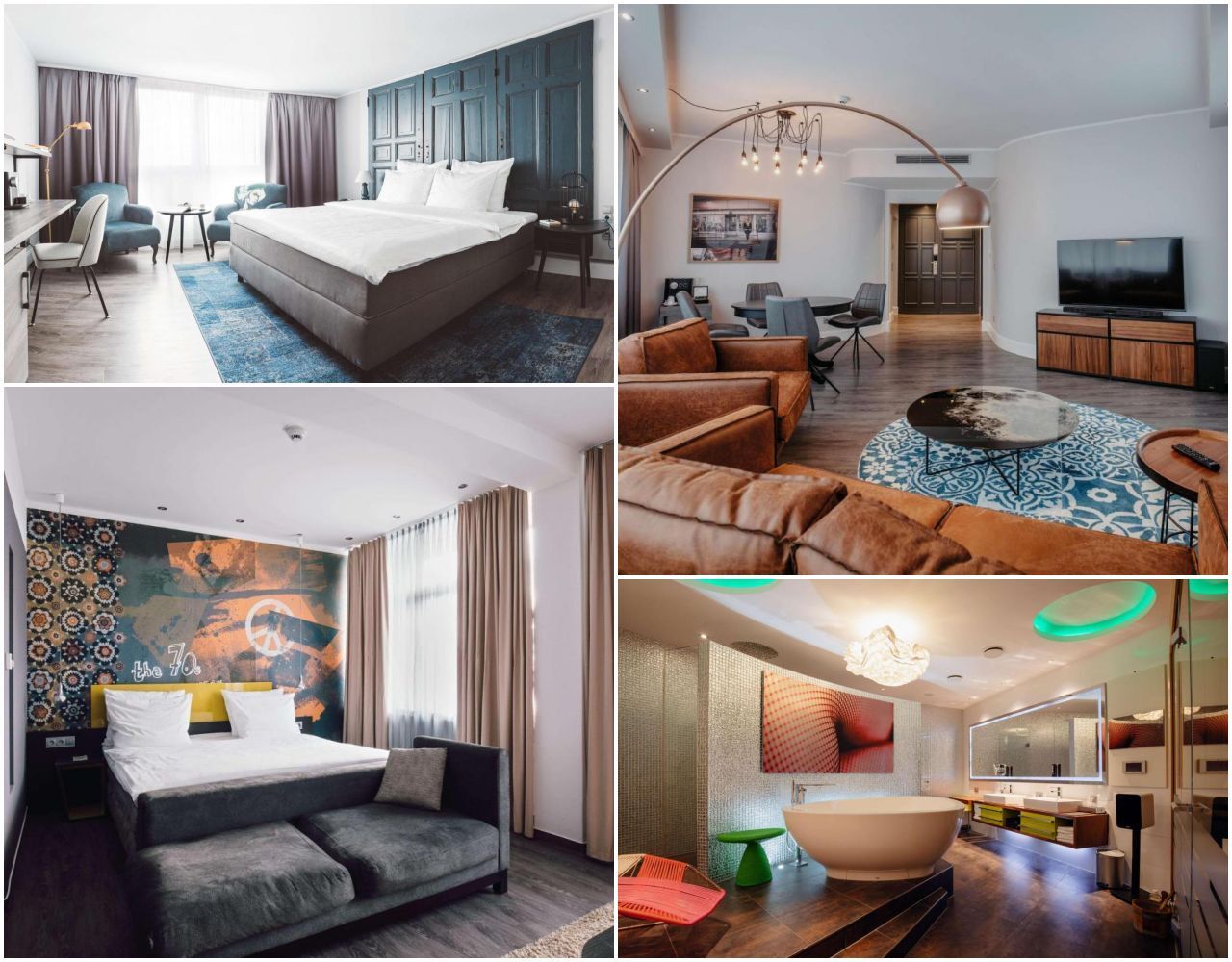 Hotel Berlin, Berlin
Opening Date: April 2023
Address:

Lützowplatz 17, 10785, Berlin
Marking its presence under the Radisson Individuals brand, Hotel Berlin, Berlin stands as an emblem of timeless elegance in Berlin's core. Celebrating its 65th anniversary since its inception in 1958, this iconic establishment is not only a landmark in the capital but also ranks as Berlin's third-largest hotel. With 701 rooms and suites, each adorned with a contemporary, bespoke design, the hotel promises a unique stay experience.
Strategically positioned on Lützowplatz in Berlin-Mitte, Hotel Berlin, Berlin offers unparalleled access to the city's attractions. Be it the renowned KaDeWe department store, the bustling Ku'damm shopping avenue, or the serene Spree riverbank, everything is within arm's reach. Guests can immerse themselves in Berlin's City West's vibrant culture and history, either on foot, through the extensive public transport network, or by renting bicycles from the hotel.
Beyond its luxurious accommodations, the hotel is acclaimed for its expansive conference and event facilities. Spanning 4,000 square meters, its 21 state-of-the-art meeting rooms, including a grand 540-square-meter ballroom, cater to diverse event needs. The newly launched Lütze restaurant serves as a gastronomic hub, offering delectable dishes crafted from locally-sourced, premium ingredients. For wellness enthusiasts, the hotel boasts a fitness center replete with advanced equipment and a traditional Finnish sauna.
A significant renovation from 2019 to 2022 has rejuvenated the hotel's rooms, public spaces, and meeting areas. Emphasizing sustainability, Hotel Berlin, Berlin is a BREEAM Excellent certified green establishment, championing renewable energy, waste reduction, and resource efficiency.
For a deeper dive into the hotel's opening, we've covered it here, feel free to explore the article.
---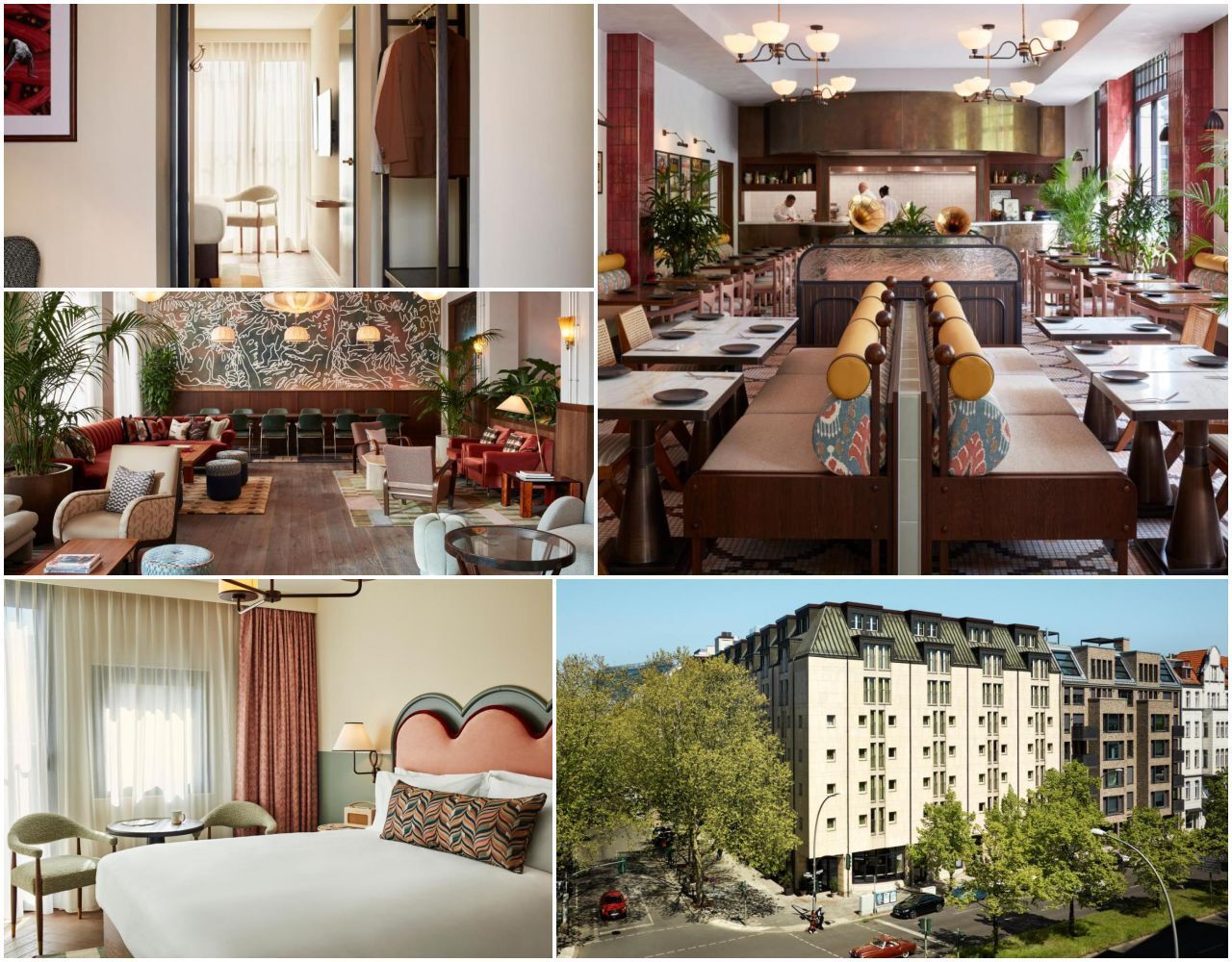 The Hoxton, Charlottenburg
Opening Date: May 2023
Address:

Meinekestraße 18-19, 10719 Berlin
Nestled in the trendy Charlottenburg district of West Berlin, The Hoxton, Charlottenburg stands as a symbol of urban chic just a short stroll from the city's famed Ku'damm shopping boulevard. With its 234 elegantly designed rooms, the hotel promises a stay that marries comfort with style.
Guests can start their day at The Teahouse, a quaint café that metamorphoses into a cozy cocktail bar as evening descends. For those with a penchant for flavorsome cuisine, the House of Tandoor offers a culinary journey through North India, serving family-style dishes paired with exquisite natural wines. The hotel's spacious lobby, adorned with a comforting fireside Winter Garden, invites guests to relax and unwind.
A highlight of the hotel is The Apartment, a versatile meeting and events space characteristic of every Hoxton establishment. Located on the seventh floor, this space evokes the charm of a 1920s parlour. The Apartment comprises three distinct rooms: the Study, Dining Room, and Living Room, all revolving around a communal Pantry Kitchen. The interiors, inspired by Mary Wigman, showcase fluid designs, soft hues, vintage lighting, and a hint of classic chintz. These rooms cater to diverse needs, from private dining to team gatherings, while the entire space can be exclusively booked for grand parties, launches, or screenings.
---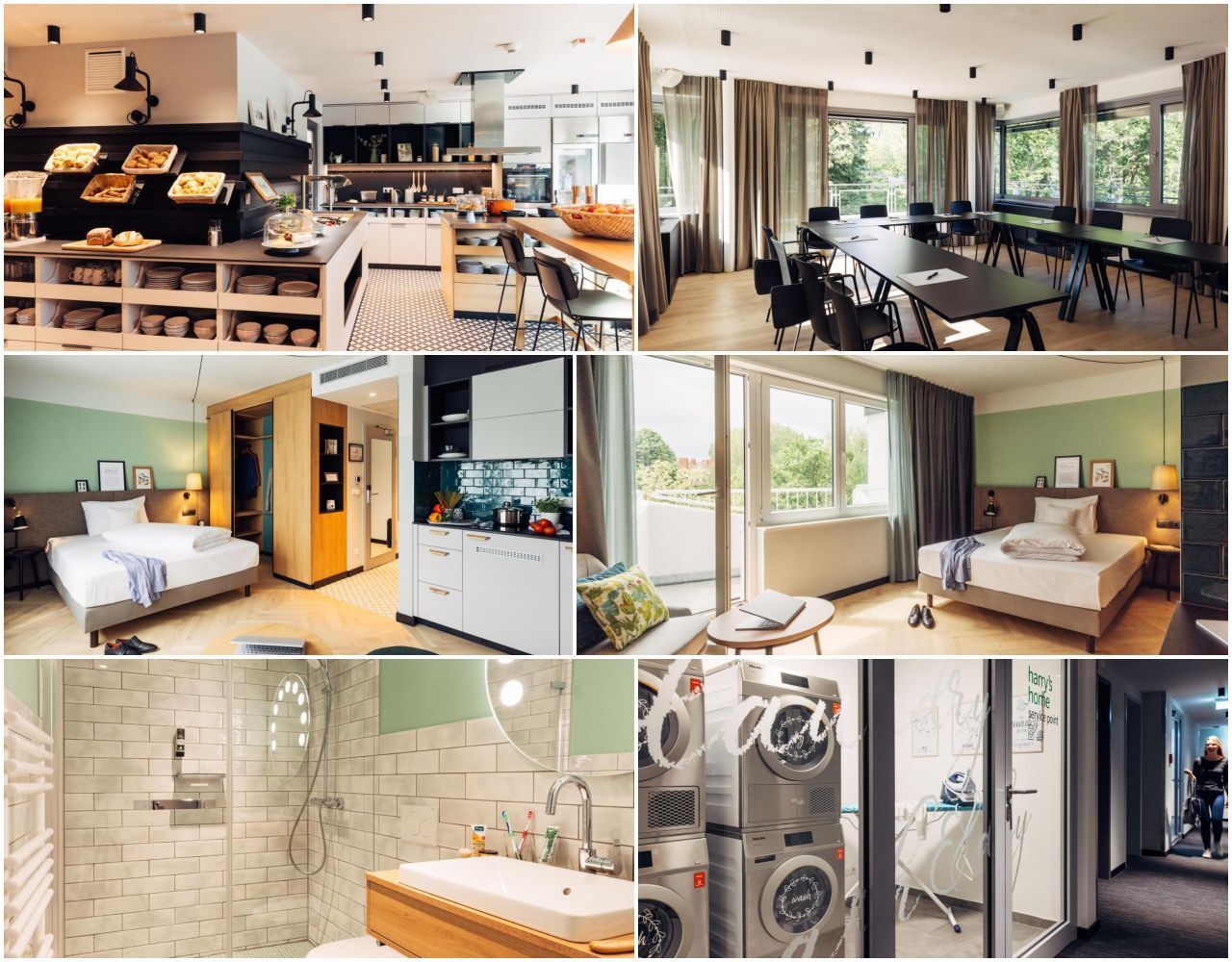 Harry's Home Berlin-Moabit
Opening Date: May 2023
Address:

 Alt-Moabit 86a, 10555 Berlin
Situated in Berlin's vibrant Mitte district, harry's home Berlin-Moabit is a stylish addition to the Tyrolean group, offering 73 rooms spread across its "main house" and "garden house". Many rooms come with balconies, and interiors showcase a blend of fine wood, soft hues, and modern metro tiles. The hotel's "Harry's living room" serves as a communal space for relaxation and interaction.
Its central location ensures easy access to Berlin's attractions and public transport. Guests can enjoy the serenity of nearby green spaces and the Spree riverbank. Breakfast is a highlight, with options ranging from hearty meals to quick grab-and-go choices, emphasizing regional and organic products.
The 24/7 service point is a unique feature, providing snacks, drinks, and laundry facilities, often becoming a social hub for guests. Harry's Home is pet-friendly, offering amenities like specialized feeding bowls. Their commitment to sustainability shines through initiatives like bee sponsorship.
Business travelers will find the hotel's amenities, from efficient breakfast options to well-equipped meeting spaces, tailored to their needs. The spacious rooms, equipped with modern amenities, cater to both short and long stays. Families, too, will appreciate the spaciousness and soundproofing of the rooms.
Founded by the Ultsch family, the hotel's ethos is deeply rooted in family values. Their rich history in hospitality and global experiences are evident in the hotel's warm ambiance. With a motto like "We all are family", Harry's Home stands out as a place where every guest feels welcomed and cherished.
---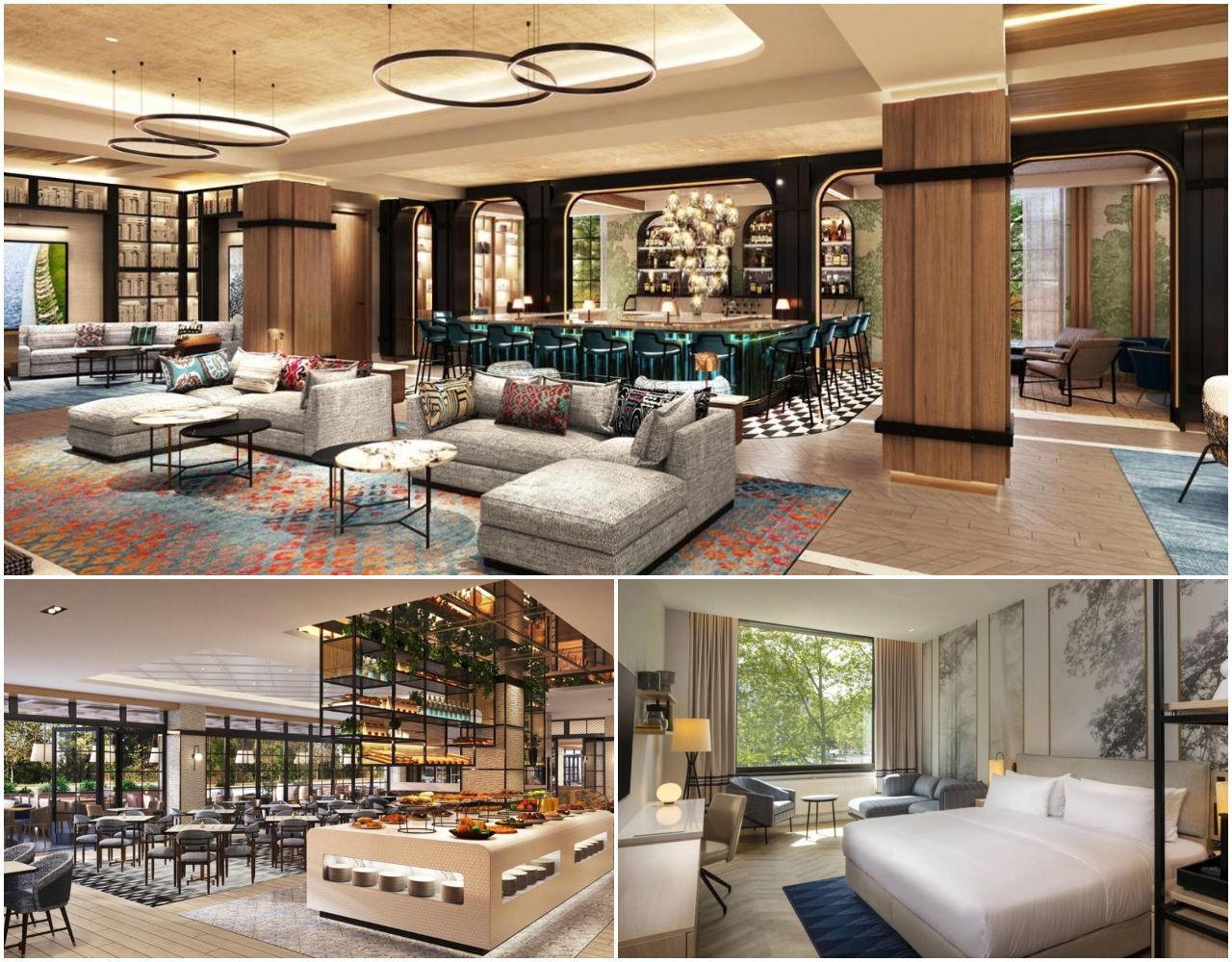 DoubleTree by Hilton Berlin Ku'damm
Opening Date: July 2023
Address:

Los-Angeles-Platz 1, Berlin, 10789
Strategically positioned in Berlin's upscale shopping district, DoubleTree by Hilton Berlin Ku'damm offers a luxurious stay overlooking the picturesque Los Angeles Plaza. A stone's throw from the renowned Kurfürstendamm avenue, often likened to Paris's Champs-Elysees, this hotel places guests amidst Berlin's elite boutiques, eateries, and showrooms. Iconic landmarks like the Kaiser Wilhelm Memorial Church and Berlin Zoological Garden are conveniently within a kilometer's radius.
Having first opened its doors in 1981, the hotel recently underwent a comprehensive 16-month makeover, led by the acclaimed Virserius Studios. The transformation has birthed a contemporary haven, seamlessly blending modern amenities with DoubleTree by Hilton's signature warmth. Each of the 420 rooms, inclusive of 15 opulent suites, boasts plush bedding, spa-inspired bathrooms, and a touch of elegance.
Gastronomy at the hotel is a delightful affair, with Chef de Cuisine Alexandre Castelain at the helm. Guests can indulge in a sustainable, zero-waste menu that promises a culinary journey. For fitness enthusiasts, a state-of-the-art gym awaits.
Business travelers and event organizers will appreciate the hotel's expansive meeting facilities. With over 8,600 square feet of space spread across 11 high-tech meeting rooms, the hotel caters to diverse event needs, from grand corporate gatherings to intimate social functions. Given its prime location and a mere 30-minute drive from Berlin's airport, DoubleTree by Hilton Berlin Ku'damm stands as a preferred choice for global travelers seeking luxury, convenience, and impeccable service.
For those interested in our previous coverage on the hotel's opening, you can read more about it in our earlier article here
---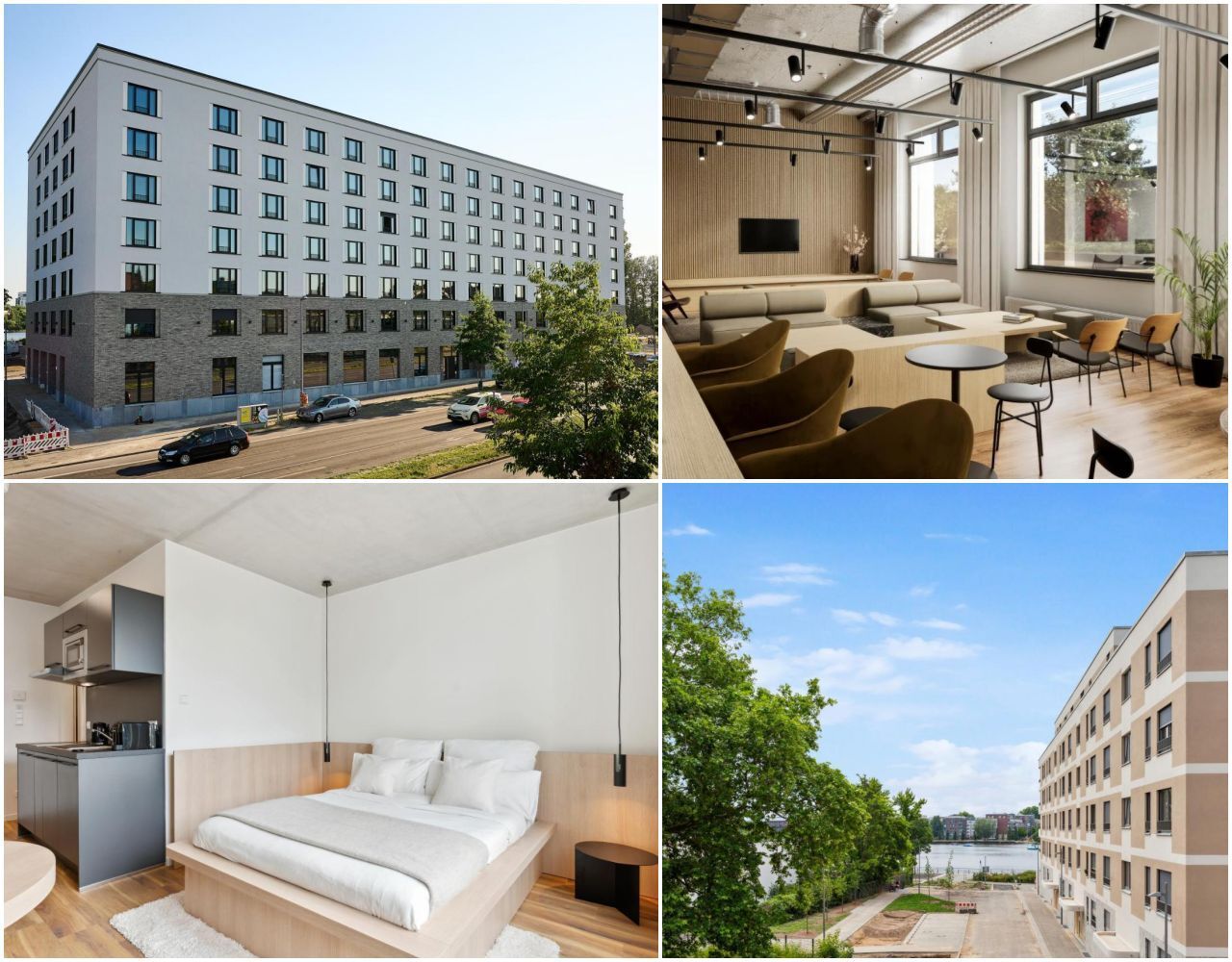 Habyt The Waterfront
Opening Date: July 2023
Address:

Hauptstraße 2-3 10317 Berlin
Habyt, a global frontrunner in flexible housing, proudly introduces its inaugural hotel, "The Waterfront," nestled in Berlin's vibrant Friedrichshain district. This launch signifies Habyt's pioneering venture into the European hotel domain, blending the comforts of home with the allure of Berlin's dynamic culture.
The Waterfront promises an authentic Berlin experience for short-term visitors. It's strategically located in Friedrichshain, a cultural hotspot where urban charm converges with the tranquil Rummels Bucht lakeside. Renowned for its bustling nightlife, eclectic eateries, and a haven for creatives and young professionals, Friedrichshain also boasts excellent connectivity to the city and Brandenburg Airport (BER) via public transport.
Habyt – The Waterfront houses 144 meticulously designed private studios, each equipped with modern amenities including a Queen-sized bed, work station, kitchenette, and a private bathroom. An additional 92 studios cater to guests seeking longer stays of three months or more. The hotel's aesthetic is a blend of urban chic and nature, with bespoke wood panels, handpicked furnishings, and curated art pieces.
Guests can immerse themselves in the hotel's communal spaces, each exuding warmth and style. The ground floor, the heart of the community, offers shared kitchens, workspaces, and plush seating areas. A contemporary café on the premises ensures guests can indulge in delightful meals and snacks.
Coinciding with the hotel's launch, Habyt unveils its revamped brand identity, crafted by the globally acclaimed DesignStudio. This rebranding aims to unify Habyt's diverse acquisitions, including Common in the US and Hmlet in Southeast Asia, under a singular, cohesive brand. With DesignStudio's expertise, previously showcased with giants like Airbnb and British Airways, Habyt's new identity resonates with its core values and global aspirations.
---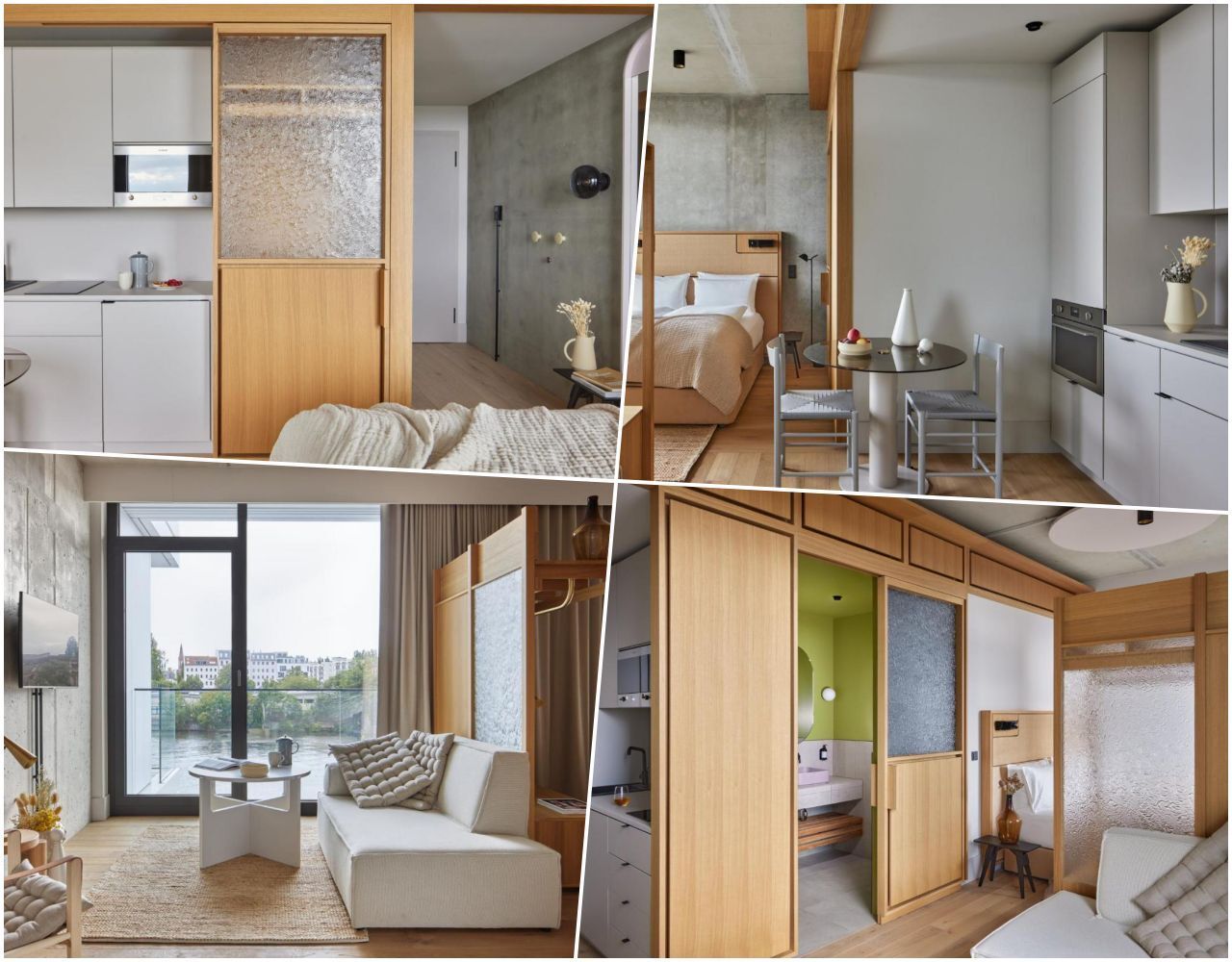 Locke at East Side Gallery
Opening Date: September 2023
Address:

Mühlenstraße 61-63, Friedrichshain – Berlin, 10243
Locke, the renowned lifestyle aparthotel brand, has unveiled its latest gem in Berlin: Locke at East Side Gallery. This debut property, boasting a prime riverside location, offers guests a unique blend of comfort, style, and cultural immersion.
With 176 meticulously designed studio apartments, guests can revel in the luxury of space. Each apartment is furnished with a kitchenette and cozy living area, and many boast private balconies that offer either serene river vistas or the city's dynamic skyline. The property is not just a place to stay but an experience in itself. It houses a complimentary co-working space, perfect for both guests and locals, and introduces ANIMA, an avant-garde audiophile bar and restaurant. ANIMA is set to redefine Berlin's music scene, drawing inspiration from Japan's "Kissaten" hi-fi cafes, which were popular before the era of affordable home stereos.
Beyond its living spaces, Locke at East Side Gallery offers a range of amenities to cater to the modern traveler. The property features a versatile meeting and events space, complemented by a rooftop terrace that promises breathtaking views. Fitness enthusiasts can enjoy the gym located on the eighth floor, where panoramic windows offer an inspiring backdrop of Berlin's Mediaspree.
---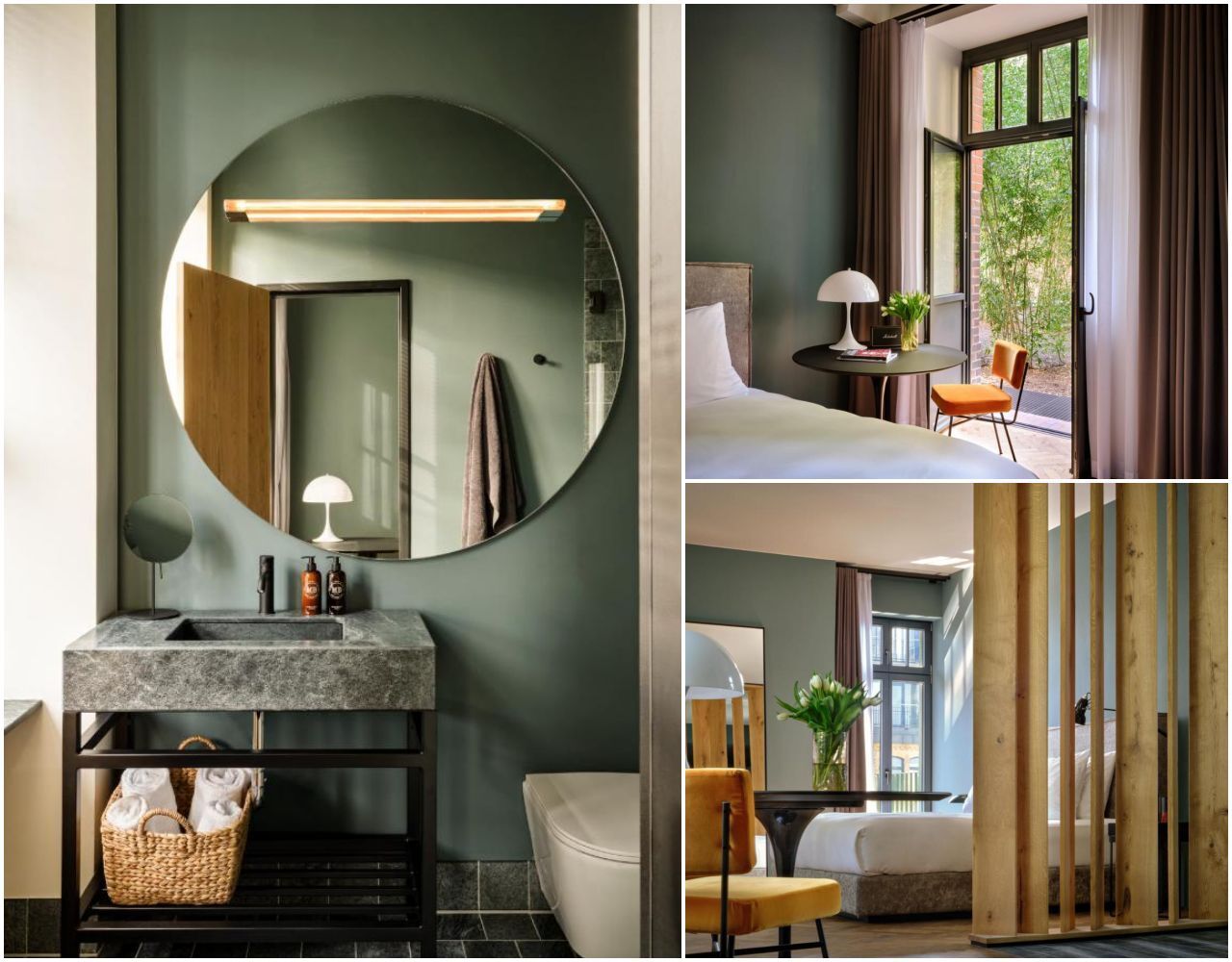 sly Berlin
Opening Date: October 2023
Address: Petersburger Strasse 16, Berlin
Book on Booking.com
Introducing sly Berlin, the latest luxury addition from the esteemed Preferred Hotels & Resorts brand. Opening its doors in the last week of October, this modern sanctuary is nestled in Berlin's vibrant Friedrichshain district. Comprising 150 elegantly designed rooms and suites across five interconnected edifices, the hotel is a blend of luxury and architectural brilliance. A standout feature is its expansive 220-square-meter greenhouse, bathing the inner courtyard in natural light, and a rooftop sauna that offers panoramic views of Berlin's skyline.
Located in the bustling heart of Friedrichshain, sly Berlin is more than just a hotel. It's an experience. The property boasts:
150 state-of-the-art rooms, some with private balconies, all exuding contemporary charm with Italian stone, oak wood floors, and plush linens.
A signature restaurant, sly Restaurant, where the ambiance shifts from sunlit lunches under a glass ceiling to intimate dinners beneath the stars.
A cutting-edge fitness center and a rooftop sauna for relaxation and rejuvenation.
Proximity to Berlin Brandenburg Airport and the city's iconic landmarks.
Guests at sly Berlin are treated to a blend of modern luxury and historical charm. The hotel's prime location places it within walking distance of the lush Volkspark Friedrichshain, the bustling Alexanderplatz square, and the East Side Gallery, a testament to Berlin's rich history. A short journey further unveils Berlin's iconic attractions, including the Brandenburg Gate, the Reichstag Building, the poignant Holocaust Memorial, and the majestic Berlin Cathedral.
---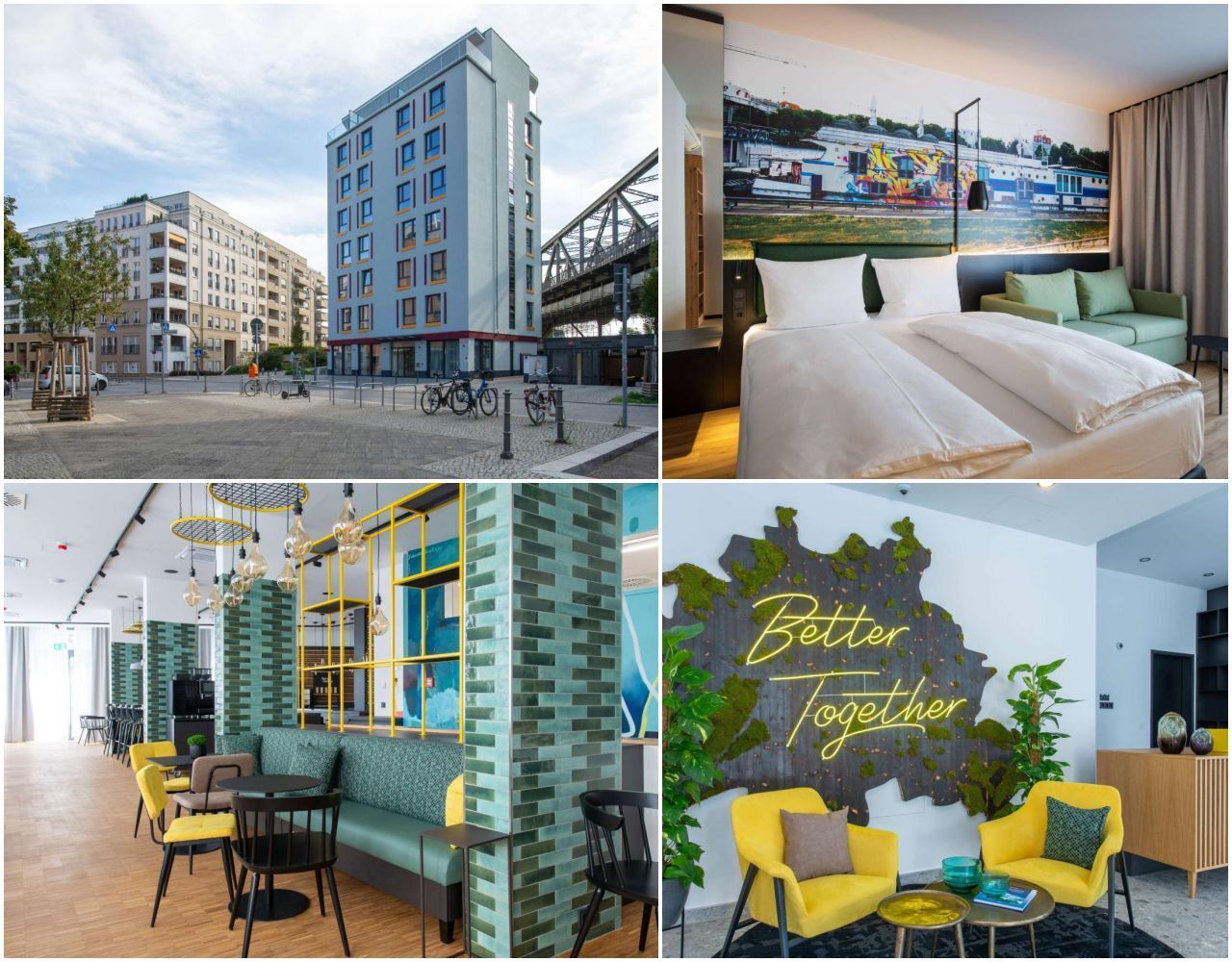 Vienna House Easy by Wyndham Berlin Potsdamer Platz
Opening Date: Mid-November 2023
Address: Dennewitzstrasse 44, 10785, Berlin
Vienna House Easy by Wyndham Berlin Potsdamer Platz offers a unique blend of the historic charm and modern vibrancy of Berlin. Located in the heart of the bustling Potsdamer Platz, this hotel is a stone's throw away from the iconic 18th-century Brandenburg Gate and the upscale shopping avenues of Kurfürstendamm. It also provides easy access to the Berlin U-Bahn's U1 line, connecting guests to the hip neighborhoods of Kreuzberg and Friedrichshain, known for their eclectic boutiques, diverse eateries, and vibrant nightlife.
The hotel caters to both business travelers and vacationers, ensuring a comfortable and memorable stay. The non-smoking, pet-friendly establishment boasts 161 guest rooms, each exuding a minimalist design palette of white, grey, and green. Every room is equipped with modern amenities such as a smart flat-screen TV, high-speed WiFi, coffee/tea maker, and air conditioning.
For those keen on maintaining their fitness regimen, the hotel offers a state-of-the-art fitness center. Post-workout, guests can indulge in Berlin-style cuisine at the on-site restaurant, BOBO, which also offers stunning terrace views. The hotel ensures that business travelers have all they need with coworking spaces and three well-equipped meeting rooms. Additionally, with paid parking, EV charging stations, and its proximity to public transport, Vienna House Easy by Wyndham ensures guests can navigate Berlin effortlessly. The 24/7 multilingual front desk staff further enhance the guest experience, making every stay seamless and enjoyable.
---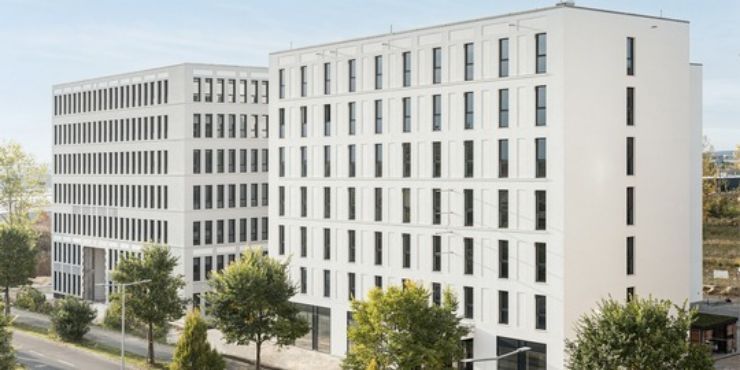 Zleep Hotel Berlin Airport
Opening Date: Q1 2024
Address: Alexander-Meissner-Str. 4, 12526 Berlin
Deutsche Hospitality announced the introduction of its Zleep Hotels brand to Berlin with the launch of the Zleep Hotel Berlin Airport. Slated to open in the first quarter of 2024, this will be the Scandinavian hotel brand's inaugural establishment in the German capital, boasting 198 rooms.
The hotel is designed with a Scandinavian minimalist aesthetic, aligning with the brand's ethos of "A great night's Zleep." This design, however, does not compromise on comfort. Each room is furnished with extra-long cozy beds, a smart TV, high-speed Wi-Fi, and a private bathroom featuring a rain shower. The ambiance is enhanced by a warm lighting concept. Sustainability is a key focus, evident in the choice of materials used throughout the hotel.
In addition to its well-appointed rooms, the hotel offers a restaurant and lounge for guests to relax and dine. There are also 55 parking spaces available for those traveling by car. To further streamline the guest experience, the hotel provides digital check-in/out options and various other digital amenities.
---
 

Popular Tours & Top Attractions in Berlin
Berlin, with its rich tapestry of history and vibrant contemporary culture, offers a plethora of tours and excursions that cater to every traveler's curiosity. Whether you're keen to trace the remnants of the Berlin Wall, explore the bohemian enclaves of Kreuzberg, or embark on a culinary journey through the city's diverse neighborhoods, there's a tour tailored just for you. Dive deep into Berlin's past, present, and future with the curated selection of tours and excursions, ensuring an immersive experience that captures the essence of this dynamic capital.