For winter enthusiasts dreaming of the perfect snowy escape, Vrbo® has unveiled an unparalleled experience: an exclusive reservation at a ski resort in Utah's majestic mountains.
The cherry on top? The only other person on the slopes will be your personal snowboard guide, the five-time Olympic legend, Shaun White.
From October 27, 2023, at 1 p.m. EDT, adventure-seekers can book this unique experience for themselves and up to 14 friends at the astonishing rate of $12.60 per night. This price pays homage to Shaun White's iconic move, the Double McTwist 1260. The package offers a four-day/three-night stay from January 29 to February 1, 2024, exclusively available through Vrbo. To grab this opportunity, be the first to request a booking at www.vrbo.com/3645645.
Melanie Fish, Vrbo's travel expert, shared, "At Vrbo, we pride ourselves on offering private vacation rentals, and this is the epitome of a private escape. Guests will enjoy a luxury ski-in/ski-out cabin, an entire mountain to themselves, and personal time with Shaun White. Additionally, every guest receives $100 in OneKeyCash, rewards they could have earned as a One Key member."
The Ultimate Mountain Retreat
Guests will reside at The Boulders, a luxurious Vrbo cabin located at the Eagle Point Resort in Southern Utah. This five-star contemporary cabin offers breathtaking mountain views, a fireplace, soaking tub, and a game room for après-ski fun. The cabin's prime location allows guests to step directly from their back door onto the ski slopes.
The reservation covers all skiing, snowboarding, and snowshoeing passes, lift fees, rental equipment, and mountain ski hosts. Guests will also enjoy access to the resort's bar, grill, and other amenities, ensuring a memorable stay.
Train with Shaun White
The highlight of this package is the opportunity to receive private snowboarding lessons from Shaun White, the world-renowned three-time gold medalist.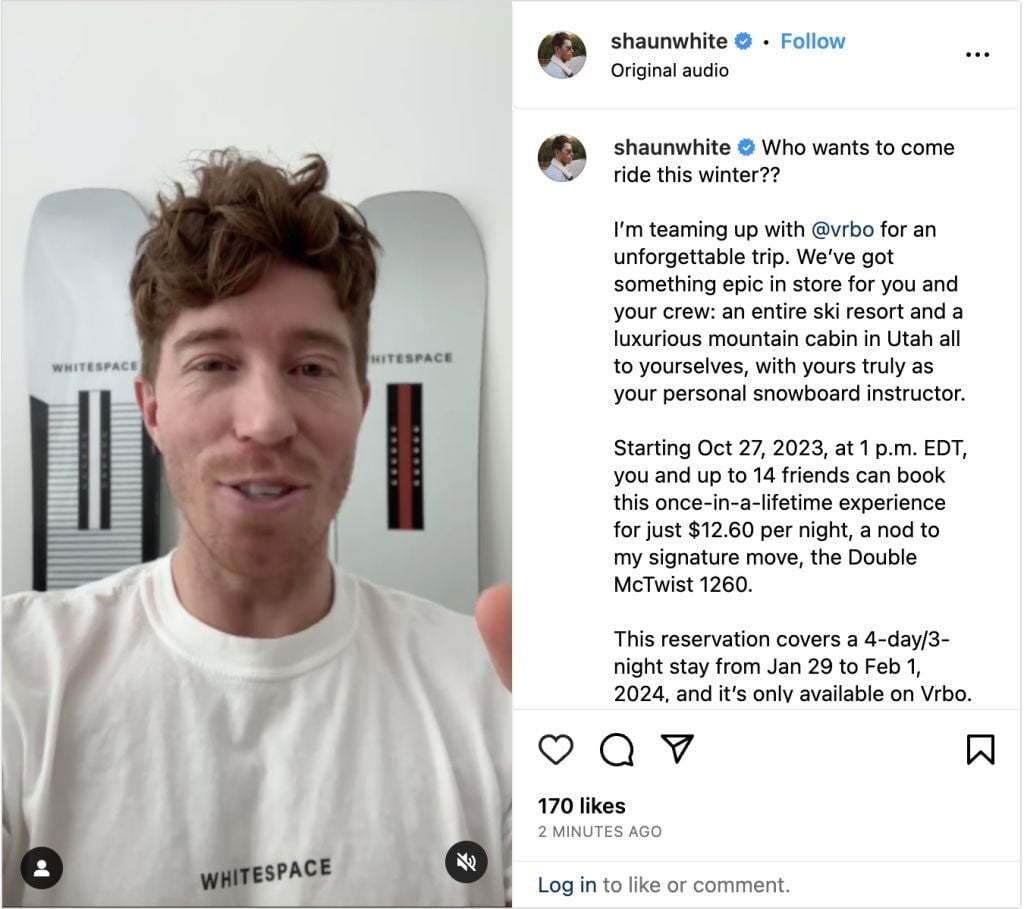 Whether you're looking to perfect your moves in the terrain park or simply enjoy the slopes alongside the snowboarding maestro, this is a once-in-a-lifetime experience. To commemorate the stay, guests will receive $5,000 worth of gear from Shaun's WHITESPACE snowboard and outerwear line.
Discover Your Perfect Snowy Escape
If you miss out on this exclusive reservation, fear not. Vrbo offers a wide range of snowy properties in top ski destinations. With the ski season in full swing, destinations like Park City, Utah, and Squaw Valley, Calif., are in high demand. Vrbo suggests booking by the week of October 16 to ensure the best selection for winter trips.
With One Key, Vrbo's loyalty program, travelers can save on ski trips and earn OneKeyCash on stays, redeemable on vacation homes globally.