Wizz Air has unveiled a list of the world's top lesser-known landmarks and hidden gem locations. The rankings, based on positive TripAdvisor reviews, aim to guide travellers to unique destinations beyond the usual tourist hotspots.
As autumn emerges as a preferred travel season due to fewer tourists and cost-effective travel options, Wizz Air's study offers travellers a curated list of destinations that promise a unique experience.
Tamara Vallois, Wizz Air's head of communications, commented on the study, stating, "Beyond the universally recognized landmarks like the Eiffel Tower or Stonehenge, there exists a plethora of incredible destinations that many travellers might overlook."
Topping the list of lesser-known landmarks is Edinburgh's Chocolatarium. This micro chocolate factory in Scotland's capital has garnered an impressive 99.5% of "Excellent" or "Very Good" reviews on TripAdvisor.
Following closely are Al Masjid an Nabawi in Medina, Saudi Arabia, with 99.4% positive reviews, and Chiesa di San Maurizio al Monastero Maggiore in Milan, Italy, with 98.6% positive feedback.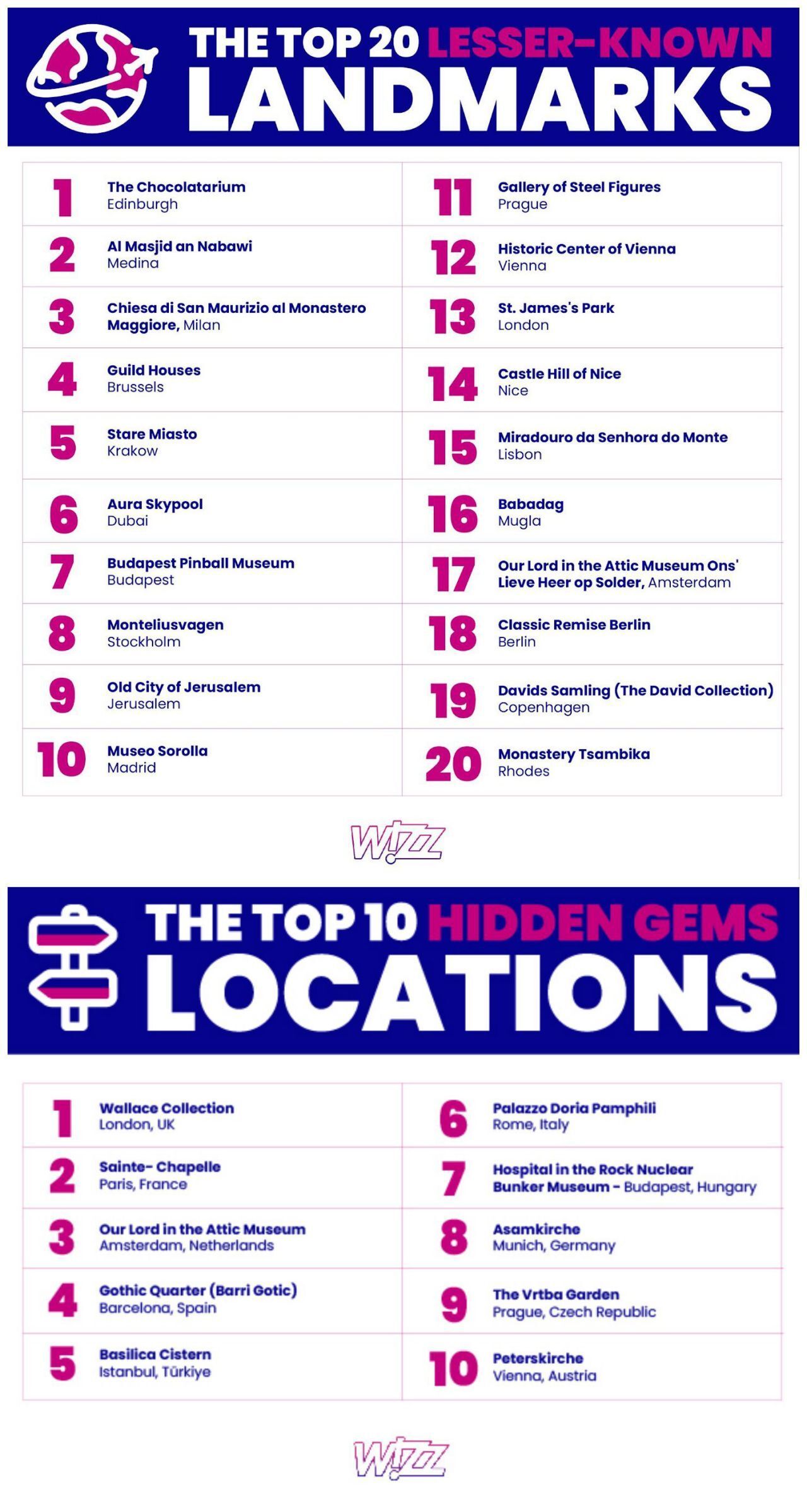 In addition to landmarks, Wizz Air also spotlighted 'hidden gem' locations that offer travellers a unique experience. Leading this list is the Wallace Collection in London, an art museum that boasts a TripAdvisor rating of 4.5 and has been described as a hidden gem in 551 of its 6,598 reviews. Paris's Gothic chapel, Sainte-Chapelle, secured the second spot with a 4.5 rating, followed by Amsterdam's 17th-century Our Lord in the Attic Museum, also with a 4.5 rating.
Vallois further added, "From a delightful chocolate adventure in Edinburgh to a secret chapel in Amsterdam, our study aims to enlighten travellers about the world's lesser-known attractions. We hope to inspire travellers to venture beyond the usual and discover these hidden treasures."
With such a diverse range of lesser-known landmarks and hidden gems highlighted in the study, travellers are sure to find a destination that resonates with their unique interests and preferences.
Methodology
Wizz Air gathered a list of cities in Europe and the Middle East based on Wikipedia's Most Visited Cities list and TripAdvisor's Travellers Choice. For each city, the top 30 attractions falling under "Things To Do" were pulled from TripAdvisor, recording the total number of reviews, the overall rating, and the number of reviews classified as "Excellent", "Very good", "Average", "Poor", and "Terrible".
Landmarks and attractions with less than 1,000 reviews were removed from the "Best Landmarks" list.
Landmarks were ranked based on their percentage of "Excellent" or "Very Good" reviews, with a minimum of 1,000 user reviews and a maximum of 50,000 user reviews.
To determine the "hidden gems" in each city, they performed "hidden gem" keyword searches for "Things To Do" in each city. The attraction with the highest number of mentions of "hidden gems" in their reviews was selected as that city's "hidden gem". Places with the words "hidden" or "gem" in the name were filtered out. Various tours and bars were removed to focus solely on landmarks and attractions.
"Hidden gems" were ranked based on their overall rating out of 5, with a minimum of 500 user reviews. All data was collected in August 2023.
For both the landmarks and hidden gems rankings, if a city or country featured more than once in the top 20 it was only included once. Wizz Air did this to expand the number of different locations included in each ranking.