As the winter season swiftly approaches, the anticipation of snowfall and colder temperatures has the nation split. While some prefer to embrace the frosty air, others are on the hunt for warmer climes.
The Old Farmer's Almanac predicts a colder than usual winter for most parts of the U.S., with above-average snowfall. However, milder conditions are expected in areas like New England and the Atlantic Corridor.
Understanding the public's need for travel guidance during these colder months, WalletHub has meticulously analyzed and ranked affordable and easily accessible U.S. destinations. The analysis encompasses around 70 of the largest metropolitan areas, categorized as either "warm" or "cold". The evaluation considers various factors including flight data over two weeks, safety measures, and weather forecasts.
Best Destinations Unveiled
This unique ranking diverges from the typical scenic-focused lists, spotlighting cost-effectiveness and convenience instead. The criteria ensure that each destination not only offers affordability but also an array of attractions and activities to keep visitors engaged. Here's a glimpse of the intriguing findings, showcasing top winter travel spots for both colder and warmer preferences:
Top Cold Picks:
Atlanta, GA
Washington, DC
Chicago, IL
New York, NY
Denver, CO
Cincinnati, OH
St. Louis, MO
Kansas, MO
Philadelphia, PA
Boston, MA
Top Warm Picks:
Las Vegas, NV
San Diego, CA
Austin, TX
Dallas, TX
San Antonio, TX
Charleston, SC
San Francisco, CA
Houston, TX
Phoenix, AZ
Los Angeles, CA
WalletHub's report goes beyond just ranking, providing a comparative look at both the best and worst in various categories. For instance, a typical flight to a cold winter destination averages at $399.05, taking around 3 hours and 35 minutes, with minimal connections.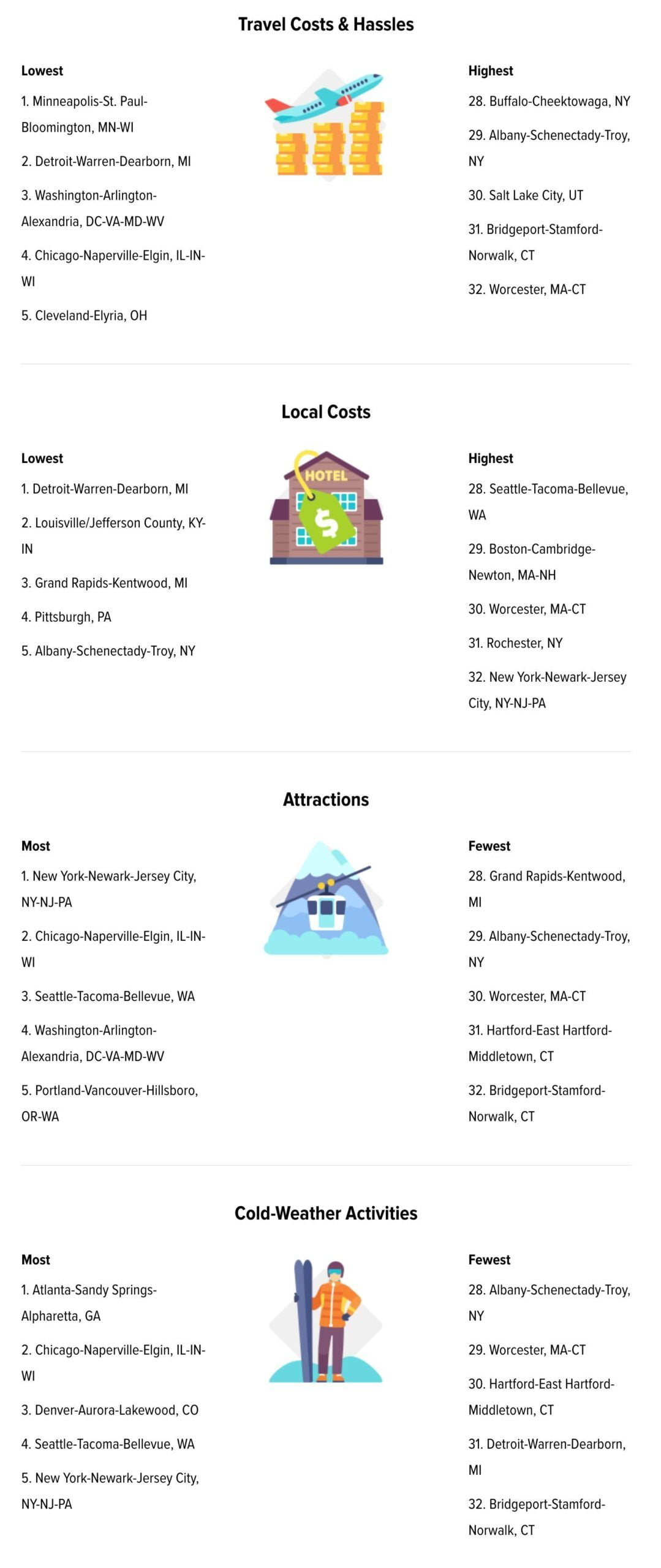 Conversely, flying to a warm winter destination costs about $503.55, lasts approximately 5 hours and 26 minutes, and tends to have more connections.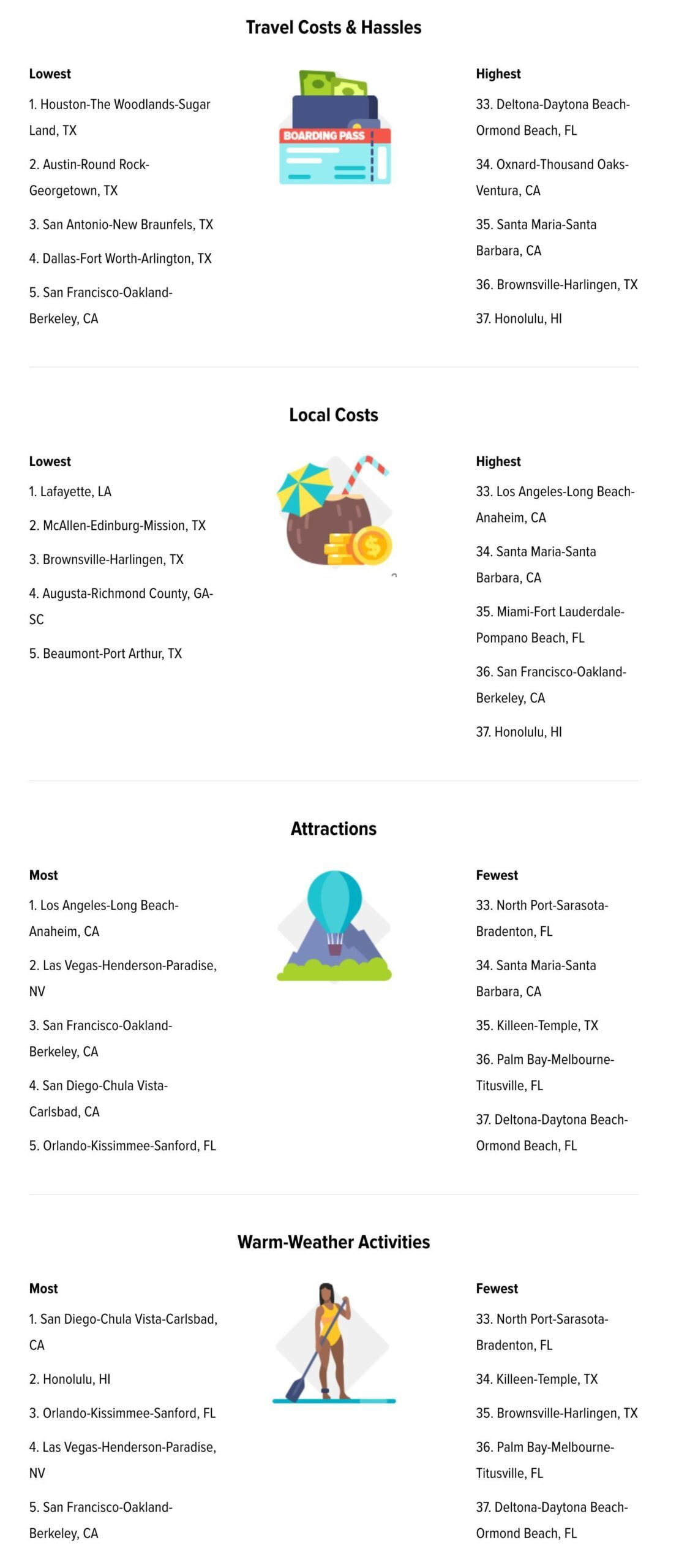 Delving into accommodation costs, Chicago leads in affordability among cold destinations, offering three-star hotel rooms at a mere $39. This is significantly lower compared to Worcester, Massachusetts, where prices soar to $135. In warm locales, San Antonio takes the crown for economical stays at $50 per night, starkly contrasting with Honolulu's steep $196.
Culinary delights are also part of the experience, and again, Chicago tops the list for cold destinations with an impressive array of dining options. Miami holds the title among warm destinations, providing an extensive selection of eateries. Both cities outshine their counterparts by a considerable margin, ensuring a gastronomic adventure for travelers.
In conclusion, whether you're seeking the embrace of winter or fleeing to sunnier skies, this comprehensive guide has got you covered. Explore, indulge, and make the most of the 2023 winter season with these top-notch travel destinations.
To view the full report and your metro area's rank, visit: https://wallethub.com/edu/best-winter-holiday-destinations/7930