Barcelona's maritime legacy is set to be further enriched as Louis Vuitton, the iconic French fashion house, announces its return as the Title Partner for the 37th edition of the America's Cup, the prestigious sailing competition slated for 2024.
The world-renowned event will harness the spirit of innovation and heritage, a sentiment deeply ingrained in both the luxury brand and the historic race.
The Louis Vuitton Cup regattas, the precursor to the final series of races, will run from August 29th to October 7th, 2024. Five Challengers – Ineos Britannia, Alinghi Red Bull Racing, Luna Rossa Prada Pirelli, NYYC American Magic, and Orient Express Racing – are set to vie for the honor of challenging the Defender, Emirates Team New Zealand, in the waters off Barcelona's iconic Port Vell.
This collaboration between Louis Vuitton and the America's Cup is a testament to their shared values: a dedication to the art of sailing coupled with a commitment to elegance and adventure. The partnership is also a celebration of innovation that respects and honors tradition.
Louis Vuitton's involvement extends beyond naming rights; the Maison will be crafting the coveted Louis Vuitton Cup Trophy, a role it has proudly undertaken since 1983. In addition, Louis Vuitton's historic atelier in Asnières will produce two bespoke Trophy Trunks. One will house the Auld Mug, the esteemed trophy dating back to 1851 and awarded to the America's Cup winner. The second trunk will carry the Louis Vuitton Cup, which has been presented to the winner of the Challenger series since its inception.
Pietro Beccari, President and CEO of Louis Vuitton, expressed immense pride in rejoining the historical competition as Title Partner. He emphasized that the event in Barcelona will showcase a fusion of elegance and power, with teams demonstrating boldness and mastery on increasingly innovative yachts. These are values that mirror the spirit of Louis Vuitton and its artisans.
The event promises to be a spectacle of modern luxury and timeless tradition, as some of the world's most advanced sailing yachts take to the Mediterranean Sea, backed by the artistry and craftsmanship of Louis Vuitton.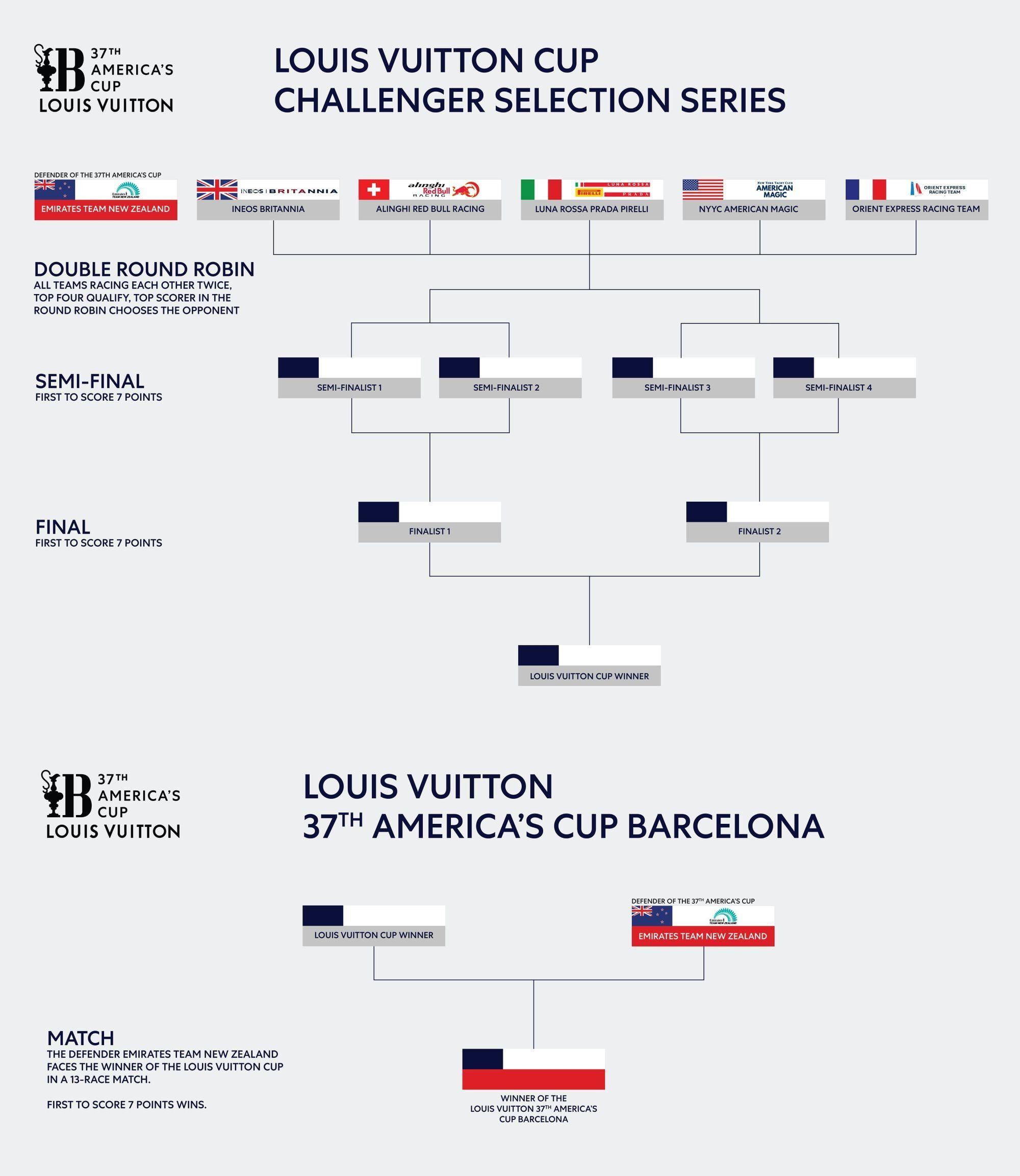 Louis Vuitton's return for the 37th America's Cup is a welcome addition to the Challenger Selection Series as Grant Dalton, CEO of America's Cup Event confirmed: "We welcome Louis Vuitton back to the heart of the America's Cup as the Official Title sponsor of the Louis Vuitton Challenger Selection Series- once again to be affectionately known as The Louis Vuitton Cup.
Their involvement over the decades since 1983 has been a masterclass in sports sponsorship, helping to grow out the America's Cup to the widest international audience all over the globe. Their support is key to the success and prestige of the 37th America's Cup here in Barcelona in 2024 and we are delighted to partner with Louis Vuitton in making this the most successful and competitive America's Cup of all time."