The Michelin Guide, one of the most revered restaurant rating systems globally, has officially unveiled its 2024 selection for Istanbul, Izmir, and Bodrum during a ceremony at the Zorlu Performance Arts Center.
The 2024 edition includes 58 new restaurants, with notable establishments such as Vino Locale, Od Urla, Teruar Urla, Arkestra, Sankai by Nagaya, Maça Kızı, and Kitchen being awarded one Michelin star. This announcement not only reaffirms the stars of previously recognized restaurants like Araka, Mikla, Neolokal, and Nicole but also continues to honor the two-star recipient, Turk Fatih Tutak.
Culture and Tourism Minister Mehmet Nuri Ersoy emphasized the significance of expanding the Michelin Guide to include Izmir and Bodrum, cities known for their unique cuisine and original establishments. He noted Istanbul's increasing prominence on the global gastronomic stage, attributing this to the city's historical and cultural heritage, as well as the creativity and innovation of its chefs.
Ersoy expressed hope for new Turkish destinations to be featured in the guide in the future, acknowledging gastronomy tourism as a stand-alone travel motivation. He praised the support of the Michelin Guide in reinforcing Turkey's position in the global gastronomy tourism sector.
At the same ceremony, Gwendal Poullennec, the International Director of the Michelin Guide, expressed his pleasure in incorporating Izmir and Bodrum into the guide, highlighting these locations as not only cultural and touristic hotspots but also deserving culinary destinations.
The selection includes 16 restaurants that were awarded the "Bib Gourmand" for offering good quality, good value cooking. Establishments like Circle by Vertical and Hiç Lokanta received the Green Star Award for their commitment to sustainable gastronomy.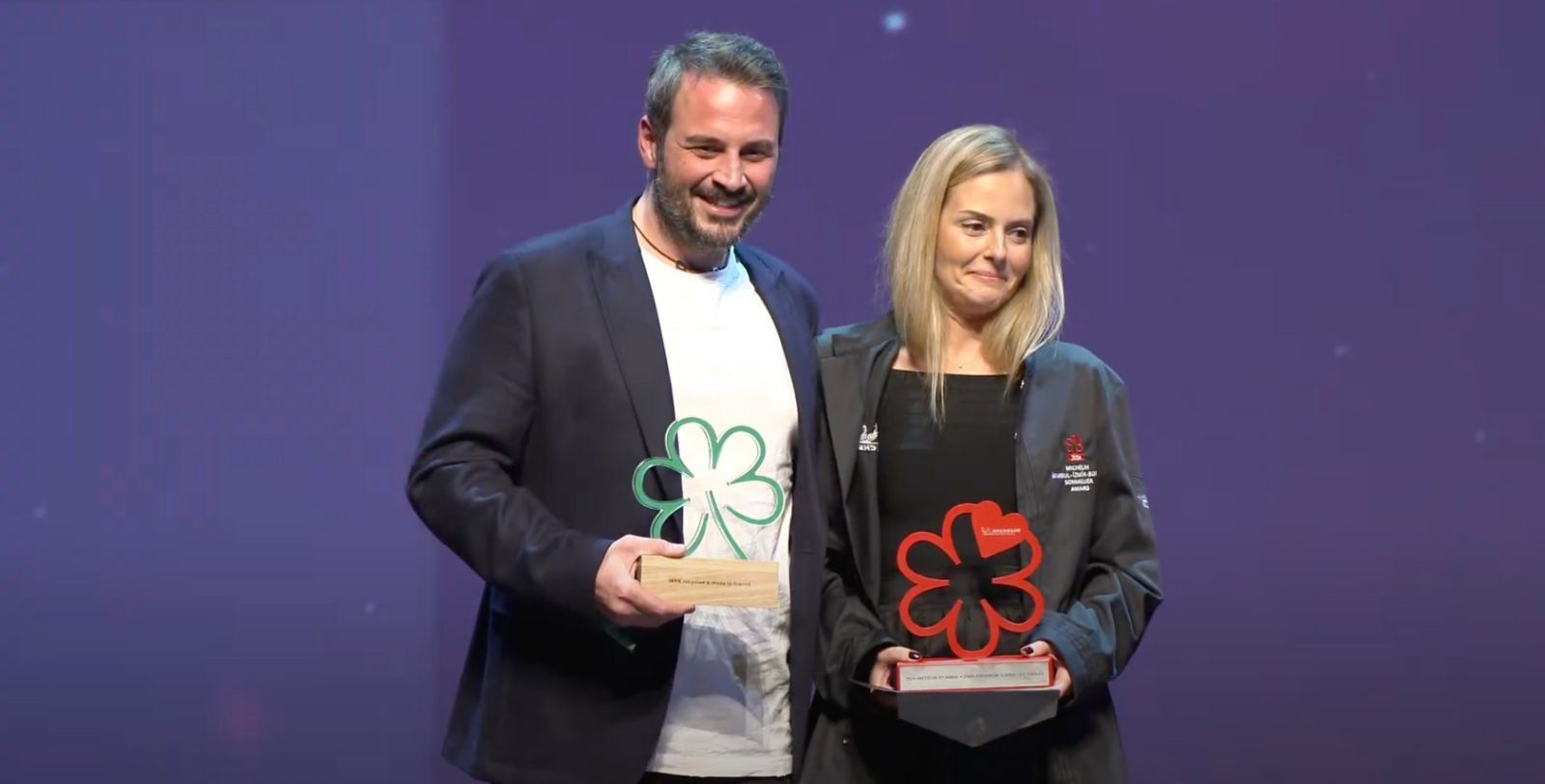 Husband and wife; Chef Ozan and Seray Kumbasar from Vino Locale at Michelin Guide 2024
Young Chef and Service awards were presented by Michelin Guide inspectors to recognize professionals for their expertise and talent. This year, The Red Balloon's Chef Ulaş Durmaz received the Young Chef award, while Seray Kumbasar from Vino Locale won the Sommelier award.
The Michelin Guide's recommendation has now extended to 36 additional restaurants across Istanbul, Izmir, and Bodrum, further establishing Turkey's acclaim in the Michelin Guide with a total of 111 restaurants.
Watch the MICHELIN Guide ceremony 2024 Istanbul, Izmir and Bodrum