Walt Disney World Resort, a globally renowned vacation destination, has significantly contributed to Florida's economy, generating an astounding $40 billion in economic impact and supporting over a quarter of a million jobs in the fiscal year 2022.
This impressive feat is highlighted in a new study by Oxford Economics, emphasizing Disney's pivotal role in fueling the state's economy, tourism, and small business sectors for over 50 years.
Key findings from the study include:
Statewide Economic Impact: Disney's influence resulted in a $40.3 billion total economic impact across Florida.
Employment Contribution: The company supported 263,000 direct and indirect jobs, accounting for 1 out of every 32 jobs in the state. This figure includes Disney's 82,000-strong workforce in Florida, with a significant impact in Central Florida where 1-in-8 jobs are directly supported by Disney. The study further reveals that for each direct job at Disney, an additional 1.7 jobs are supported throughout Florida.
Unemployment Rate Effect: Without Disney's job contributions, Florida's unemployment rate would jump from 3% to 5.4%, shifting the state from the 21st lowest to the second highest unemployment rate in the U.S.
Labor Income and Tax Revenue: Disney's operations and related visitor spending contributed to $12.1 billion in total labor income. Furthermore, the company generated $6.6 billion in tax revenue, including $3.1 billion in state and local taxes, which supports various public services.
In addition to its economic contributions, Disney also plays a vital role in supporting the region's small businesses. The company collaborates with 2,500 small businesses in Florida and over 8,500 nationwide, providing a wide array of goods and services. This includes 160 third-party businesses operating on Disney property, from restaurants to hotels and retailers.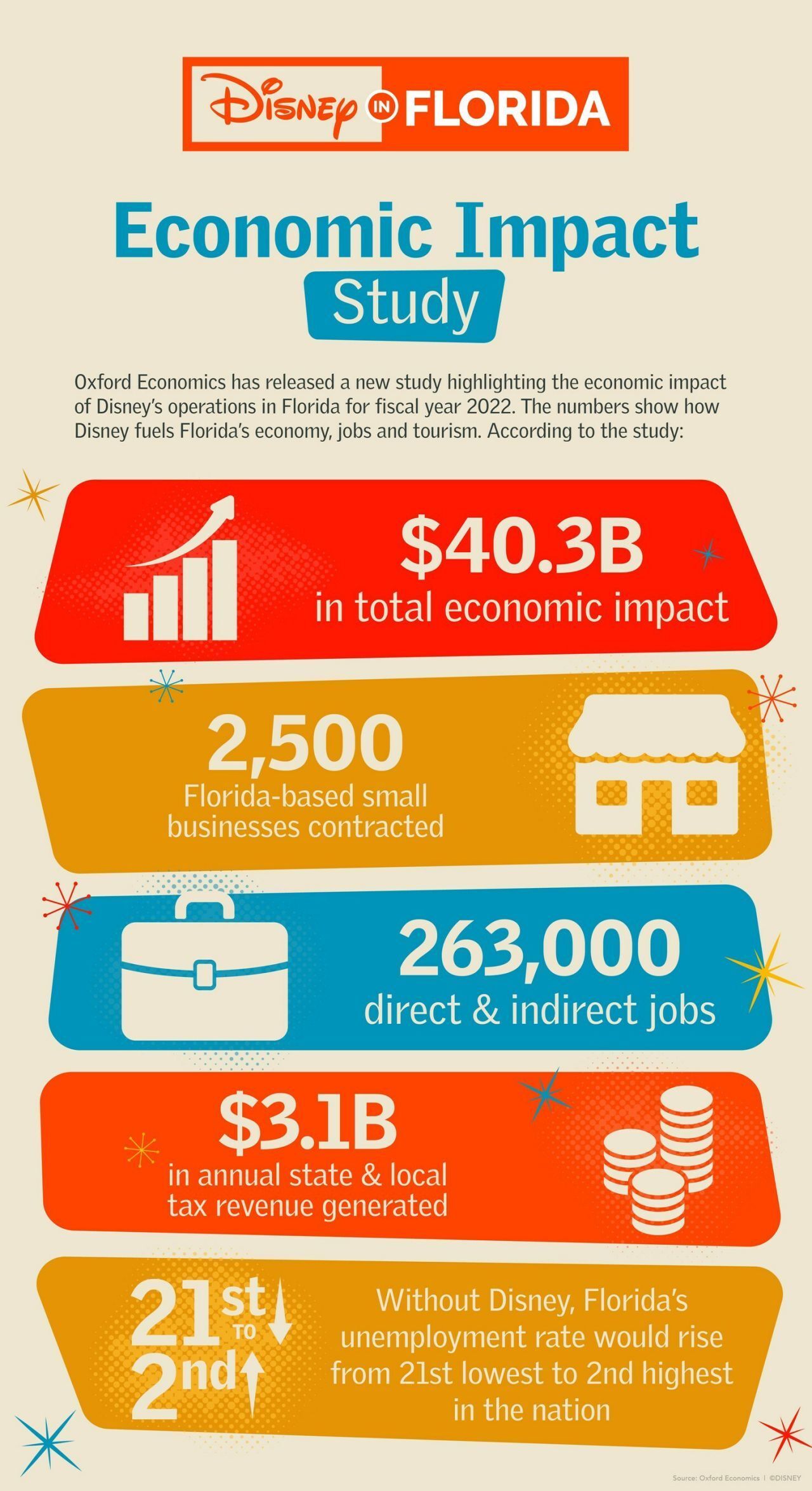 As one of the largest taxpayers in the region, Disney paid and collected $1.1 billion in state and local taxes in fiscal year 2022, significantly contributing to the Central Florida Tourism Oversight District, formerly known as the Reedy Creek Improvement District. This special district, established to provide services like power, water, roads, and fire protection, has been a cost-effective means for Disney to invest in the state.
The decade has seen unprecedented growth at Walt Disney World, with new theme park lands, attractions, transportation networks, and resort hotels, including expansions to Disney Springs. Disney Cruise Line, with its homeport in Port Canaveral, has also been a major contributor to Florida's economic growth and job creation.
In addition to economic contributions, Disney has generously supported local nonprofits, with $1.5 million in recent donations to 19 organizations and over 233,000 volunteer hours donated by Disney cast members in Florida.
The Walt Disney Company is planning to further accelerate investment in its Experiences segment, with plans to double capital expenditures to approximately $60 billion over ten years, focusing on expanding domestic and international parks and cruise line capacity.
Methodology: The economic impact study by Oxford Economics utilized a comprehensive model, including multiple data sources and an IMPLAN Input-Output model for Florida, to quantify the impacts of Disney's operational spending and overall economic contribution.