In a detailed report by the Global Business Travel Association (GBTA) in collaboration with Visa, business travel spending in Europe is expected to surpass pre-pandemic levels by 2025, reaching an estimated $414.9 billion.
This forecast, part of the 2023 GBTA Business Travel Index™ Outlook, marks a significant rebound for the region which has seen a slower recovery compared to the global market.
The report, which draws on data from 125 event professionals, indicates that Europe's business travel spending declined in 2021, the only region to do so. However, it regained momentum in 2022, growing to 93.5% of its previous volume, recording the highest growth rate globally. Western Europe, which accounts for 88% of Europe's business travel spend, showed a stronger recovery compared to Emerging Europe, primarily affected by the ongoing war in Ukraine.
Catherine Logan, GBTA Regional Senior Vice President, EMEA and APAC, notes that the growth is not only in numbers but also in the nature of business travel. The hybrid work environment and emphasis on sustainable travel options are reshaping the industry, with multi-modal trips now making up a significant portion of business travel.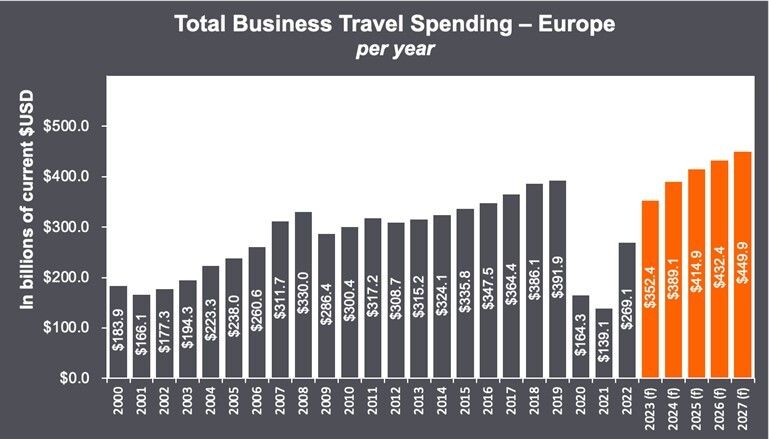 The report further highlights the disparities in recovery across different European regions and countries. Western Europe leads the growth, with a 109% increase in business travel spending in 2022. In contrast, Emerging Europe lags, hindered by geopolitical tensions. Individual countries within Western Europe also show varied recovery rates, with Germany, the UK, and Italy trailing behind the regional average in 2022.
Looking ahead, the top global markets for business travel spending, such as Germany and the UK, are expected to see substantial growth in 2023. Industry sectors like Accommodation and Food Service, Arts, Recreation and Entertainment, and Utilities are showing strong resilience in returning to pre-pandemic business travel spending levels.
Despite the promising rebound, several factors could influence the long-term forecast for business travel in Europe. These include geopolitical tensions, economic challenges, sustainability initiatives, the adoption of meeting technologies, the growth of remote workforces, and the rise of blended travel.
Business travelers themselves are adapting to these changes. According to a GBTA survey of 1,176 business travelers across Europe, the majority find business travel worthwhile for achieving business objectives. The survey also reveals trends in travel frequency, spending patterns, and the adoption of digital payment solutions among European business travelers.