At the Vacation Rental Management Association (VRMA) International Conference in New Orleans, Louisiana, Booking.com disclosed that on average, 7 guests per second are checking into a home, apartment or unique place to stay.
The announcement comes alongside the launch of new tools and product enhancements directly informed by feedback from Booking.com partners and specifically designed to simplify day-to-day management and help professional short-term rental partners welcome more guests.
With over 20 years of experience in this space, Booking.com is singularly positioned to work in true partnership with all of its accommodation providers to pioneer new ideas to shape the future of the travel industry with its partners. With that in mind, the new features were developed by a team of specialists solely dedicated to ensuring professional short-term rental partners can deliver more great stay experiences to the ever-expanding set of travelers booking alternative accommodations. This carries particular importance as the company recognizes the unique potential for professionally-managed properties to delight their guests.
More travelers than ever are looking for unique places to stay, with 43% of travelers planning to stay in a new type of accommodation this year.* With this continued trend, Booking.com is committed to listening to its partners and relentlessly innovating its product to drive new business opportunities for them and showcase the one-of-a-kind benefits of each of the more than 6 million homes, apartments and unique places to stay across 148,000 destinations on the platform.
The new features do just that, leveraging technology to help professional property managers market their particular offering on the Booking.com platform, streamline day-to-day operations and grow and maintain revenue. The products and features include:
Group Opportunity Centre: Spot opportunities that apply to all, or some, of your properties and save time making updates with this new tool offering relevant, actionable performance tips for your portfolio.
New Connectivity Tools: Cut down on workload with our new Connectivity features which make it easier for you to manage your business, from key collection to damage deposits, through your software provider.
Features to Highlight Professionally Managed Properties: Showcase your property's professional attributes to guests from the start through a range of new features, including a host score, based on reviews from the rest of your portfolio, and an external review score, based on guest reviews from trusted sites. These scores give guests peace of mind when booking your professionally managed property and improve your visibility. We're also spotlighting the unique facilities of your professional properties including 24/7 contact, keyless check-in, and much more.
Quality Rating System: Attract travelers and match guest expectations for your property with the first-of-its-kind objective quality rating system for the short-term rental industry, similar to that of traditional hotel star ratings, based on your property's location, size and facilities.
Advisory Board: Know your voice is heard through our Advisory Board, a group of industry thought leaders spanning property managers and connectivity providers and dedicated to advising Booking.com on its role as a true partner to the short-term rental industry so we can tailor our products and services to our partners' specific needs.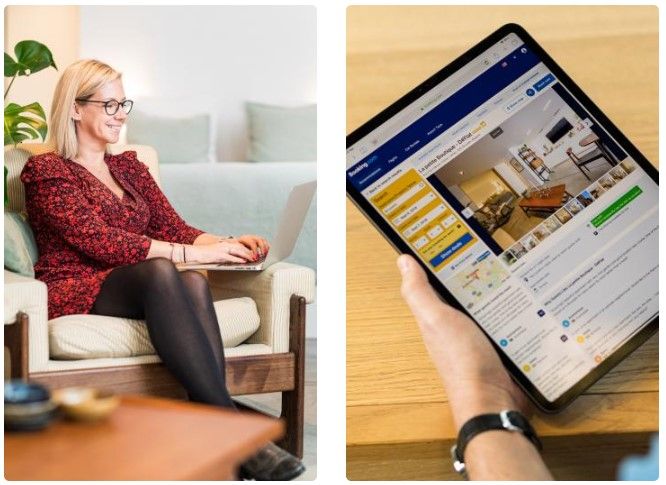 Olivier Grémillon, Vice President of Global Segments – overseeing Booking.com's homes and apartments division as well as hotel chain partnerships and strategic segments – spoke about the evolution of the offering to professional short-term rental partners at VRMA International during a fireside chat with industry expert Simon Lehmann.
"Since last year's VRMA International conference, we have engaged in active conversation with our short-term rental partners to identify ways the short-term rental industry can continue to respond to increasing traveler expectations and an ever-growing appetite for exploration," said Grémillon. "This meaningful dialogue has not only strengthened our relationships and partnerships with the short-term rental industry, but is actually helping to push the industry forward, as we see our partners' input helping to shape the future of travel. Particularly as homes, apartments and other unique places to stay continue to grow faster as a category than traditional segments, it is exciting to look ahead to see what is next in our partnership, as there is so much potential to grow together."
Booking.com has launched a marketing campaign to partners about the new products and enhancements which make managing a portfolio of properties on Booking.com a more seamless experience than ever before. If you didn't list your property on Booking.com yet, you can do it easily by clicking here.