As the coronavirus pandemic continues to cause global upheaval, the latest survey of 344 safari tour operators revealed that most are suffering from a drop in business of at least 75%.
The impact is being acutely felt in Africa's US$12.4 billion¹ safari industry – many parks and reserves have lost most of their revenue, and job losses are being felt in local communities that rely on the safari industry for employment.
SafariBookings.com, an online marketplace for African safari tours, recently ran its sixt monthly survey among 344 safari tour operators. The survey's aim was to acquire a detailed understanding of the impact in the safari industry from the downturn in travel associated with the coronavirus pandemic. The results were in line with the previous five surveys – an overwhelming number of tour operators are suffering from a decline in bookings of at least 75%. This is a horrendous figure for an industry which so many people rely on in East and southern Africa.
As one operator told, "The impact of the virus is global and has been devastating for many people. Of course, the safari business in Tanzania is no exception. We have seen a decrease of more than 90% in bookings and requests, and we have been closed for more than 4 months now." And in Uganda one operator simply said, "This pandemic has affected the tourism sector to the extent that since February I have not received any quotes or bookings for safaris."
Around 91% of operators said they had lost at least three quarters of the bookings they normally rely upon at this time of year. An extraordinary drop in business with many operators unable to afford to even hire local staff. A Namibian operator summed up the situation in Southern Africa, "In Namibia, South Africa and Botswana, our tourism is suffering badly without our usual international clients. Many places have closed until further notice, many people have lost their jobs. It's really sad times for tourism."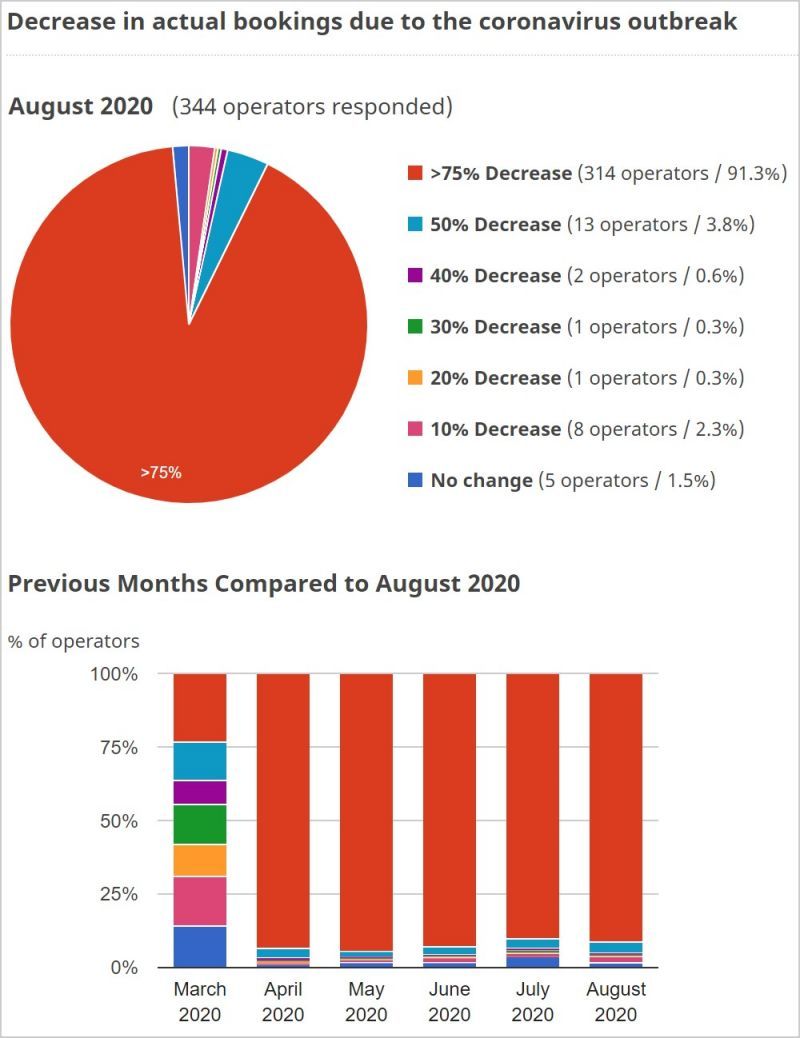 Seventy percent of operators who responded to our survey said that cancellations had increased by at least 75% on existing bookings. Less than 4% said it was business as usual. "Covid-19 has affected our business negatively, and caused us to lose some of our staff members as most of our clients have cancelled for this year," an operator from Namibia told us.
As countries such as Kenya and Tanzania become beacons of hope for the safari industry, restarting international flights, there is also a more positive tone taking its first tentative steps from some tour operators. "There are signs that some recovery will begin, probably in the next month once the border between Tanzania and Kenya opens, and as more flights are starting – we believe that the chances are high that business will improve by at least 50%."
This operator from Kenya even saw the pandemic as an opportunity for improvement, "The pandemic has definitely affected business in the negative. However, but on the other hand it has caused us to think deeper about our business model, which has resulted in us designing a more strategic model that will be able to remain viable even in a crisis."
The full survey is available at www.safaribookings.com/blog/coronavirus-outbreak
¹Africa's US$12.4 billion Safari Industry
The US$12.4 billion is based on the 2018 international tourism receipts of the major safari countries in East and southern Africa, according to the United Nations World Tourism Organization (UNWTO). Source: https://unwto.org/country-profile-inbound-tourism
The major safari countries included in this US$12.4 billion are Botswana, Kenya Namibia, Rwanda, South Africa, Tanzania, Uganda and Zambia. The UNTWO did not have data for Zimbabwe. For international tourism receipts per country we refer to the UNWTO link above.
The total international tourism receipts for these seven countries was US$15.5 billion. Wildlife watching tourism makes up 80% of the total trip sales according to this UNWTO research paper from 2015 (See page 3, 2nd paragraph).