The Dominican Republic, known for its iconic, palm-studded white-sand beaches, astounding nature, intriguing history, and rich culture, is already re-opened for tourism and now doesn't require a COVID-19 test result on arrival.
The Dominican Republic is the second-largest and most diverse Caribbean country, situated just two hours south of Miami, less than four hours from New York, and eight hours from most European cities.
On July 1, Dominican Republic reactivated its tourism operation by opening its borders by land, sea, and air.
With the launch of the Responsible Tourism Recovery Plan on September 15th, travelers no longer need to provide a negative PCR or COVID-19 test upon arrival to the Dominican Republic.
Instead, airports and other ports of entry will administer a quick, aleatory breath test to between 3% and 10% of passengers, and all those who present symptoms, upon arrival.
All passengers will also need to perform a temperature check.
Passengers who present symptoms or whose test results are positive will be isolated and attended at authorized locations.
Prior to departure, travelers should confirm with their airline provider and airport of origin regarding any testing or other related requirements for inbound flights to the Dominican Republic, or necessary requirements needed upon arrival in their country of origin.
Travel Requirement
As part of the immigration and customs forms provided by the airline or by Dominican authorities, passengers will be required to fill out and submit a Traveler's Health Affidavit.
Through this form, passengers declare they have not felt any COVID-19 related symptoms in the last 72 hours and provide contact details for the next 30 days.
Free Travel Assistance Plan
All international tourists arriving on commercial flights and visiting a hotel will be granted during the check-in process a temporary, free travel assistance plan that provides coverage for emergencies in the event of an infection or exposure to COVID-19 while in-country.
The coverage includes medical attention by specialists, medical transfers, transfer of a relative, penalty for airfare changes, lodging for prolonged stays and more.
This insurance will be provided at no cost to visitors arriving on or before December 31, 2020 and will be 100% paid for by the Dominican government.
In order to obtain coverage of the assistance plan the tourist must enter the country exclusively by air and only applies for guests staying at a hotel.
If your country requires a PCR test to return, the free tourist insurance does not cover the cost of the test, unless the person presents symptoms and the coverage is activated. The cost of the test is RD$ 4,300 (US$70).
For more information or to receive assistance while in the country in the event of exposure, please contact the Seguros Reservas Assistance Line by dialing +1 809 476 3232 so that a representative can determine the appropriate course of action on a case by case basis. For additional details regarding what is and is not covered by the policy, click HERE.
Social Distancing
Airport terminals have established guidelines requiring social distancing as well as the mandatory use of face masks for employees and passengers.
Outside of the airports, the social distancing of at least 6.5 feet (2 meters) and the use of face masks in public places are required for the general and traveling public within indoor spaces and in areas where social distancing is not possible.
These locations include but are not limited to airport terminals, within indoor and outdoor shopping areas, while using public transportation, when seeking medical attention within a hospital or clinic, among others. Social distancing is also required at the beach, and within pool and jacuzzi areas. The maximum group size allowed is 10 people.
Facial masks are optional for adults at the beach area, and not recommended for children.
All equipment, including life jackets, snorkel, kayaks, pedal boats, etc. will be disinfected after each use.
Please contact your hotel, preferred restaurant or tour operator for specific details regarding their protocols.
Curfew
To control the outbreak of COVID-19 in country, until November 11, there is an established curfew in place from 9:00 pm to 5:00 am from Monday to Friday and from 7:00 pm to 5:00 am on Saturdays and Sundays throughout the country.
While hotel guests will not be required to follow these guidelines within their resort property, they will be limited to stay within the property during the associated hours.
During this timeline, authorities will allow the transit of international visitors and vehicle operators who transport them, as well as properly identified employees of maritime and air transport companies, if they are moving to / from a port or airport.
Hotel employees and suppliers can also transit freely while exercising work-related activities.
Hotels & Resorts
Hotels restarted operations with the use of contact-free technologies and strict protocols to offer a clean, safe environment and promote social distancing.
Travelers can book their hotels at these popular travel destinations: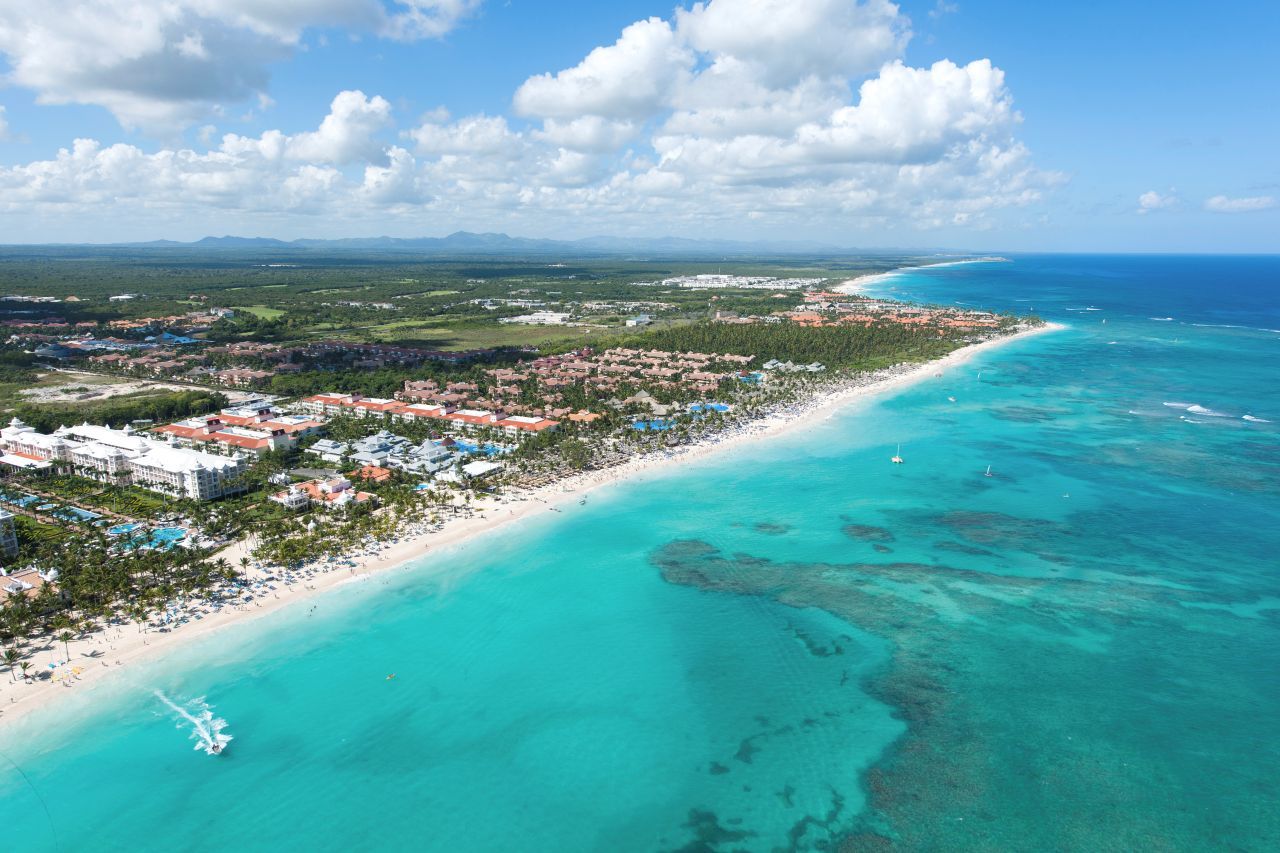 Punta Cana
Punta Cana, the easternmost tip of the Dominican Republic, abuts the Caribbean Sea and the Atlantic Ocean. Blessed with one of the Caribbean region's longest white sand coastlines–a whopping 48 kilometers (30 miles), punctuated with sky-reaching coconut palms–Punta Cana is the land of rest and relaxation by the sea.
Here, where the Atlantic meets the Caribbean, from the northern tip at Uvero Alto to the southern at Cap Cana, all-inclusive resorts and boutique hideaways offer all the whims and comforts of modern beachfront living. Families enjoy miniature entertainment centers and water parks for children, while couples-only enclaves boast dream wedding locations, with secluded beachside lodging for an ultra-romantic stay.
Most people going to Punta Cana are staying at a resort. With a resort package most hotels will have airport pick up arranged for you at the Punta Cana Airport.
Punta Cana is also a golfer's destination, with 10 courses located all along the strip, a seaside escape with luxurious marinas and fine dining, and a wellness corner home to the country's top spas, including the only Six Senses in the Caribbean.
See accommodation options in Punta Cana and book on Booking.com
While you are searching for accommodation, we recommend filtering the properties that offer additional health and safety measures.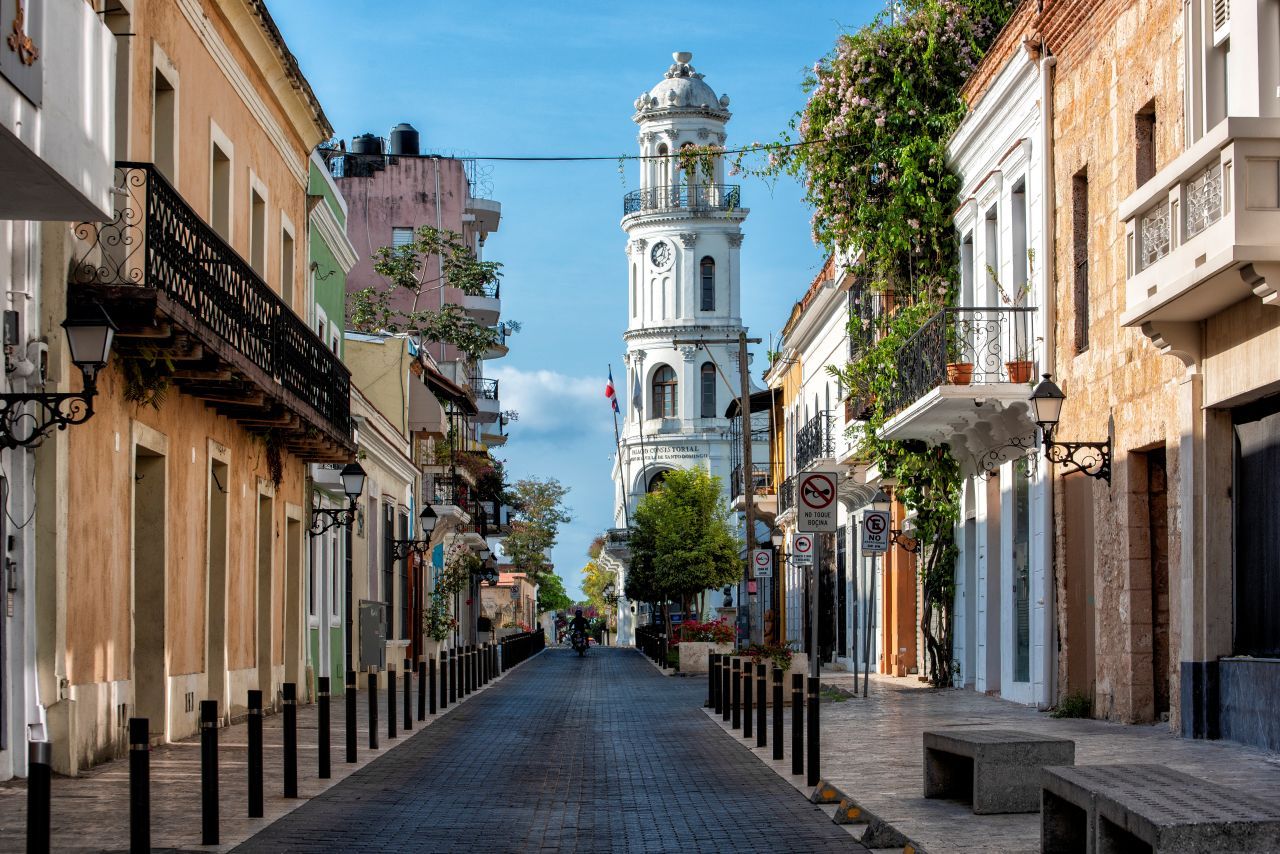 Santo Domingo
Santo Domingo is the capital of the Dominican Republic and the oldest European city in the Americas. The old city is on the UNESCO World Heritage List.
Exploring the Colonial City—the first European settlement of the Americas and a designated UNESCO World Heritage Site in 1990—is a recommended experience for all travelers. This historic neighborhood consists of a pedestrian-friendly maze of narrow streets brimming with 16th to early 20th century architectural wonders. They lead toward colonial buildings turned museums, shops, hotels, restaurants, and sidewalk cafés.
The city split into 5 independent municipalities and nearly all tourist attractions and shopping, dining and entertainment venues are located relatively close to each other in the 'Distrito Nacional', making it easy for you to get around and see the sights.
For a nature break, picnic on the lawns of the National Botanical Garden, the largest in the Caribbean, or stroll down the Malecón at sunset for sea views, roadside snacks, and people watching.
See accommodation options in Santo Domingo and book on Booking.com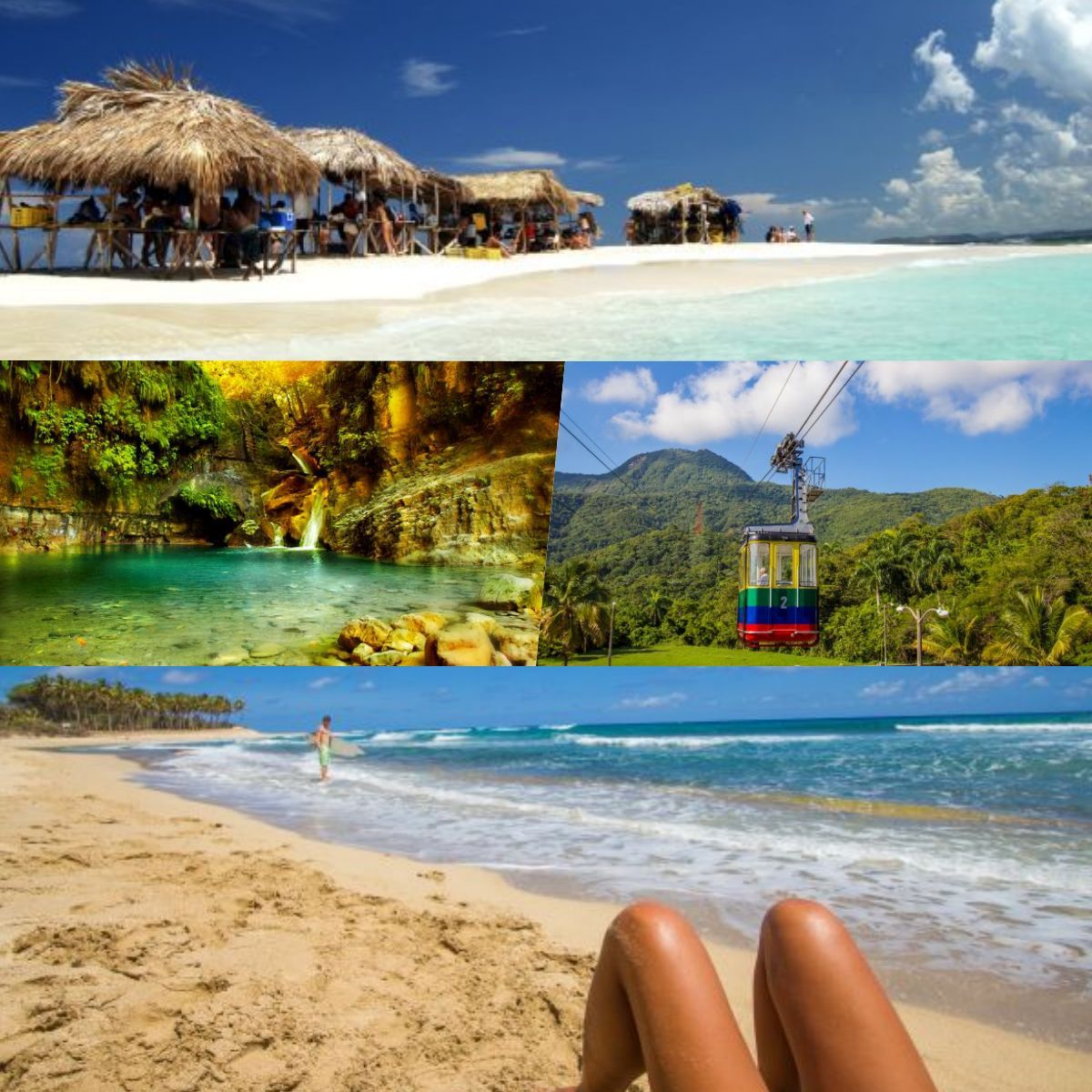 Puerto Plata
The birthplace of tourism in the Dominican Republic, Puerto Plata continues to pack a mighty punch. Its spectacular, sprawling landscape combines sea, mountains, lush valleys, rivers, and a multitude of beaches. Its fertile soil grows cacao and coffee trees, while underneath rests the world's clearest amber.
Savvy explorer Christopher Columbus knew there was much to discover on this northern Atlantic coastline–eventually finding gold deposits–when he glimpsed it from his ship in 1492. You can follow Columbus's trail and tour these archeological ruins, now part of a national park.
See accommodation options in Puerto Plata and book on Booking.com

Sosúa
Sosua is a small beach town north of the Dominican Republic, belonging to the Puerto Plata province. It became a notorious tourist attraction in the mid-1980s when all-inclusive tourism began on the island. Its beaches are beautiful, which attracts many tourists from all over the world. The town is relatively small and walkable.
Playa Sosua is the town's main beach. It is a fun, colorful, and lively beach which is approximately one kilometer long, with a row of shacks along the back, selling food, drinks, and souvenirs.
German Jews settled this little pueblo in the early 1940s. Many streets are named for Ashkenazic Jews. At Playa Sosua, there is a small synagogue, still occasionally used by Jews from the surrounding communities, as well as a small museum documenting the history of the Jewish community in Sosua, both set in a tidy tropical green lawn adjacent to Casa Marina Resort.
See accommodation options in Sosúa and book on Booking.com
Information about Transportation & Attractions
Activities in bars and clubs remain suspended as well as national and international events and public, cultural, artistic and sports shows.
Public transportation operates with modified schedules, with at least 1.5 meters of separation between users and a 60% limited capacity. Bus services (OMSA), Santo Domingo subway (Metro), and the Cable Car operate from 6:00 am to 8:00 pm from Monday to Friday and from 6:00 am to 6:00 pm on Saturdays and Sundays. The Cable Car operates from 8 am to 6 pm on Sundays.
Private transportation companies, malls, and gambling companies are operating normally on the allowed working hours, except for casinos. All commercial establishments operating in closed environments must assure separation of 1.5 meters between clients and the mandatory use of face masks, as well as the compliance of new sanitary measures announced by Public Health officials.
National Parks, Natural Monuments, Scientific Reserves and Ecological Parks are open from Monday to Friday from 8:00 am to 4:00 pm and on Saturdays and Sundays from 8:00 am to 3:00 pm, with the following safety protocols: Permanent use of face masks, parents must accompany children under 14 years of age, continuous hand washing, staying overnight is not allowed, bathing in rivers and lagoons is prohibited, groups larger than 5 people are not allowed.
Indoor gyms are open with strict sanitary protocols. The Western border is closed by land, except for the transportation of merchandises. Religious services are permitted with a reduced number of attendees.
Restaurants, liquor stores, community stores and any other commercial establishment must operate depending on the curfew times established to their community. Restaurant employees or contractors providing home delivery may circulate until 11:00 P.M. during the curfew exclusively in the exercise of their job duties. Some restrictions such as restaurant hours do not apply to hotels. For more information contact the hotel directly.
The use of public pools, lakes and rivers has been temporarily banned at a nation-wide level.
Beaches remain open, while still practicing social distancing. Parks are open for recreational and exercise purposes.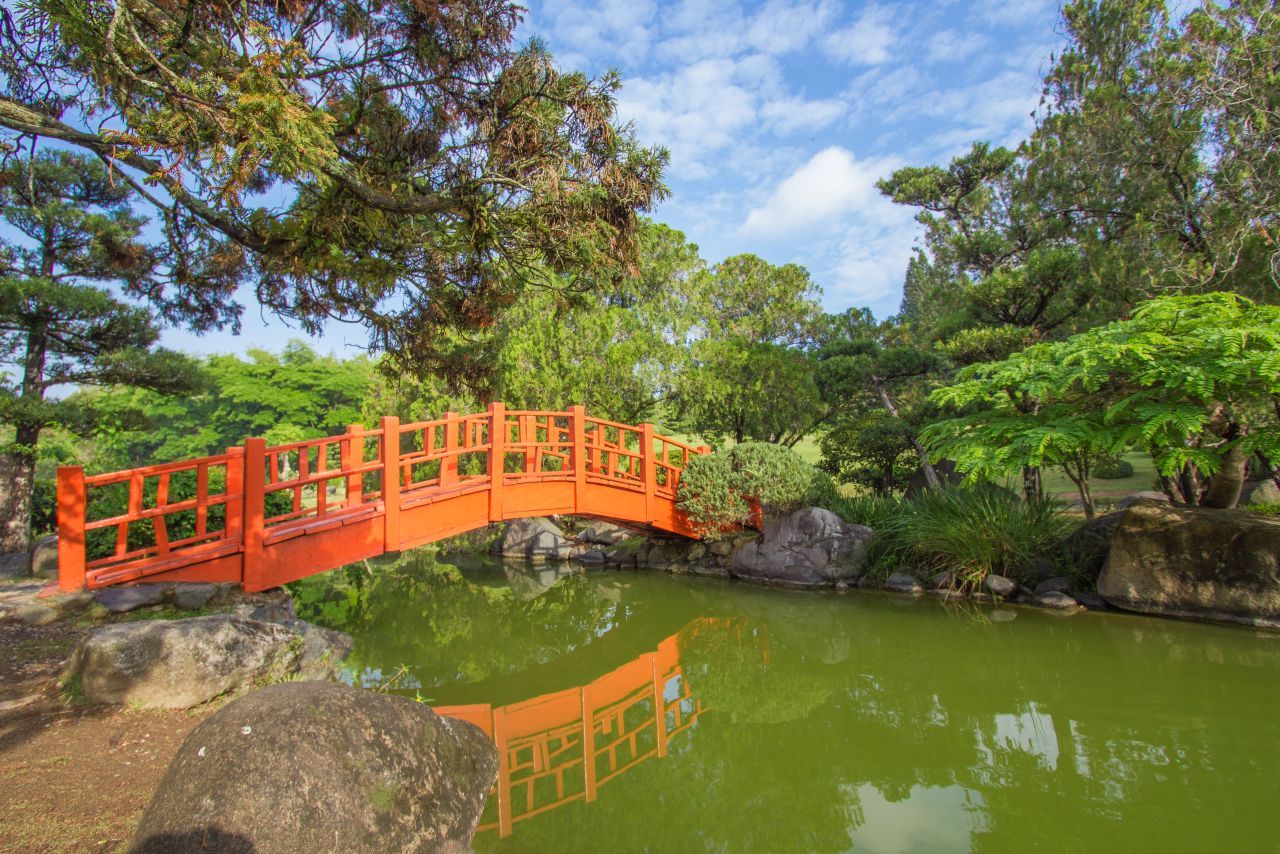 Botanical Garden, Santo Domingo
National parks open to the public:
Cotubanamá
Jaragua
La Caleta Submarine
Monte Cristi Submarine
The haiti
Enriquillo Lake and Cabritos Islands
Ozama wetlands
Valle Nuevo (no overnight stays permitted)
El Morro
Estuary Balsa
Cape Cabrón
Francisco Caamano
Armando Bermúdez
Sierra de Bahoruco
Aniana Vargas
Jose del Carmen Ramirez
Smoker Mountain
Marine Sanctuaries open to the public:
Estero Hondo
Banks of La Plata and Christmas
Nature Reserves open to the public:
Ebony Green
Spur Removal Loin
Natural landmarks open to the public:
Cave of the Three Eyes
Old French Cape
Loma Isabel de Torres
The Dunes of the Calderas
Catalina Island
Cabarete and Goleta Lagoons
Damajagua Falls
Las Maravillas Caves
Lemon Falls
Anthopological Reserve Cuevas de Borbón or Pomier
Gri-Grí Lagoon Natural Monument
Cape Samaná
Diego de Ocampo Peak
Jimenoa waterfall
Wildlife refuges open to the public:
Great Estero
Mallén Lagoon
Higüamo River
Soco River
Redonda and Limón Lagoons
The Great Lagoon or Perucho
Ecological parks open to the public:
From the investigations
Great Park of the Americas
Aurelio Lagoon
Don Gregorio Lagoon
El Toro Lagoon
Las Caobas
The Falklands
Cachón de la Rubia springs
Mirador del Oeste (Engombe).
Los Alcarrizos
For more information about the coronavirus in Dominican Republic, please visit the Ministry of Public Health's website, or download the COVID-RD mobile phone application, available on the App Store and Google Play, that works as a passport in which, through a QR code, visitors can report their condition and access many services and information.
The Dominican Republic created a national hotline for questions relating to COVID-19 if you have been exposed or are experiencing severe symptoms. Call *462 for further instructions, but note that English-speaking operators are limited.
For the latest travel-related updates, visit this page
Photo credits: Dominican Republic Ministry of Tourism