Fort Worth, often referred to as the "City of Cowboys and Culture," offers a unique blend of Western heritage and contemporary attractions.
Nestled in the heart of Texas, this city promises an unforgettable experience for every traveler. From historic cattle drives to world-class museums, Fort Worth is a destination that effortlessly combines the old with the new. In this article, we'll explore three top things to do in Fort Worth that encapsulate the spirit of this vibrant city.
For new residents who have recently made the decision to call Fort Worth home, the transition can be both exciting and daunting. One of the first steps in settling into this dynamic city is ensuring a smooth move. Choosing the right moving company can make all the difference. Whether you're looking for local movers or researching various moving companies, it's essential to pick a service that understands the intricacies of relocating to Fort Worth.
One such reputable service is Evolution Moving. As a leading moving company in Fort Worth, they have assisted countless new residents in seamlessly transitioning to their new homes. Their team of professional movers in Fort Worth is well-equipped to handle moves of any scale, ensuring that your belongings reach your new residence safely and efficiently.
So, as you embark on your journey to explore and settle into Fort Worth, remember that the right moving partner can make your transition smooth and stress-free, allowing you more time to dive into the wonders of your new city.
1. Fort Worth Stockyards
Nestled in the heart of Texas, the Fort Worth Stockyards offers a unique blend of history, entertainment, and authentic Texan culture. As you step into this historic district, you might first be drawn to the Original Fort Worth Stockyards Ghost Tour. This eerie journey takes visitors through the haunted history of the Stockyards, revealing tales of the past that still linger in the shadows.
For film enthusiasts, the John Wayne An American Experience is a must-visit. This attraction pays tribute to the iconic American actor, showcasing his significant contributions to the Western film genre. As you wander the cobbled streets, the sound of hooves might catch your attention. This is the Fort Worth Herd: Steers on Display, the world's only twice-daily cattle drive featuring majestic Texas Longhorns. It's a sight that harks back to the days when cowboys and cattle drives were the heart of Texas.
If you're seeking adrenaline, the Stockyards Championship Rodeo promises an electrifying experience. Witness traditional rodeo events and marvel at the skills of the cowboys and cowgirls. Nearby, the Cowboy Channel Studios offers a behind-the-scenes look at the production of cowboy-centric content, providing insight into the world of rodeo broadcasting.
Music lovers can head to the Rodeo Music Stage, where live performances capture the spirit of the West. For a more leisurely experience, Carriage Rides offer a chance to explore the Stockyards in a traditional horse-drawn carriage, while the Mini Train Rides are perfect for families looking for a fun-filled adventure.
For those seeking a challenge, the Mechanical Bull Ride tests rodeo skills in a safe environment. Meanwhile, the Legends of Texas Gunfight Shows transport visitors back in time with re-enactments of classic Wild West gunfights, showcasing the bravery and skill of the legends of old.
The Grapevine Vintage Railroad is another journey into the past, offering historic train rides that evoke the bygone era of steam locomotives. If you're looking for a fun challenge, the Cowtown Cattlepen Maze awaits, testing your navigational skills.
History buffs will appreciate the Texas Cowboy Hall of Fame, which honors legends of the cowboy world, and the Stockyards Museum, which delves deep into the history and significance of this iconic district. For a hands-on experience, the Stockyard Stables and Horseback Riding offer a chance to saddle up and experience the cowboy life firsthand.
The Texas Trail of Fame is a walking trail that pays homage to those who've made significant contributions to the Western way of life. Finally, for families with young children, The Barnyard Petting Corral provides an opportunity to interact with farm animals, offering a touch of rural life in the heart of the city.
2. Fort Worth Zoo & Botanic Gardens
Fort Worth Zoo: A Wildlife Adventure
The Fort Worth Zoo is a haven for animal lovers and conservationists alike. As you step into this renowned institution, you'll be greeted by nearly 7,000 animals from diverse habitats. One of the highlights is the Country Carousel, where visitors can take a ride on an appaloosa or a paint horse. This western-style ride, located in Texas Wild!, is a favorite among children and adults. Tickets for the carousel are available at the Train Depots. For those looking for interactive fun, the Wild West Shooting Gallery offers an engaging laser target game situated in the heart of Texas Wild!'s Texas Town. Every corner of the zoo promises a new adventure, ensuring that visitors leave with cherished memories and a deeper appreciation for wildlife. For more details, you can visit the official Fort Worth Zoo website.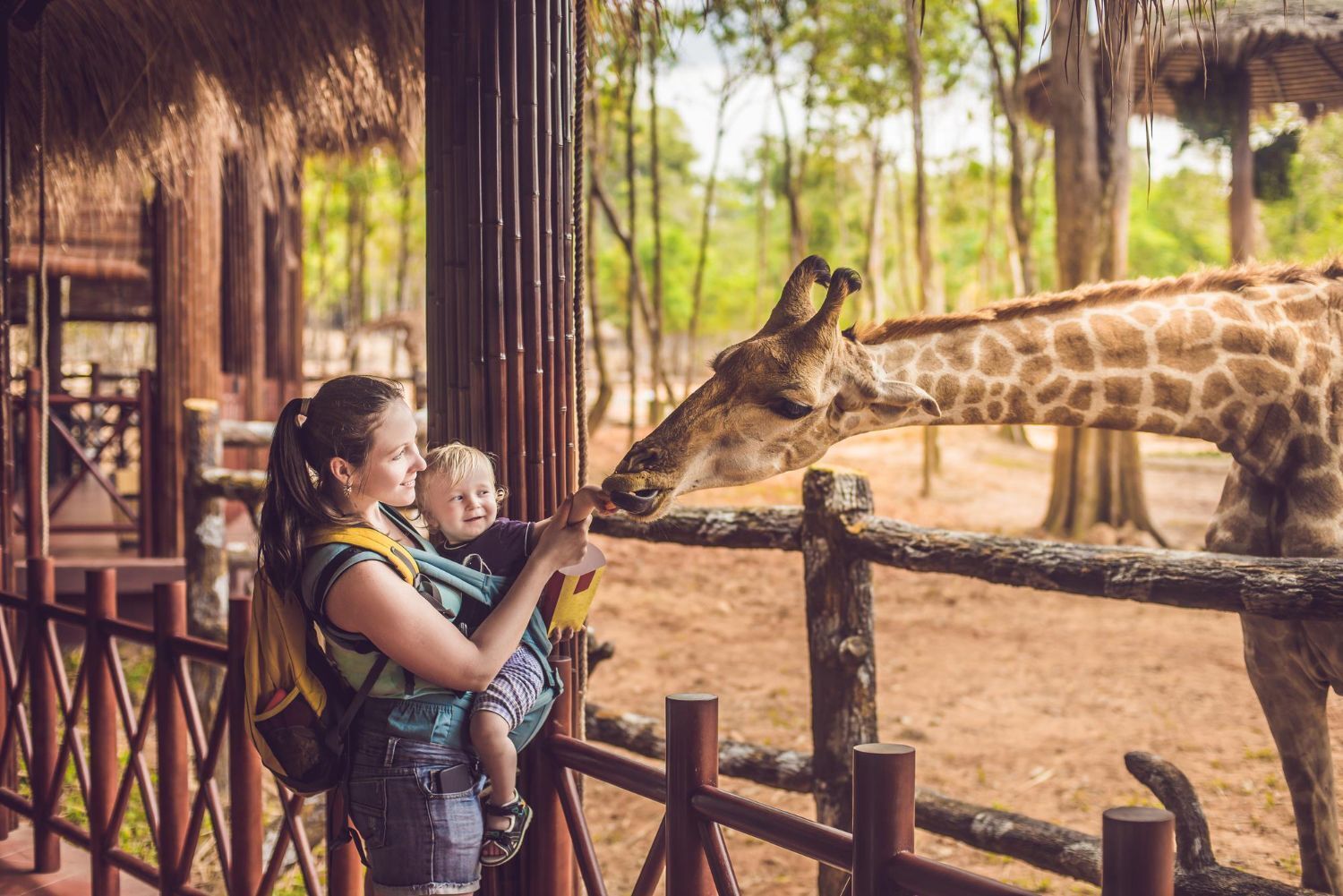 Fort Worth Botanic Gardens: A Horticultural Paradise
The Fort Worth Botanic Gardens stands as the oldest botanic garden in Texas and is home to more than 2,500 species of plants spread across its 23 specialty gardens. One of the most celebrated sections is the Japanese Garden. Here, koi-filled pools, traditional Japanese architecture, meticulously maintained plants, and dramatic waterfalls come together to create a serene environment perfect for a leisurely stroll.
For those interested in tropical flora, the 10,000-square-foot conservatory offers winding paths through lush, tropical foliage, transporting visitors to a rainforest-like setting. The European-style rose garden is another highlight, filled with vibrant colors, velvety petals, and aromatic scents that are sure to stimulate the senses.
Visitors can also take a walk on the elevated boardwalk that winds through a forest of native trees, passing by 13 interactive, educational stations. This immersive experience offers insights into the diverse ecosystems present in the region.
For a delightful culinary experience, The Gardens Restaurant provides a chance to enjoy a meal amidst the beauty of nature. Additionally, the garden's gift shops offer unique merchandise, catering to both gardening enthusiasts and those looking for a special memento.
The Fort Worth Botanic Gardens not only offers a visual feast but also serves as an educational hub, fostering a deeper understanding and appreciation for the world of plants. For more information, you can check out the official Fort Worth Botanic Gardens website.
3. Food, Wine & Nightlife
The Culinary Landscape: Fort Worth, a city steeped in cowboy heritage, has evolved into a culinary hotspot that seamlessly blends traditional Texan flavors with global influences. The city's restaurants offer a gastronomic journey that ranges from classic barbecue joints to upscale dining establishments serving international cuisines. Whether you're craving smoky brisket, zesty Tex-Mex, or a delicate sushi roll, Fort Worth's diverse culinary scene promises to satiate every palate.
Wine and Dine: The city's love for good food is complemented by its passion for fine wines and crafted brews. Numerous wineries and breweries dot the cityscape, each offering unique blends and flavors that reflect the region's rich terroir. Wine enthusiasts can indulge in tastings, while those who prefer a cold brew can explore the local craft beer scene, which boasts everything from hoppy IPAs to rich stouts.
Nightlife and Entertainment: As the sun sets, Fort Worth comes alive with a vibrant nightlife that caters to every mood and preference. The city's entertainment districts are abuzz with live music venues, trendy bars, and dance clubs. Whether you're looking to sway to country tunes, enjoy a jazz performance, or dance the night away to electronic beats, Fort Worth's nightlife ensures an evening of fun and frolic.
Cultural Fusion: What sets Fort Worth's culinary and nightlife scene apart is its ability to fuse cultural influences. The city's rich history, combined with its cosmopolitan outlook, has given rise to establishments that celebrate diversity. From Texan-Mexican fusion dishes to bars that play global music genres, Fort Worth is a melting pot of cultures, ensuring that every night out is a unique experience.
Fort Worth, with its rich history and modern allure, promises a travel experience like no other. Whether you're immersing yourself in cowboy culture at the Stockyards, admiring contemporary art in the Cultural District, or simply enjoying the natural beauty of the Trinity Trails, this city offers a myriad of attractions that cater to every traveler's whims. So, saddle up and set off on an adventure in the unforgettable city of Fort Worth!