Riyadh, the vibrant capital of Saudi Arabia, is on the brink of an exciting transformation in its hospitality sector, with a series of new hotel openings slated for 2023 and 2024.
These upcoming hotels, ranging from luxurious to boutique, are set to redefine the city's skyline and elevate the guest experience to new heights. Our guide, "Top New Hotel Openings in Riyadh: Your 2023 – 2024 Guide," is meticulously curated to introduce you to the best of these new establishments. Whether you're a business traveler seeking convenience and luxury or a leisure traveler looking for a unique stay, this guide is your essential resource for discovering the latest and greatest in Riyadh's evolving hotel landscape.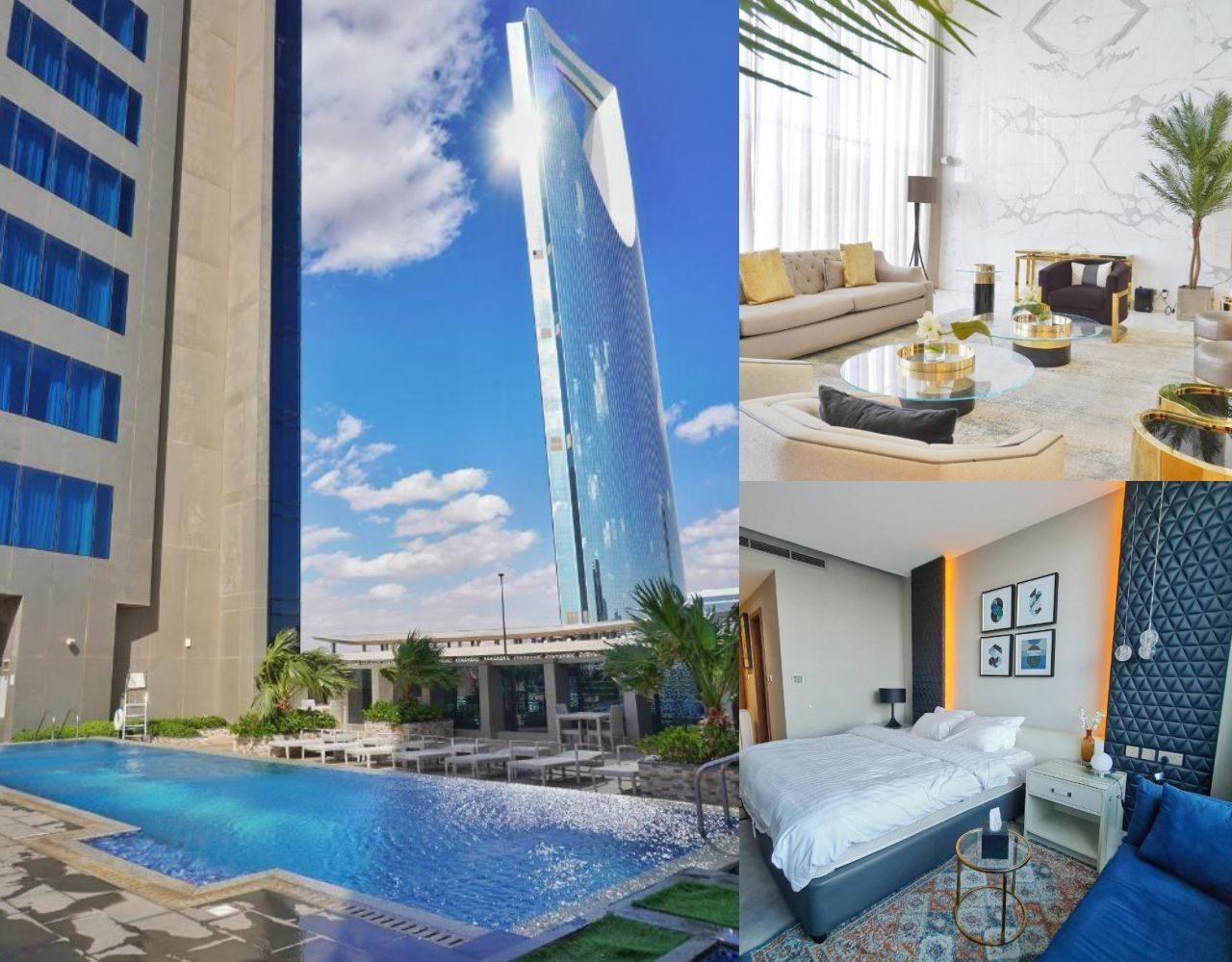 Opening Date: January 2023
DAMAC Towers Riyadh, a distinguished apartment complex in Riyadh, offers a luxurious stay with a host of amenities including a rooftop pool. Guests can enjoy the convenience of free WiFi and private parking. The accommodation prides itself on its wellness facilities, featuring a sauna, a hot tub, a hammam, and a fitness room, catering to both relaxation and health-conscious guests.
Each unit in the complex is thoughtfully equipped to ensure a comfortable stay. The apartments boast air conditioning, a cozy seating area, and a flat-screen TV with streaming services for entertainment. The kitchen is fully equipped with modern appliances including a dishwasher, oven, microwave, coffee machine, and kettle, complemented by a dining area. For guest safety and convenience, each apartment has a safety deposit box and a private bathroom, complete with a walk-in shower, bathrobes, and slippers. Comfort is further enhanced with provided bed linen and towels in each unit.
Adding to the convenience, the complex houses a minimarket, making daily essentials easily accessible to guests. Families with children will appreciate the kids pool, ensuring entertainment for younger guests.
DAMAC Towers Riyadh's location is another highlight, being just 2.5 km from Panorama Mall and 3.1 km from Al Faisaliah Mall. For guests traveling by air, King Khalid International Airport is conveniently situated 32 km from the accommodation, making DAMAC Towers Riyadh an ideal choice for both short and extended stays in the city.
---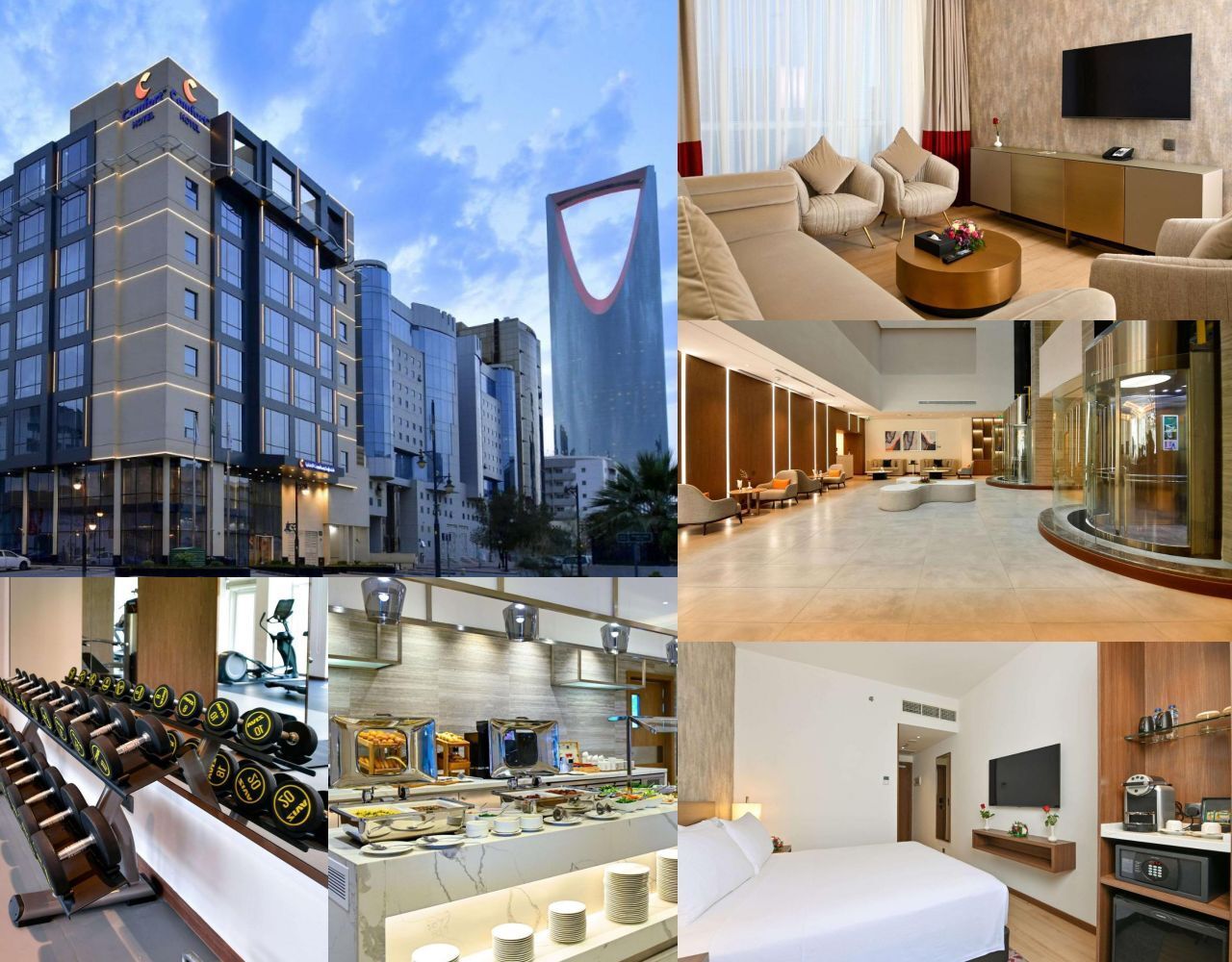 Opening Date: February 2023
For travelers seeking both comfort and convenience in Riyadh, the newly opened Comfort Hotel Riyadh Olaya, a collaboration between Choice Hotels Middle East and Seera Hotels, stands as a prime choice. This hotel features 88 well-appointed guest bedrooms across eight floors, catering to both leisure and business travelers with its modern design and thoughtful amenities.
Strategically located in a bustling area of Riyadh, the hotel offers easy access to local attractions like The Sky Bridge of the Kingdom Center and King Abdullah Park, making it an ideal base for exploring the city. For business travelers, the hotel's three meeting rooms, capable of hosting up to 60 guests, add a layer of convenience for meetings and conferences.
Following a recent enhancement by Choice Hotels EMEA, Comfort Hotel Riyadh Olaya promises a revitalized guest experience. It's tailored for the value-driven traveler, focusing on essential comforts and exceptional convenience, all within a warm, vibrant, and friendly environment. Whether visiting for business or leisure, this hotel offers a blend of hospitality and practicality, ensuring a pleasant stay in Riyadh.
---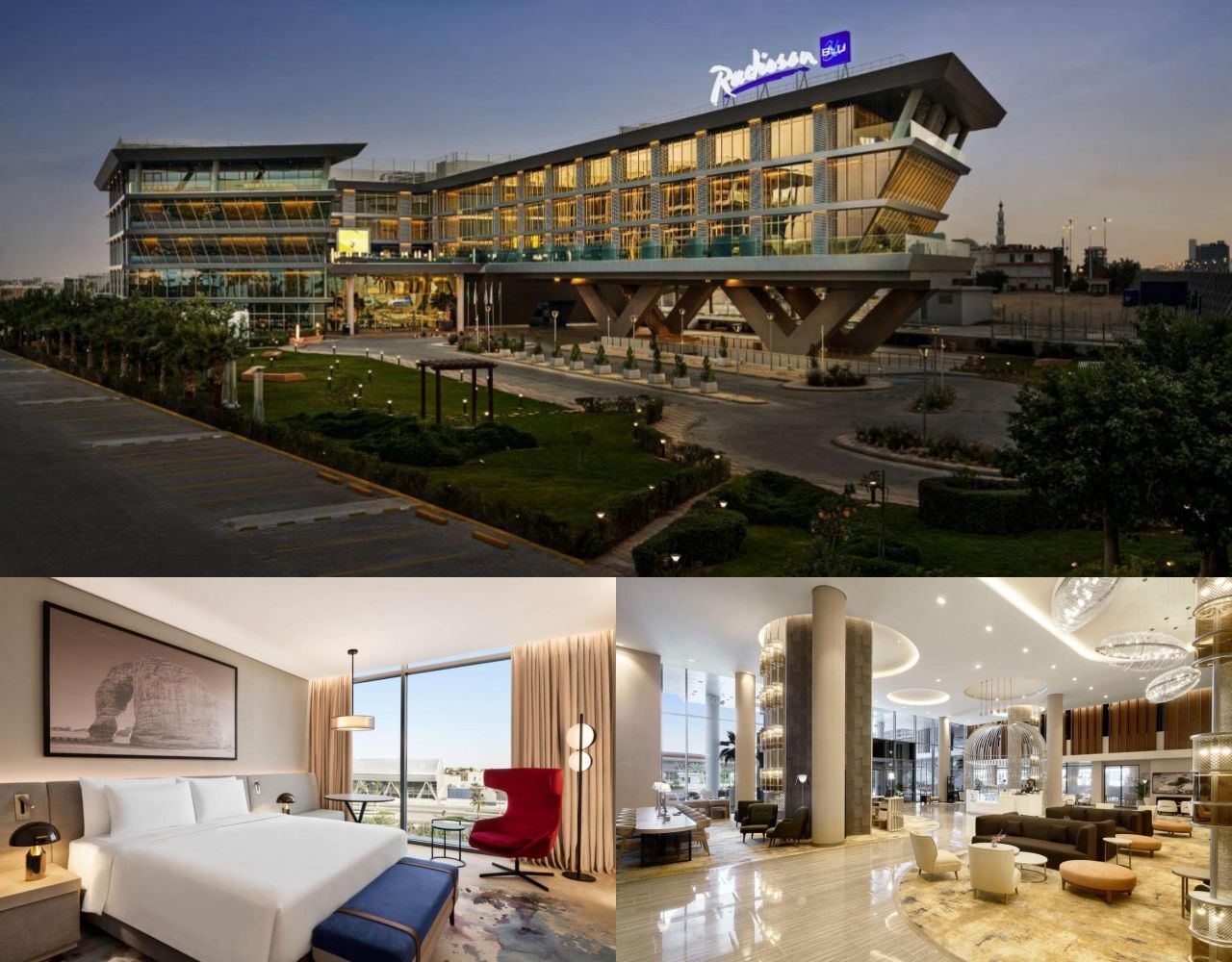 Opening Date: March 2023
Located in the heart of Saudi Arabia's capital, the Radisson Blu Hotel, Riyadh Convention & Exhibition Center, offers an ideal mix of sophistication and convenience for both business and leisure travelers. Just a short walk from the city center and the cutting-edge Riyadh International Convention & Exhibition Center, this hotel is a prime choice for those seeking to blend professional commitments with luxurious relaxation. The surrounding area enriches the stay with vast shopping malls, towering skyscrapers, and cultural gems like the King ʿAbd al-ʿAzīz Historical Centre, the National Museum, and the National Library.
The hotel boasts 223 elegantly designed rooms, each offering stunning views of Riyadh's skyline. The highlight is its double-volume lobby, a serene retreat from the bustling city life. The Radisson Blu's design, from its striking entrance to the sophisticated decor in the guest rooms, exudes modern luxury. Added perks for guests in the Executive Rooms and Suites include complimentary access to the Business Lounge, a cozy spot offering tea, coffee, and snacks throughout the day.
Dining at the Radisson Blu is a delightful experience with two unique food and beverage venues. The Al Diriyah Restaurant and Lounge offers an international menu infused with local flavors, featuring specialty coffees from Camel Step, a renowned local roastery. For a more casual evening, the Terrace restaurant on the second floor provides a perfect setting for enjoying gourmet BBQ and tapas-style dishes while watching international sports on big screens.
For meetings and events, the Radisson Blu is well-equipped with nine versatile spaces, including the expansive 400m² Najd Event Hall, which can be partitioned into three areas, and six smaller rooms for more intimate gatherings. The Garden area serves as an enchanting venue for social events, adding to the hotel's allure for both corporate and social gatherings. With these facilities, the Radisson Blu Hotel seamlessly blends business functionality with leisurely comfort.
---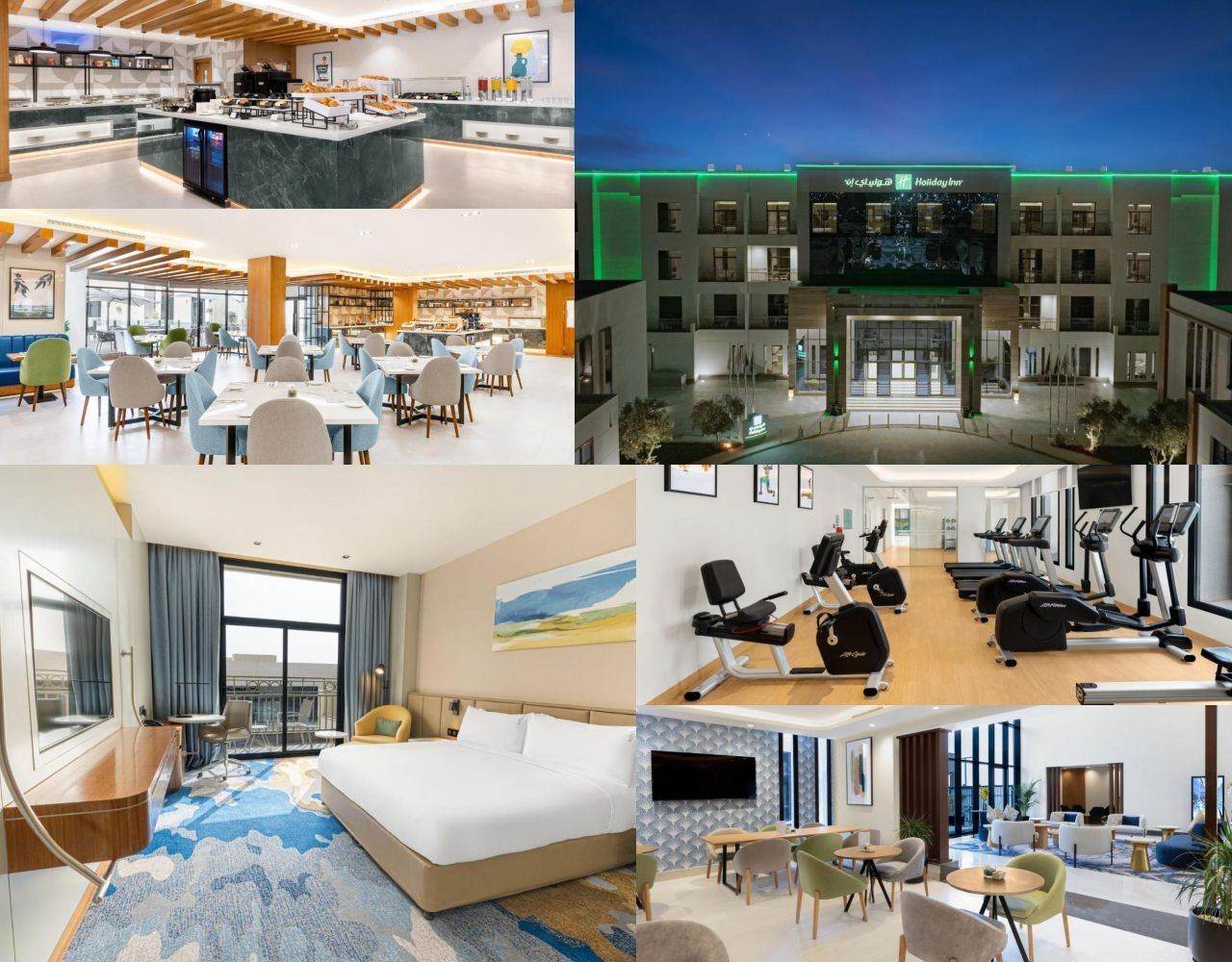 Opening Date: July 2023
Introducing a fresh chapter in hotel design, the newly opened Holiday Inn Riyadh in the Business District brings Holiday Inn's iconic brand hallmarks to the Middle East, marking IHG Hotels & Resorts' expansion in Saudi Arabia. This development aligns with the country's Saudi Vision 2030 initiatives, showcasing the brand's evolution to meet modern travel demands. Holiday Inn, a trusted name in hospitality for over seven decades, is redefining guest experiences with its innovative Open Lobby concept. This inviting, multi-functional space blends lounging, dining, and working areas, catering to the varied needs of today's travelers.
Holiday Inn Riyadh The Business District is a prime example of the brand's global reputation for modern, engaging public spaces. The Open Lobby, a first for the brand in the region, serves as a dynamic communal hub, perfect for socializing, working, or relaxing. It features a contemporary media lounge, a casual coffee bar, and an e-lounge, all designed to keep guests connected to both the digital world and the lively social atmosphere of the hotel. Situated in the heart of the Business District and a mere 10 minutes from King Khalid International Airport, the hotel is an ideal choice for both business and leisure travelers seeking stylish accommodations in a vibrant setting.
Culinary delights are abundant at the Casa Oliva restaurant, offering authentic Italian dishes and innovative fusion cuisine inspired by local Saudi flavors. For a more casual experience, L'Espresso Bar serves a variety of coffees, drinks, and gourmet café snacks. The hotel features 138 contemporary rooms, including 18 suites with kitchenettes, two swimming pools, a fully-equipped gym, round-the-clock concierge service, and versatile meeting spaces. Guests can enjoy spacious, light-filled rooms with comfortable bedding, large TVs, and complimentary high-speed WiFi. With family-friendly options like interconnecting suites and the Holiday Inn promise that Kids Stay & Eat Free, the hotel ensures a welcoming experience for all guests.
---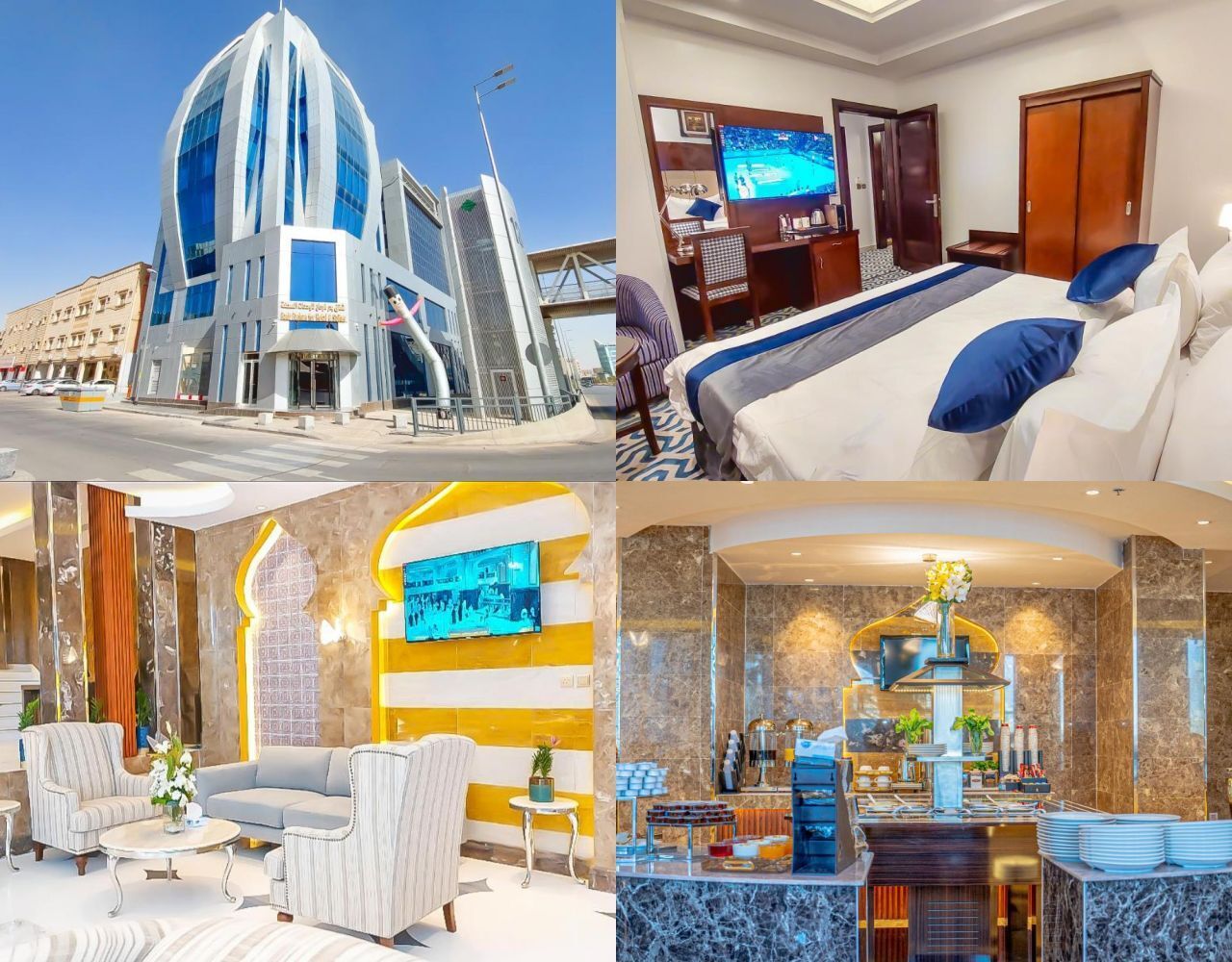 Opening Date: July 2023
Located in Riyadh's Al Malaz district, the Golden Dune Hotel Almalaz offers a convenient stay for travelers, being just 1.7 km from King Abdullah Park, 5.5 km from the King Abdulaziz Historical Center, and 6.6 km from the iconic Masmak Fort. As a 4-star establishment, it provides several amenities including room service, a 24-hour front desk, and complimentary WiFi. The hotel is distinguished by its on-site restaurant specializing in African cuisine and the availability of free private parking.
The rooms at Golden Dune Hotel Almalaz are well-appointed, featuring air conditioning, flat-screen TVs with satellite channels, refrigerators, coffee machines, and essential toiletries. Each room boasts a private bathroom equipped with either a bath or shower, along with a hairdryer and bathrobes, ensuring a comfortable stay. Guests can also expect the convenience of bed linen and towels in every room.
Catering to diverse tastes, the hotel's daily breakfast menu includes buffet, continental, and Full English/Irish options. For shopping and entertainment, guests can easily access Al Faisaliah Mall and Al Faisaliah Tower, located 7.1 km and 7.5 km away, respectively. The hotel's proximity to King Khalid International Airport, just 32 km away, adds to its appeal for both local and international travelers seeking comfort and convenience in Riyadh.
---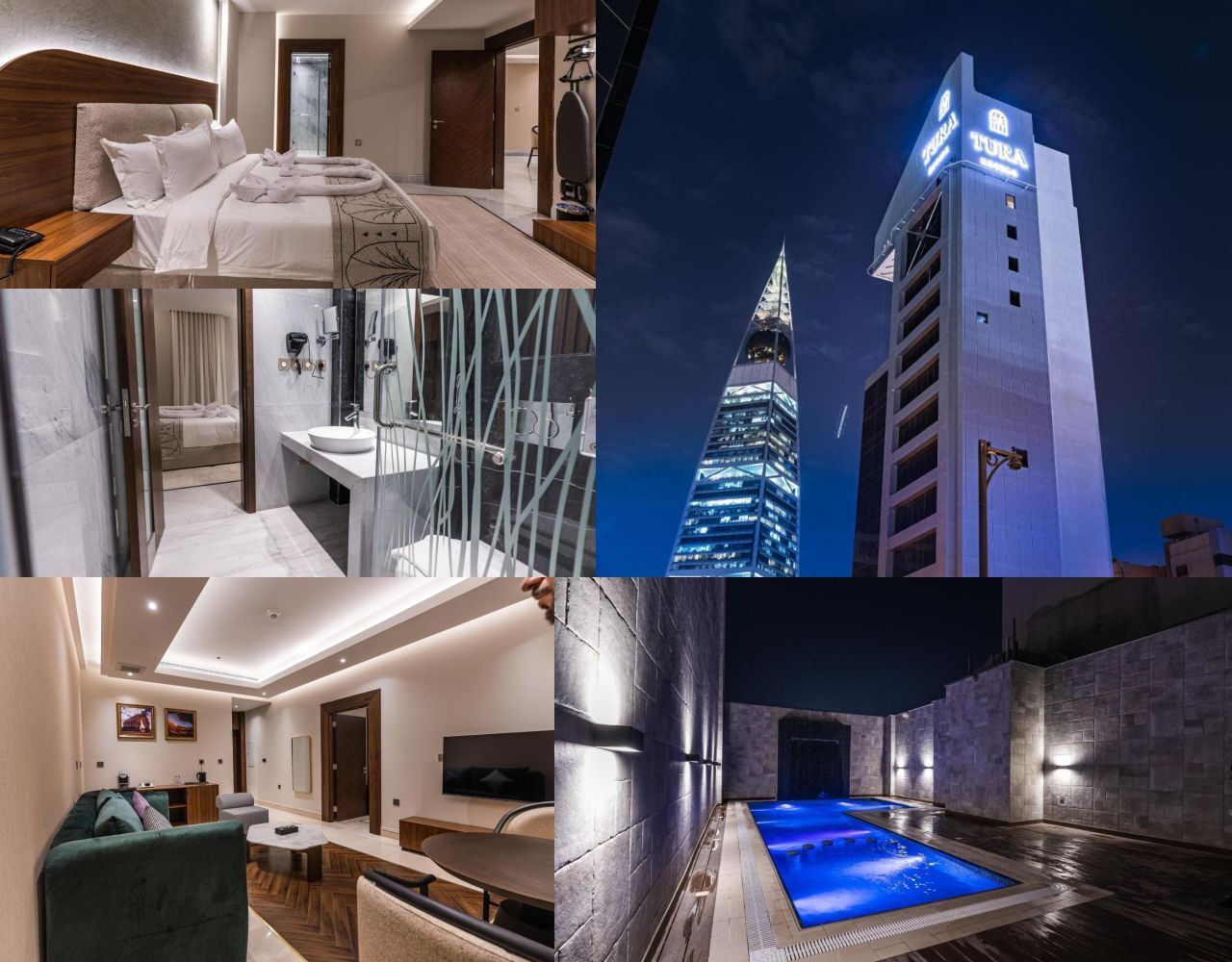 Opening Date: July 2023
Situated in Riyadh, Tura Hotel presents a convenient and comfortable stay, being just a 5-minute stroll from the iconic Al Faisaliah Tower. This 4-star hotel not only offers free WiFi and private parking but also delights its guests with city views from each room. Additionally, guests have the luxury of accessing an indoor pool and a sauna, making it an ideal choice for both leisure and business travelers. The hotel also caters to families with its family-friendly rooms.
The rooms at Tura Hotel are designed for comfort and convenience, featuring air conditioning, a cozy seating area, a flat-screen TV with satellite channels, and a safety deposit box. The private bathrooms are well-equipped with a bidet, complimentary toiletries, and a hairdryer. Guests can also expect the comfort of quality bed linen and towels in their rooms.
Tura Hotel offers a dining experience that caters to various preferences, including an à la carte and halal breakfast options. The hotel's staff, proficient in both Arabic and English, are available around the clock at the front desk to assist guests with their needs.
The hotel's location is a key highlight, with Al Faisaliah Mall just a 7-minute walk away, and Panorama Mall situated 1.9 miles from the property. For guests traveling to and from the airport, King Khalid International Airport is conveniently located 21 miles from Tura Hotel, making it an accessible choice for travelers.
---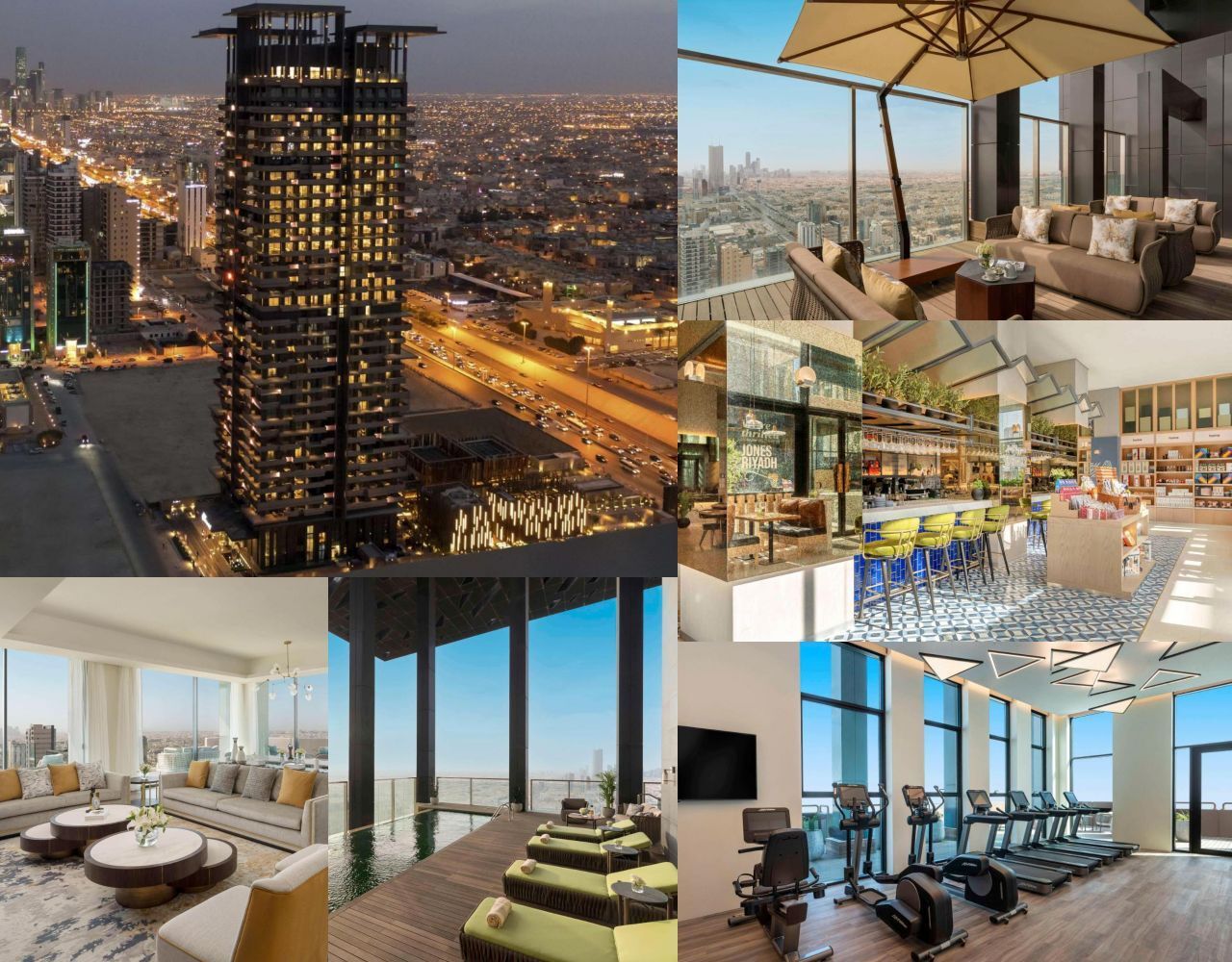 Opening Date: August 2023
The Fairmont Ramla Serviced Residences Riyadh, a first of its kind for Fairmont in Saudi Arabia, is now welcoming guests. Towering at 35 floors, this property is a new beacon of luxurious living in Riyadh's skyline, offering unmatched experiences and a sophisticated lifestyle. This architectural jewel, a collaboration between Fairmont Hotels and Resorts and Naif AL Rajhi Investment, is nestled in the lively heart of Riyadh, setting a new standard in elegance and comfort for both transient travelers and families seeking a homely touch during extended stays.
The Fairmont Ramla offers 249 luxurious residences, blending traditional Saudi elements with contemporary lavishness. The options range from one-bedroom suites to expansive four-bedroom penthouses, providing more than just accommodations but a culturally rich living experience. The property's leisure facilities are a testament to luxury, featuring two rooftop infinity pools mirroring the sky, and gender-separated gyms for wellness enthusiasts. Additionally, the Falcon Kids Club offers a magical escape for children, blending education and fun, while parents enjoy their own leisure time.
Dining at Fairmont Ramla is an adventure in itself. From the gourmet delights of Jones the Grocer to the elevated experiences at The View Lounge and The Thirty-Five Lounge, the options cater to diverse tastes. For a lively atmosphere, Ramla Terraza and the Brute steakhouse offer distinct culinary experiences, while CLAP presents a modern twist on Japanese cuisine. Iris Cafe provides a serene dining setting, and the residences also offer 24-hour in-room dining for ultimate convenience.
On the corporate front, Fairmont Ramla excels with four state-of-the-art meeting rooms, ideal for impactful business meetings, complete with advanced multimedia technology. Adding to its allure is a private cinema room, offering an exclusive movie-going experience with VIP seating and refreshments. Fairmont Ramla Serviced Residences Riyadh thus emerges not just as a place to stay, but as a destination offering a blend of luxury, culture, and business facilities.
---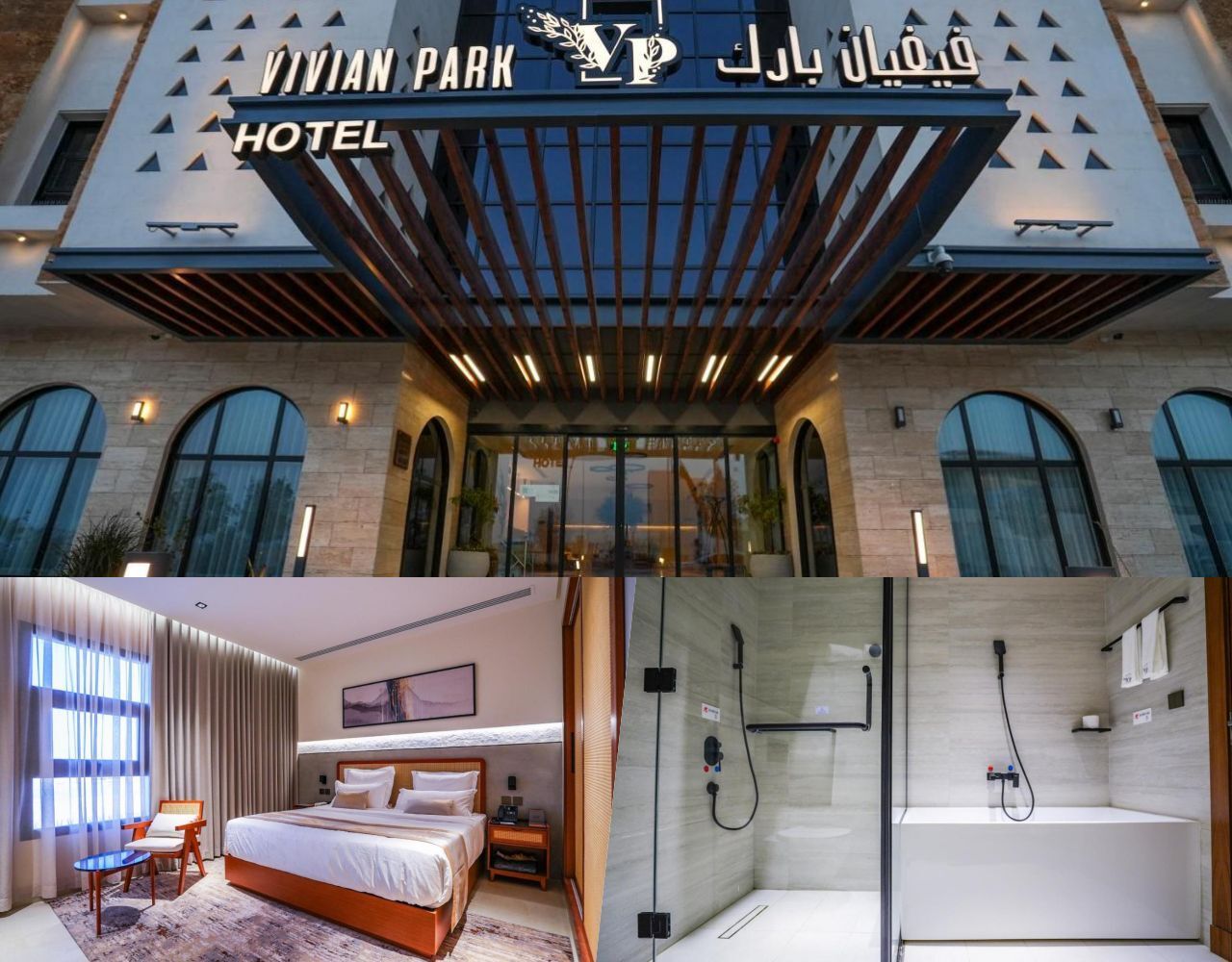 Opening Date: September 2023
Located in Riyadh, Vivian Park El Raeid Hotel offers a refined stay within easy reach of the city's key attractions, being just 3.2 km from King Khalid Grand Mosque and 5.6 km from Panorama Mall. This 4-star establishment stands out with its range of amenities including a bar, complimentary WiFi across the property, and free private parking for guests who arrive by car. The hotel is also family-friendly, featuring a kids' club, and offers the convenience of room service. For relaxation and leisure, an indoor pool and a concierge service are available to all guests.
The rooms at Vivian Park El Raeid Hotel are designed to provide maximum comfort and convenience, equipped with air conditioning, a seating area, and a flat-screen TV with satellite channels. For guests planning an extended stay or preferring the comforts of home, some rooms also include a kitchen and dining area. Safety is a priority, with each room featuring a safe deposit box. The private bathrooms come with a bidet, complimentary toiletries, and a hairdryer. Select units boast a terrace, and every room is equipped with a coffee machine, bed linen, and towels.
Guests at Vivian Park El Raeid Hotel can start their day with a buffet breakfast and enjoy a variety of dining options at the hotel's restaurant, which serves British, French, and Italian cuisine. The restaurant is accommodating to various dietary needs, offering vegetarian, dairy-free, and halal options. The multilingual staff at the reception, fluent in both Arabic and English, are ready to offer helpful advice about the area.
The hotel is conveniently located with Riyadh Gallery Mall 6.6 km away and Al Faisaliah Mall at a distance of 8 km. For travelers, the proximity to King Khalid International Airport, situated 33 km away, adds to the hotel's appeal, making it an accessible and comfortable choice for both business and leisure stays in Riyadh.
---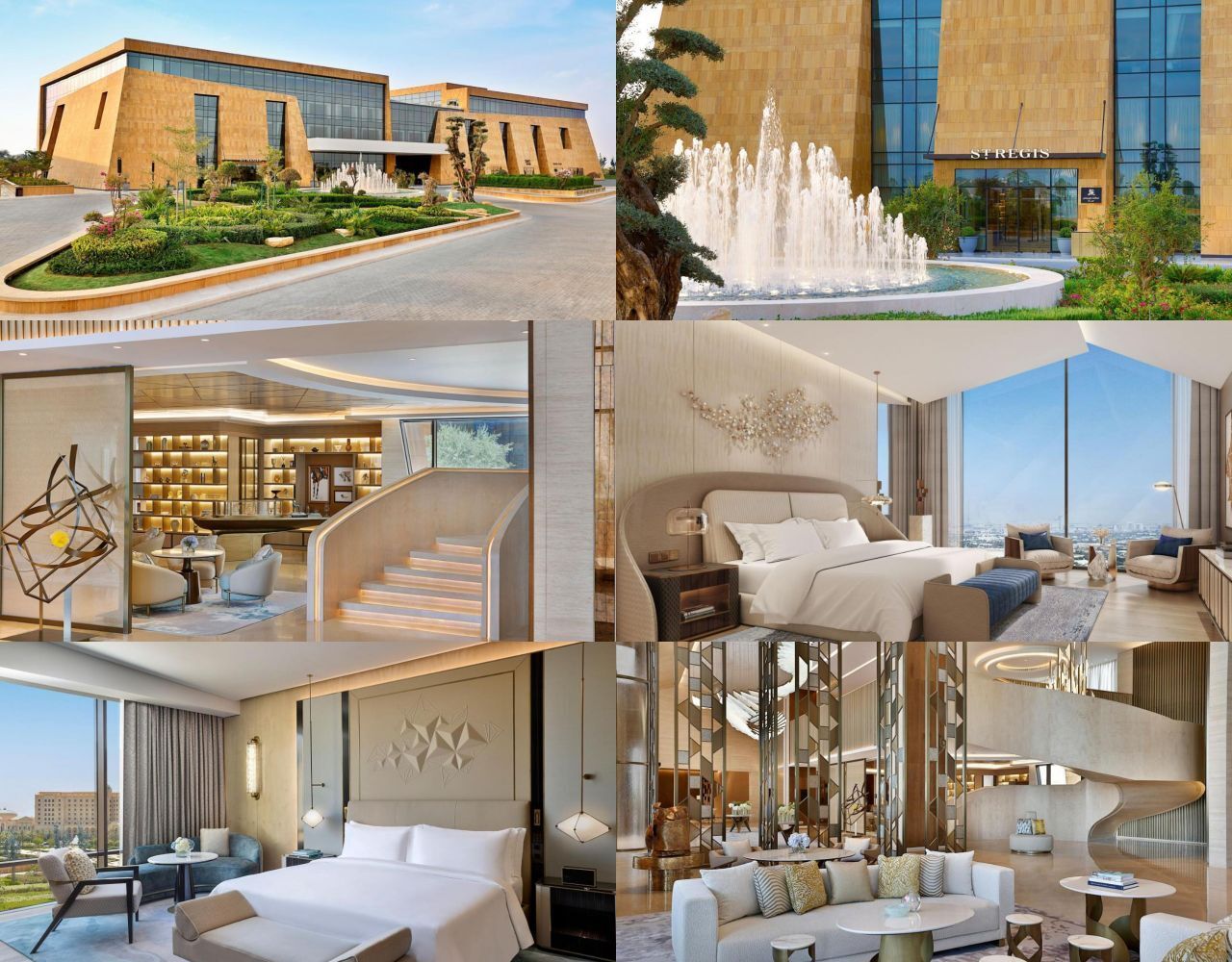 Opening Date: November 2023
Nestled in the heart of Via Riyadh, a newly established luxury district, The St. Regis Riyadh stands as the exclusive hotel in this vibrant area, known for its designer boutiques, Michelin-star restaurants, and a deluxe cinema. Positioned at the entrance of the Diplomatic Quarter, it offers easy access to embassies and the business district, set amidst picturesque trails and lush landscapes.
Boasting 83 guestrooms, including 21 suites and a lavish two-bedroom Royal Suite, The St. Regis Riyadh epitomizes boutique luxury. The rooms feature floor-to-ceiling windows, open bathrooms, and walk-in wardrobes, with decor in metallic and earthy tones reflecting the brand's sophisticated style with local touches. The renowned St. Regis Butler Service adds a personalized layer to the guest experience, catering to individual preferences with impeccable attention.
The culinary landscape at The St. Regis Riyadh is diverse and exquisite. The Drawing Room offers a refined setting for coffee and the brand's signature Afternoon Tea, while Jackie restaurant pays homage to American Greek cuisine. Stella Sky, a rooftop lounge, provides a dynamic atmosphere, transitioning from a relaxed day setting to a lively evening venue with live entertainment. Additionally, The St. Regis Bar features a unique 'Regal Mary' mocktail, complementing its Arabesque-themed decor. The hotel's spa offers a serene retreat, complete with signature treatments, while the expansive ballroom serves as an ideal venue for grand events, embodying the elegance and versatility that define The St. Regis Riyadh.
---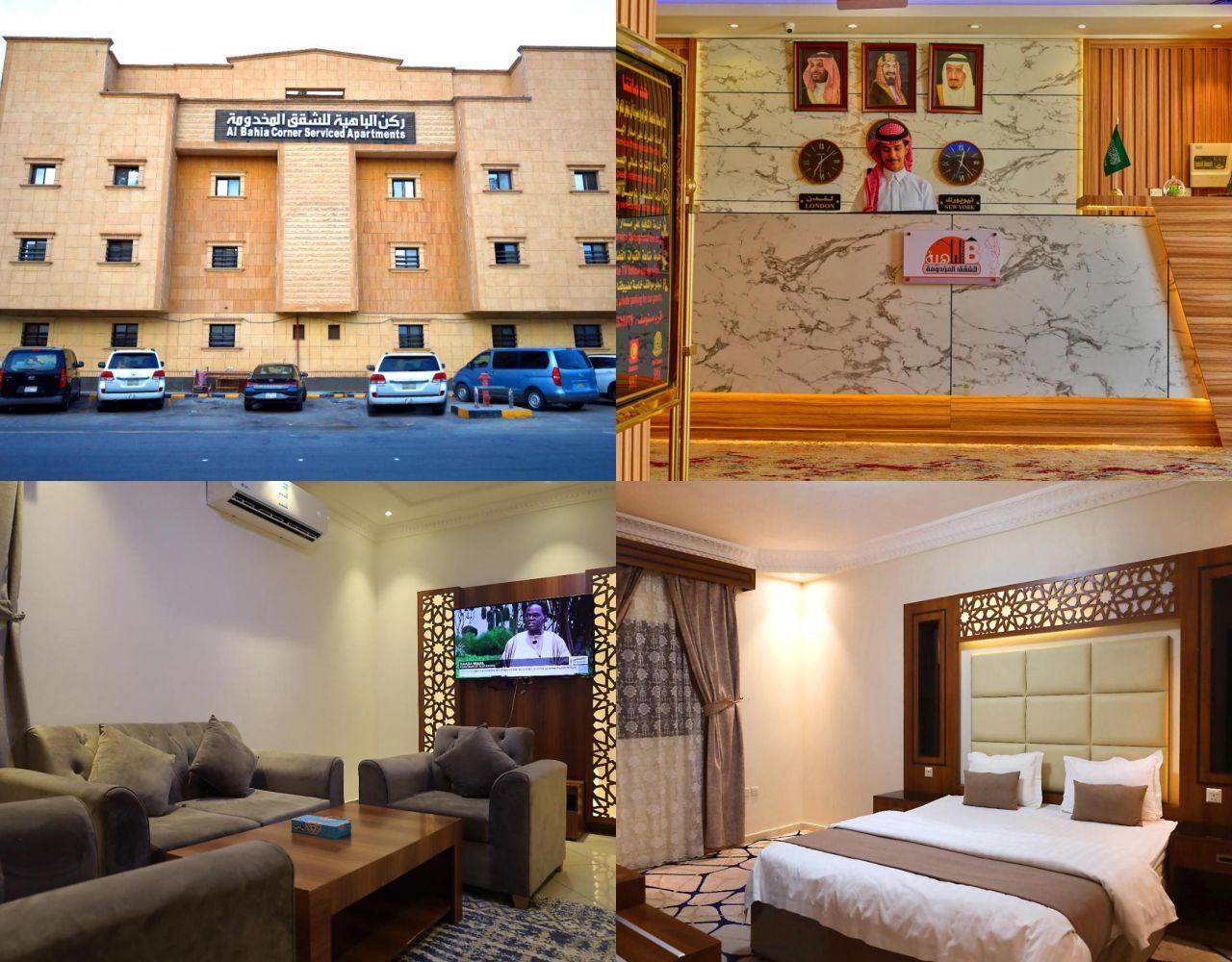 Opening Date: November 2023
Located in Riyadh, the 3-star hotel ركن الباهية للشقق المخدومة – مخرج 9 (Al Bahia Corner Serviced Apartments – Exit 9) offers a comfortable stay within close proximity to key attractions. It is just 4.5 km away from the Saqr Aljazeera Aviation Museum and 10 km from Riyadh Gallery Mall. The hotel, a non-smoking property, is also conveniently situated 2.5 km from Al Nakheel Mall, adding to its appeal for both leisure and business travelers. Guests can enjoy the benefit of free WiFi, room service, and a 24-hour front desk, ensuring a seamless and hospitable stay.
The hotel's rooms are well-equipped for a comfortable stay, featuring amenities such as a kettle and a private bathroom with a bidet and complimentary toiletries. Each room is furnished with a flat-screen TV and air conditioning for guests' convenience, and select rooms also include a seating area. To enhance the comfort of the stay, the hotel provides bed linen and towels in all rooms.
Further adding to its location advantage, ركن الباهية للشقق المخدومة – مخرج 9 is positioned 13 km from Riyadh Park and 15 km from King Khalid Grand Mosque, making it a convenient base for exploring the city. For those traveling via air, the hotel is an accessible choice, being only 18 km away from King Khalid International Airport. This hotel presents a practical and comfortable option for those visiting Riyadh, seeking both convenience and quality accommodation.
2024
The Kimpton Riyadh
Opening Date: June 2024
See Room Rates
The Kimpton Riyadh will be located in the heart of KAFD. It will offer five food and beverage options, including an all-day dining restaurant, a specialty restaurant, a lobby lounge, a lobby living room cafe and a pool bar.
Kimpton Riyadh will also host an outdoor amphitheater terrace, health club and swimming pool.
Hotel Development Pipeline in Riyadh
Hyatt Place Riyadh Diriyah Gate
Park Hyatt Diriyah Riyadh
Tuwaiq Palace 
Red Palace
Anantara – Diriyah Gate
voco Hotel and Suites Riyadh North – Opening in 2026
Earth Living Riyadh – Opening in 2026
Mondrian Al Malga Urban Village – Opening in 2026
As we conclude our guide to the "Top New Hotel Openings in Riyadh: Your 2023 – 2024 Guide," it's evident that Riyadh is rapidly becoming a hub of hospitality innovation and luxury. Each hotel we've featured offers a unique blend of comfort, style, and convenience, catering to the diverse needs of modern travelers. Whether you're in Riyadh for business, leisure, or a bit of both, these new establishments promise to enhance your stay with their exceptional amenities, strategic locations, and distinctive character.
To fully experience the dynamic essence of Riyadh, consider complementing your stay with guided tours. Exploring the city's rich cultural heritage, bustling markets, and architectural marvels through organized tours in Riyadh can offer deeper insights into the heart and soul of this vibrant capital. These tours are designed to showcase the best of Riyadh, from historical landmarks to contemporary attractions, providing an enriching experience beyond the comfort of your hotel.
As Riyadh continues to grow and evolve, we anticipate even more exciting hotel openings in the future. For now, the hotels listed in this guide stand as the epitome of hospitality excellence in the city, promising memorable stays to all who visit. So, whether you're planning a trip soon or in the coming months, make sure to consider these outstanding new hotels for a truly exceptional Riyadh experience.