Situated in Southern California, The City of Angels has so much to offer, from Hollywood and its behind-the-scenes tours to the Griffith Observatory, to Santa Monica and Venice Beach.
And when you visit you can't miss out on its exciting nightlife, fine dining, great shopping, and so many other amazing activities. On top of all that, LA is the center of the nation's film and television industry so maybe you get to meet your favorite celebrity or get a glance of filming the next blockbuster. Anything is possible here, but whatever happens, you should make sure that your hotel room is an intimate place where you can truly relax with your SO.
And we are here to help you plan that part of your getaway. The most romantic feature a suite can have is a relaxing spa tub for two, so here we offer you a list of Los Angeles hot tub rooms and whirlpool suites that will make your stay unforgettable!
Los Angeles Hotels with Jacuzzi Suites for Couples
1. Inn at Playa del Rey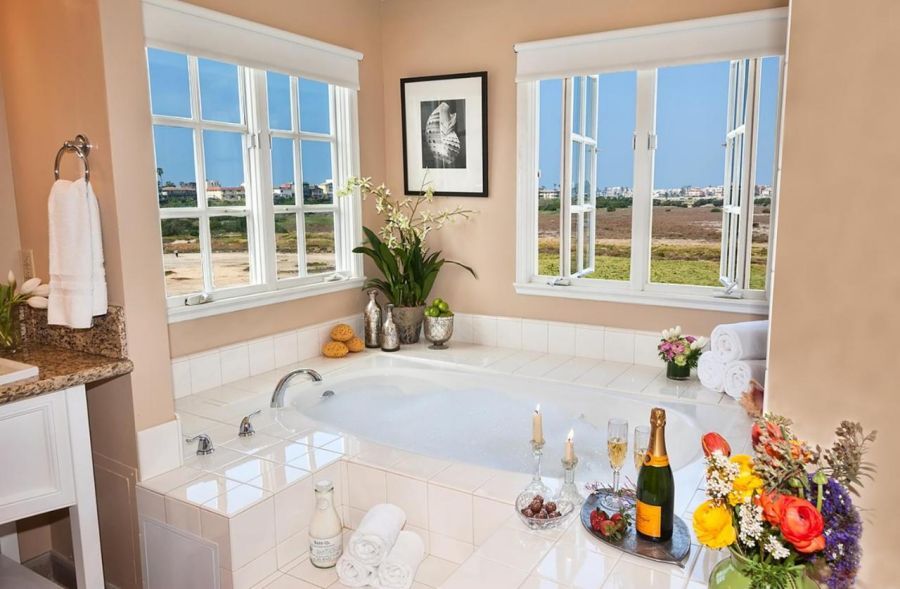 The first on our list of suites with Jacuzzi in Los Angeles is this unique Playa del Rey B&B. It overlooks Ballona Wetlands, a breathtaking bird sanctuary, and features private sunbathing gardens and free parking. Guests are offered a daily breakfast buffet, complimentary tea, lemonade and home-made cookies in the afternoon, and complimentary California wines and hors d'oeuvres every evening.
All rooms are individually decorated in a seaside cottage style and include a private bathroom and cable TV. Select suites also boast a romantic hot tub in the en suite bathroom. These Jacuzzi suites are ideal for romantic getaways and honeymoons.
In addition, the property is only a 10-minute drive away from the Los Angeles International Airport and has amazing reviews, as well as high ratings.
2. Shade Hotel Manhattan Beach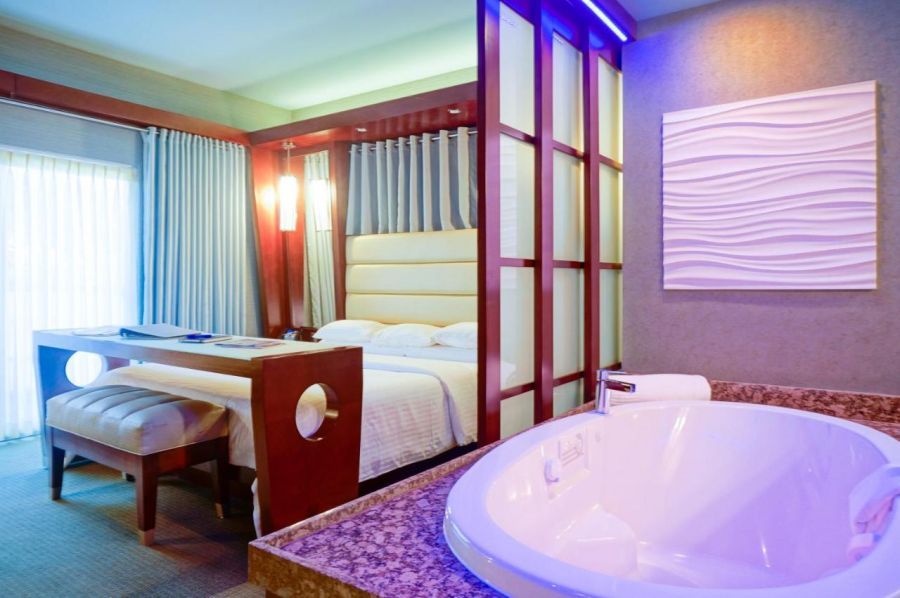 Situated near the beach, this pet-friendly, 4-star Manhattan Beach hotel offers modern rooms with a romantic spa tub for two, an espresso machine, a flat-screen TV, and a private balcony. The suites additionally come with a cozy seating area.
The hotel's Skydeck features an outdoor pool with a bar where you can relax during the hot California days, as well as free access to a nearby gym and free use of bicycles for those who like to stay fit or wish to explore the area by themselves. Free breakfast buffet is served every morning.
This hotel with Jacuzzi rooms is only a half hour drive from central Los Angeles so you can easily go enjoy all the commodities of this vibrant city while escaping the noise while at the hotel.
3. Skyline Great Location, Views & Hot Tub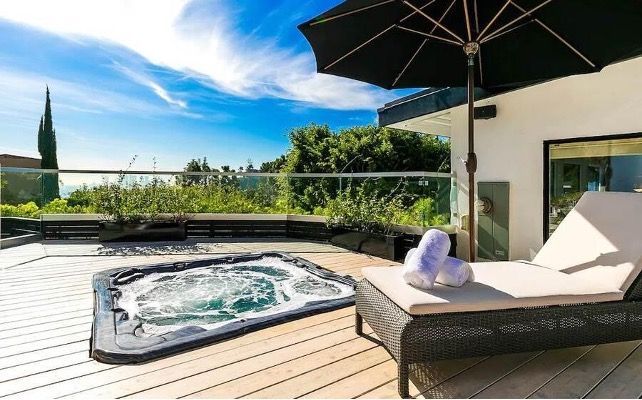 Next on our list is this luxurious holiday home with hot tub in LA. It's a bit big for only two people, but it's perfect if you can't leave the kids at home or if you're going on a joint vacation with another couple or two.
It features an open kitchen, a cozy living room and separate dining area, 3 bedrooms, 3.5 bathrooms, a garage for private parking, and a spectacular patio with a sunken Jacuzzi tub and glorious city views.
The patio also includes several gathering spaces, which is perfect for larger groups, and a Jenn-Air BBQ grill. And as if that weren't enough, the house is equipped with smart home technology, chic and elegant furnishings, and a romantic fireplace.
4. GreenTree Inn & Suites Los Angeles – Alhambra – Pasadena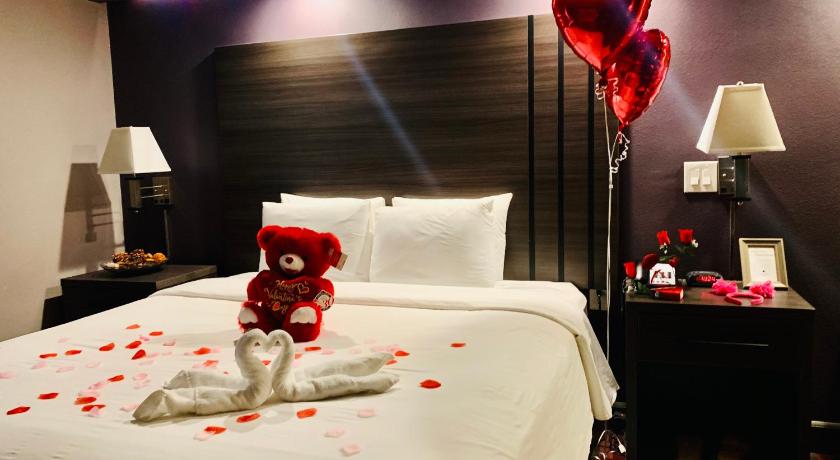 Set near the Alhambra city center, this romantic hotel features an outdoor pool and hot tub for guests to relax in, a free daily breakfast, and convenient free parking.
Its traditionally decorated rooms provide guests with a satellite TV and a refrigerator. Hot tub rooms are also available and they boast a romantic whirlpool tub in the private bathroom. Choose one of those for your couple's getaway and you won't be disappointed.
And to make your stay even more special, a number of fine dining options can be found within walking distance from the property, and Pasadena and central LA are a short drive away.
5. Luxury Suite In A Mountain Hilltop Retreat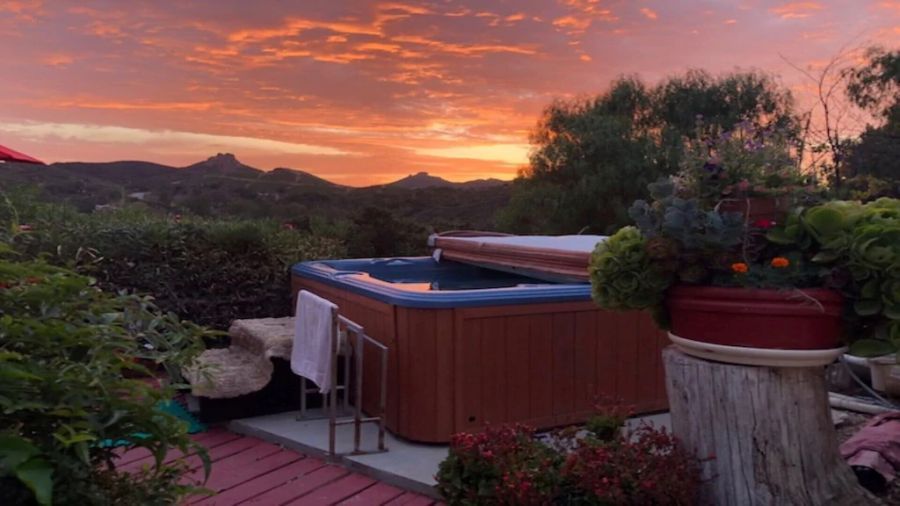 Hilltop Retreat is a gorgeous ranch with horses, set near amazing Santa Monica Mountains and the beach. It's ideal for outdoorsy couples who enjoy spending time away from the city, hiking, going on romantic walks on the beach, and horseback riding.
The property also offers a couple of suites, and one of them is a suite with a private hot tub. It is newly renovated and comes with a small kitchen, 1 bedroom, 1 bathroom, a living room, and a private patio with a Jacuzzi tub, a BBQ, and amazing sunset views.
It's one of our favorite Los Angeles Jacuzzi suites because it offers its guests an intimate setting for a romantic getaway combined with all the benefits of staying at a B&B.
6. Kimpton Hotel Palomar Los Angeles Beverly Hills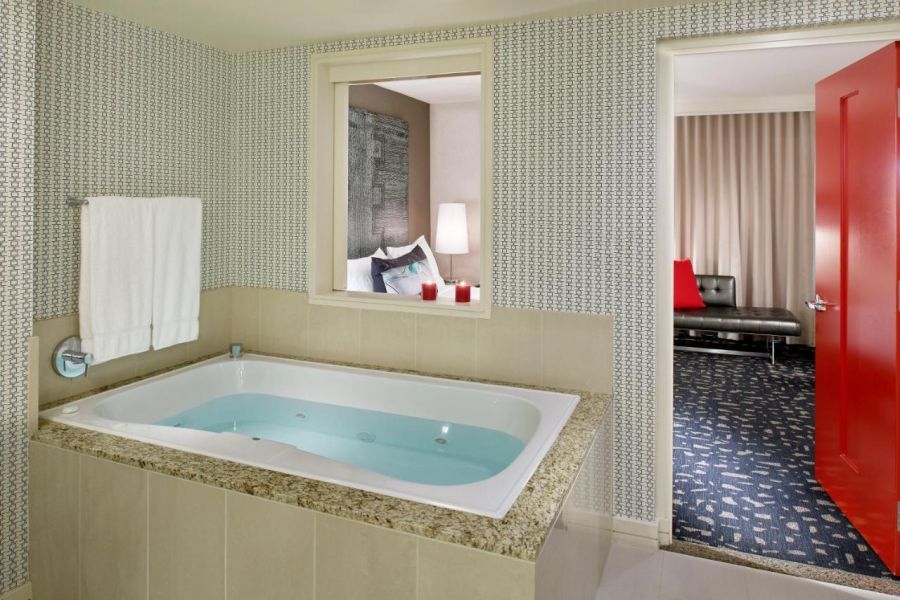 This stylish Los Angeles hotel with hot tub in room features many convenient facilities, such as an outdoor pool, a fitness center, and a lounge. It also boasts some services for couples, including in-room spa services, free bicycle rentals, and 24-hour room service, which can spice up your stay.
When booking a room, make sure to select a hotel suite with a Jacuzzi. Said suites also boast city views and separate living rooms, along with the usual modern room amenities.
Santa Monica State Beach is 10 minutes' drive away and the property is pet-friendly and 100% non-smoking, too.
7. Hotel Bel-Air – Dorchester Collection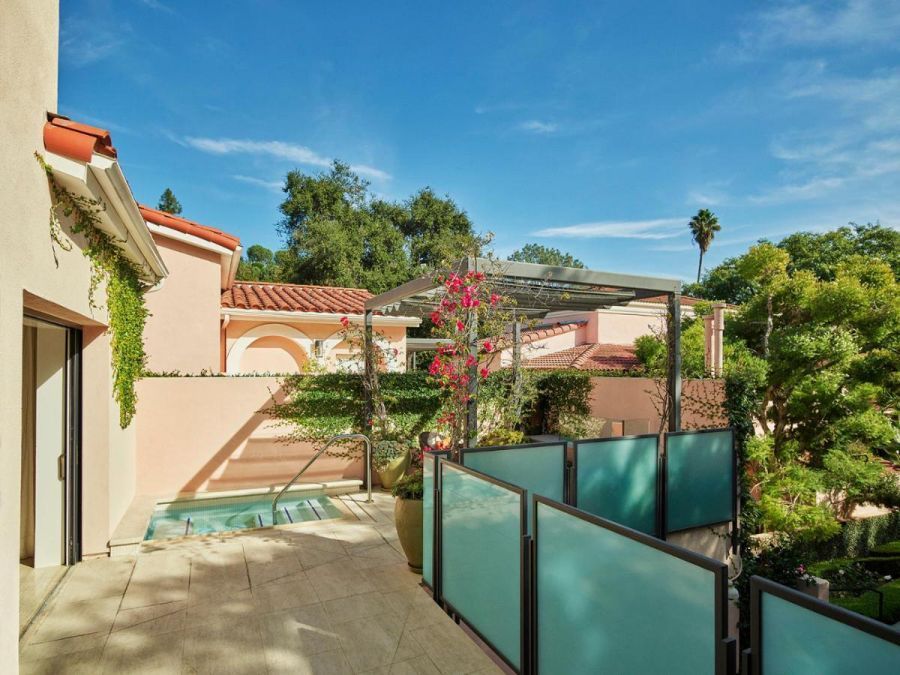 Nestled in Bel-Air, this historic, pet-friendly hotel features a large garden that boasts a terrace and a pond with swans, a salt-water outdoor pool, a fitness center that hosts a number of classes, and an amazing full-service spa.
The rooms offer large windows, modern furnishing, a coffee maker, a flat-screen TV, and spa-style bathrooms. Most suites come with a whirlpool tub, floor heating, a fireplace, and/or a patio with amazing views.
Hotel's Bar & Lounge offers fine dining in an intimate setting that includes 2 fireplaces, a grand piano and views of the lush gardens. Other services include airport shuttle, breakfast in the room, and room service, just to name a few.
8. InterContinental – Los Angeles Downtown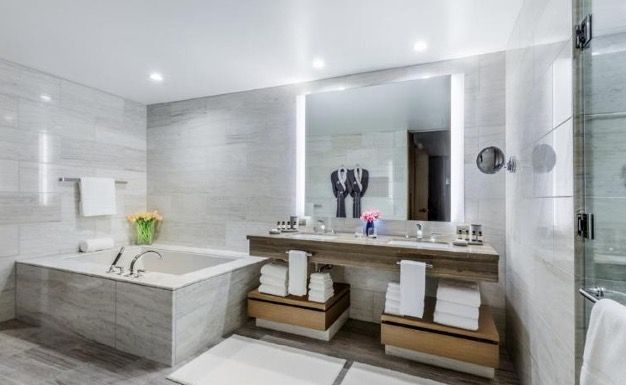 Last but not least on our list of romantic Los Angeles hotels with Jacuzzi in room is this pet-friendly InterContinental hotel. Situated in Downtown Los Angeles, it features an outdoor heated pool, an on-site restaurant with an interactive farm to fork cuisine, and a rooftop bar that serves cocktails and offers panoramic views of the city.
Every room comes equipped with a TV, a coffee machine, and complimentary toiletries in the private bathroom. Many units additionally offer views of Los Angeles and cozy seating areas. Honeymoon suites and Jacuzzi rooms are also available at the hotel.
More romantic hotels in Los Angeles

Santa Monica Proper Hotel, a Member of Design Hotels
Santa Monica's first new luxury lifestyle hotel combines historic building with contemporary architecture and modern art. It features 3 restaurants and bars, a rooftop heated pool with a sun deck, room service, a 3,000 square-foot Spa with Ayurvedic treatments and couples' massages, a fitness center, and a yoga terrace.
All rooms offer guests many modern amenities, such as Fili D'oro Fine Linens, Bellino Italian comforter and pillows, and Esop bathroom amenities.
Furthermore, many activities are available nearby, including walking tours, a beach, diving, hiking, fishing, tennis, etc., so you can be certain that every moment here will be interesting.
The Beverly Hills Hotel – Dorchester Collection
The so-called "The Pink Palace" is set near Downtown Beverly Hills. It's a luxury hotel on Sunset Boulevard that features a full-service Spa offering couples' massages and numerous beauty treatments, a large outdoor pool with underwater music and a poolside bar and lounge, on-site fine dining, and a first-class fitness center.
All elegant rooms and suites provide guests with marble bathrooms, TVs and other modern amenities. In addition, room service is available in all units.
The Polo Lounge is a popular dining place for celebrities, while the Fountain Coffee Room is a great choice for casual dining. So if you're in luck, maybe you get to meet some of your favorite stars. Regardless of that, you will surely have your every wish met at this extraordinary property which will make your romantic getaway simply amazing.
Hilton Anaheim
This romantic Anaheim hotel is set within walking distance from Disneyland and the Disney California Adventure Park, which makes it perfect for fun and playful couples or families with children.
It features a spacious outdoor pool and an adults-only pool, five restaurants, and a bar that serves cocktails and wines. A Starbucks and a seasonal outdoor restaurant are also available for guests. The on-site spa center offers a health club, fitness classes, numerous treatments, and romantic couples' massages.
Each spacious, modern room comes with a flat-screen cable TV, a coffee maker, and a private bathroom. Only select rooms offer balconies and seating areas, but all units have room service available.
The Ritz-Carlton, Marina del Rey
Set near Venice Beach and Los Angeles International Airport, this pet-friendly, waterfront hotel features an outdoor pool with a sun terrace and views of the marina. There is also an on-site restaurant serving local Californian cuisine while offering mesmerizing panoramic views of the Pacific Ocean, as well as a poolside restaurant and a lounge in the lobby.
Other facilities include a spacious fitness center that includes eucalyptus steam rooms and spa services, including romantic couples' massages. Room service, bicycle rentals, shuttle services, and many activities are also available for guests.
All rooms here come with polished wood furnishings and plush carpets, private balconies and flat-screen TVs.
Four Seasons Hotel Los Angeles at Beverly Hills
Nestled in Beverly Hills, this luxurious, full-service hotel features on-site dining that specializes in Italian cuisine, with indoor or outdoor seating options. This 5-star, pet-friendly hotel also provides a full-service spa with a large array of available treatments and massages, an outdoor saltwater pool with a sun terrace, a fitness center, and a lounge serving cocktails.
Every room offers views of the lush gardens, a seating area with a cable TV, and a private bathroom with a shower and/or a bath. Some guest units come with French doors opening to private balconies.
Four Seasons is a trusted classic so we have no doubt it would be a smart choice for celebrating an anniversary, a honeymoon, or any other romantic occasion with your special someone.
The Maybourne Beverly Hills
This romantic hotel features honeymoon suites, a rooftop heated pool with a sun terrace, an on-site spa that includes couples' massages, a sauna and a hot tub, and an amazing restaurant with a large terrace overlooking Beverly Canon Gardens, serving California-inspired cuisine, as well as a bar serving cocktails.
All rooms here come with a flat-screen satellite TV, a seating area, and a private bathroom with free toiletries. Guests are also provided with in-room tablets, which guests can use to get access to all of the hotel's amenities and services, 24/7. And, of course, room service is available for all guests.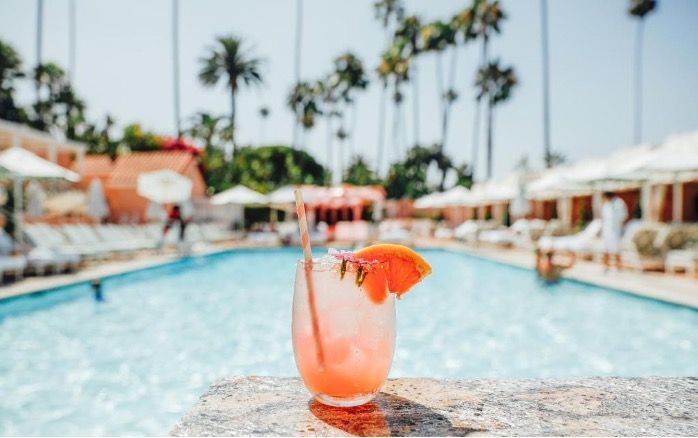 FAQs
What do I need to know before booking a hotel with a Jacuzzi in room in Los Angeles?
– The prices and availability of hot tub rooms and suites can vary a lot, depending on the accommodation's rating, location, and on when you want to book your stay and for how many nights. That's why it's very important that you double check the price before booking a room.
And if you can't find the hotel suite with Jacuzzi on the website, it probably means that it's not available on your selected dates. If it's not there when you try to book it, don't mistakenly book a different room. Try a different hotel or change the dates of your stay.
Which hotel in LA with a Jacuzzi in room is best for couples?
– Surely the response depends on the couple as a romantic vacation is more than a pretty room. It depends on if you prefer hotels or B&Bs and if you'd rather stay in the downtown or the suburbs, and so on. Regardless, we are confident you can find something for yourselves on our list as it's focused primarily on romantic rooms and suites for couples.
Is Los Angeles safe?
– Los Angeles has a reputation for being somewhat dangerous but it is also known for being a clean and safe holiday destination. Overall, it's a safe city, with rich and safe neighborhoods and dangerous ones that balance each other out, although its crime rates are declining, especially when compared to other large US cities. Nevertheless, do remain vigilant around tourist landmarks, since pickpockets are an issue, much like in any other popular tourist destination. If you're still worried, here's a short list of the safest neighborhoods in LA: West Hollywood, Glendale, Marina Del Rey, Playa Vista, Mar Vista, Westwood, Beverly Hills, and Manhattan Beach.