As the calendar page turns and the old year gives way to the new, cities across Europe burst into life with celebrations that are as diverse as they are vibrant.
With its rich tapestry of cultures and histories, the continent offers a myriad of ways to bid farewell to the old year and welcome the new.
From the iconic chimes of Big Ben to the historic squares of Rome, each city offers a unique experience to welcome the New Year.
In this article, we are presenting you the 7 best European cities to celebrate New Year's Eve in 2023/24.
1. London, UK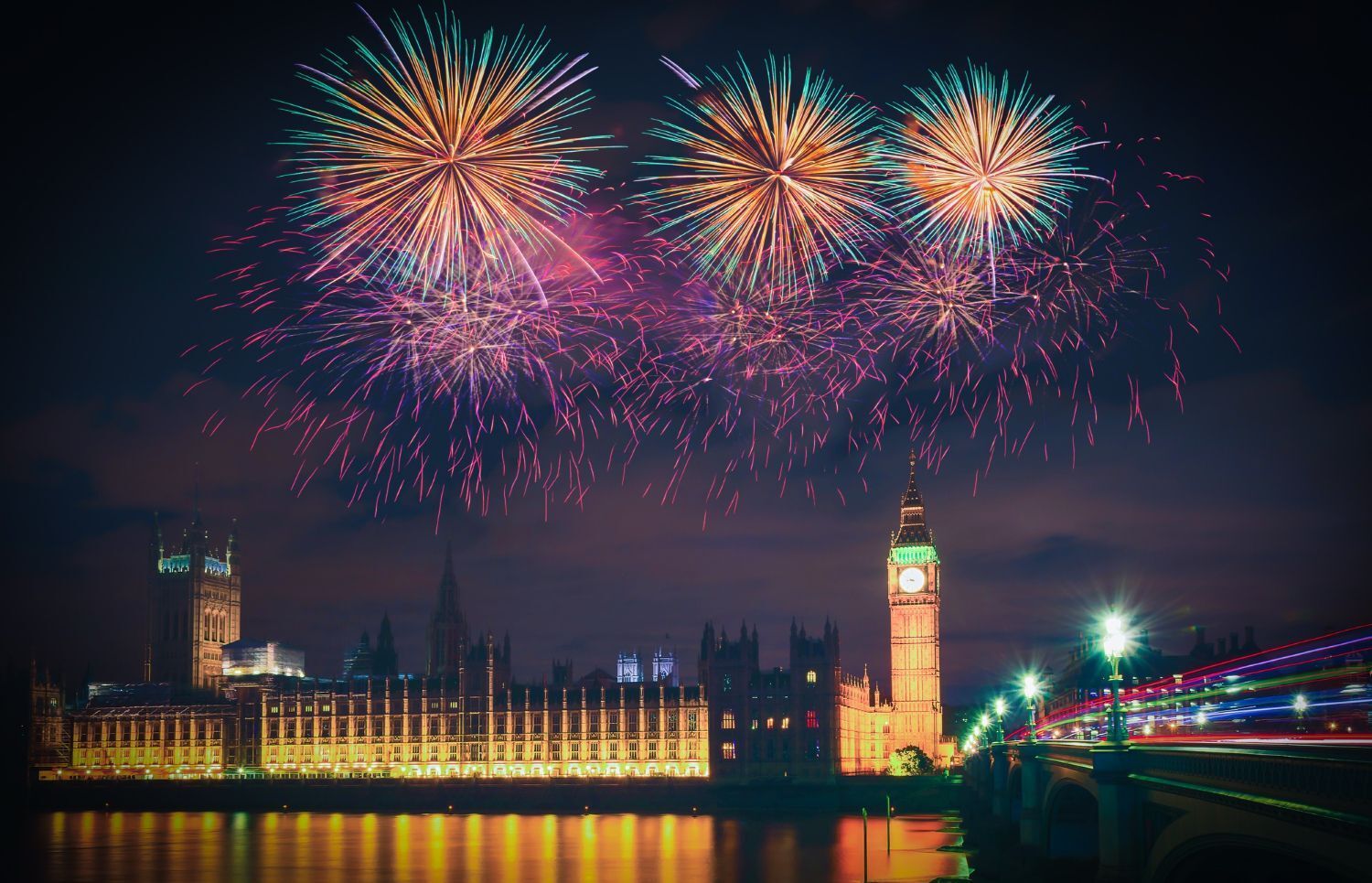 Fireworks and Festivities on the Thames
London's New Year's Eve is a spectacle of pomp and pageantry. As Big Ben strikes midnight, the sky erupts in a dazzling display of fireworks, with the London Eye and the Thames providing a stunning backdrop. The city's vibrant atmosphere is palpable, with street parties and festive events adding to the revelry.
Tickets are now on sale for London New Year's Eve fireworks which starts ob Sunday 31 December 2023 at 8:00pm and ends on Monday 01 January 2024 at 12:30am. Ticket price is £20 per ticket.
The fireworks launch from the lasminute.com London Eye and go as high as 200m into the air. This gives everyone across the event a chance to see them.
And if you arrive London earlier, we suggest you to enjoy Iheartlondontours' magical Christmas-themed tour filled with lots of Jolly fun this winter season and celebrate the most wonderful and festive time of the year.
Expect Crowds and Excitement
London's New Year's Eve is immensely popular, so expect large crowds, especially around key areas like the South Bank, Trafalgar Square, and Piccadilly Circus. The atmosphere is electric, with people of all ages and backgrounds coming together to count down the final moments of the year.
Public Transport
Transport for London typically provides free travel on public transport on New Year's Eve, including buses, tubes, trams, DLR, and even some National Rail services in the capital. This makes getting around much easier, but be prepared for some stations to be closed or exit-only to manage the crowds.
Street Festivities
Apart from the main fireworks, there are plenty of street festivities, live music, and parties. Many London pubs and clubs host New Year's Eve events, ranging from black-tie affairs to themed parties. Booking ahead is essential as these also tend to sell out and can be quite pricey.
River Cruises
For those looking for a unique vantage point away from the throngs, consider booking a New Year's Eve river cruise on the Thames. These cruises offer great views of the fireworks and often include dinner, dancing, and champagne at midnight.
Plan Ahead:
Book your hotel and any tickets for events or viewing areas well in advance.
Make restaurant reservations if you plan to dine out before the festivities.
Check the weather forecast and dress warmly—New Year's Eve can be quite cold.
2. Edinburgh, Scotland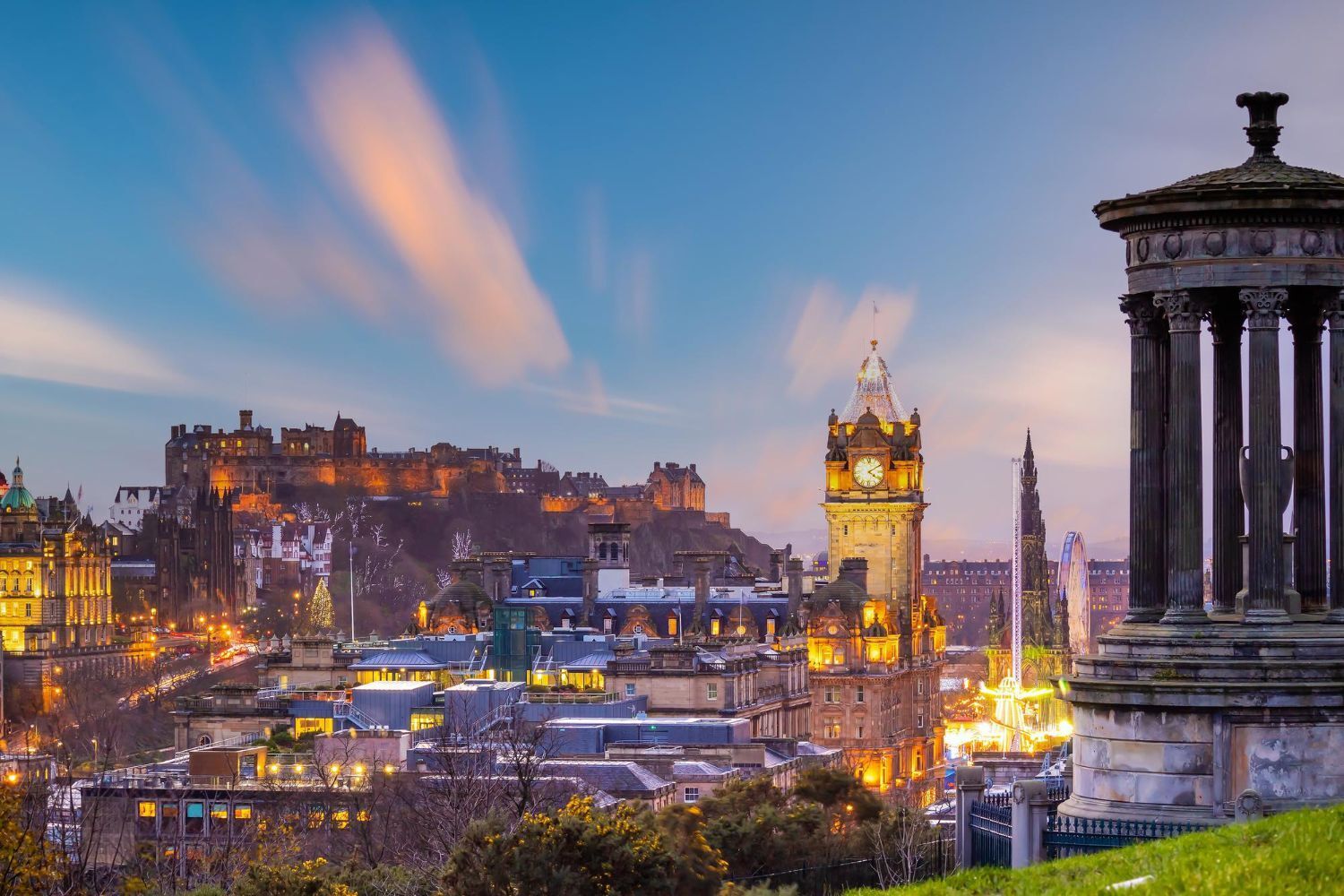 Hogmanay Festivities
New Year's Eve in Edinburgh is celebrated with a world-famous event known as Hogmanay, a festival that has its roots in ancient winter solstice celebrations. It's a multi-day extravaganza that showcases the best of Scottish tradition and conviviality. Edinburgh is the epicenter of this grand celebration. The city comes alive with torchlight processions, traditional ceilidh dancing, and a massive street party. As the clock ticks down, the chorus of "Auld Lang Syne," a Scottish poem turned folk song, unites everyone in a moment of camaraderie and reflection.
Internationally acclaimed ABBA sensations Björn Again will headline the Night Afore Disco Party beneath Edinburgh Castle, and the New Year's Revels makes a triumphant return to the New Town Assembly Rooms.
A set list of pop classics and disco hits will be the name of the game when Björn Again takes to the Princes Street Gardens stage at the Night Afore Disco Party on Saturday 30 December. With over 5,500 performances across 72 countries, it is a return to Scotland capital's celebrations for the Australian ABBA show who first played at Edinburgh's Hogmanay in 2000/01.
Expect a Festival Atmosphere
Edinburgh's Hogmanay is not just a night of celebration but a three-day cultural phenomenon. The city is abuzz with activities and events, including street parties, concerts, traditional ceilidh dancing, and the famous Torchlight Procession, which typically takes place on December 30th. Expect a vibrant atmosphere filled with music, laughter, and the spirit of celebration.
Join revelers from around the globe at 4-days of Edinburgh's Hogmanay 30th Anniversary celebrations from Friday 29 December 2023 – Monday 1 January 2024, featuring fantastic live music, spectacular fireworks and the World-Famous Street Party. Book your hotel considering this.
Street Party and Concerts
The heart of Hogmanay is the Street Party, where thousands gather beneath the stunning backdrop of Edinburgh Castle. Live bands and DJs play on stages spread throughout the city center, and the streets become a dance floor for revelers.
The Bells and Fireworks
At midnight, the celebration peaks as the bells of St Giles' Cathedral ring out and a magnificent fireworks display lights up the sky over Edinburgh Castle. The sight is truly awe-inspiring and is a highlight for many visitors.
First Footing
After the midnight festivities, a traditional Scottish custom called 'first-footing' begins. It's considered good luck for the first person to enter a home after midnight to bring a gift, such as whisky or shortbread.
3. Berlin, Germany
Party at Brandenburg Gate
New Year's Eve, or "Silvester" as it's known in Germany, is a grand celebration in Berlin, a city famed for its vibrant culture and dynamic party scene.
Berlin hosts one of the largest New Year's Eve celebrations in Europe. The area around Brandenburg Gate transforms into a massive street party with live music, food stalls, and an impressive fireworks display. It's a place where history and modernity merge to create an unforgettable New Year's experience.
In the past, the New Year's Eve party at the Brandenburg Gate was considered one of the biggest New Year's Eve parties in the world. In 2022, the event followed a new concept and took place in a smaller setting on Pariser Platz. The details of the 2023 event are not yet known.
Tickets for the New Year's Eve celebration at the Brandenburg Gate are available from November 02, 2023 on Myticket.de. One ticket costs 10 euros, a fee that will cover, among other things, the security concept for the party. Each person can buy a maximum of six tickets.
Expect a Party Atmosphere
Berlin is renowned for its energetic nightlife, and on New Year's Eve, the entire city turns into a giant party. The main event is the "Party Mile," a stretch between Brandenburg Gate and the Victory Column that is filled with tents, food stands, party stages, and bars. Please note that visitors are not allowed to bring their own food or alcoholic beverages into the event area.
Fireworks and Open Air
At midnight, the sky over Berlin is illuminated with spectacular fireworks. Unlike other cities where fireworks are centrally organized, in Berlin, locals also participate actively, setting off their own fireworks and firecrackers. It's a wild, exuberant display that reflects the city's free spirit.
Concerts and Performances
Leading up to midnight, there are live concerts featuring a range of musical acts, from pop and rock to dance and electronic music. Performances and light shows add to the celebratory atmosphere.
Club Parties
For those who wish to continue the party after the fireworks, Berlin's clubs host some of the most sought-after New Year's Eve parties in the world. Expect to find a club scene that caters to every taste, from techno and house to more mainstream music. Discover the exciting world of Berlin's club culture in this one-of-a-kind guided city tour.
4. Paris, France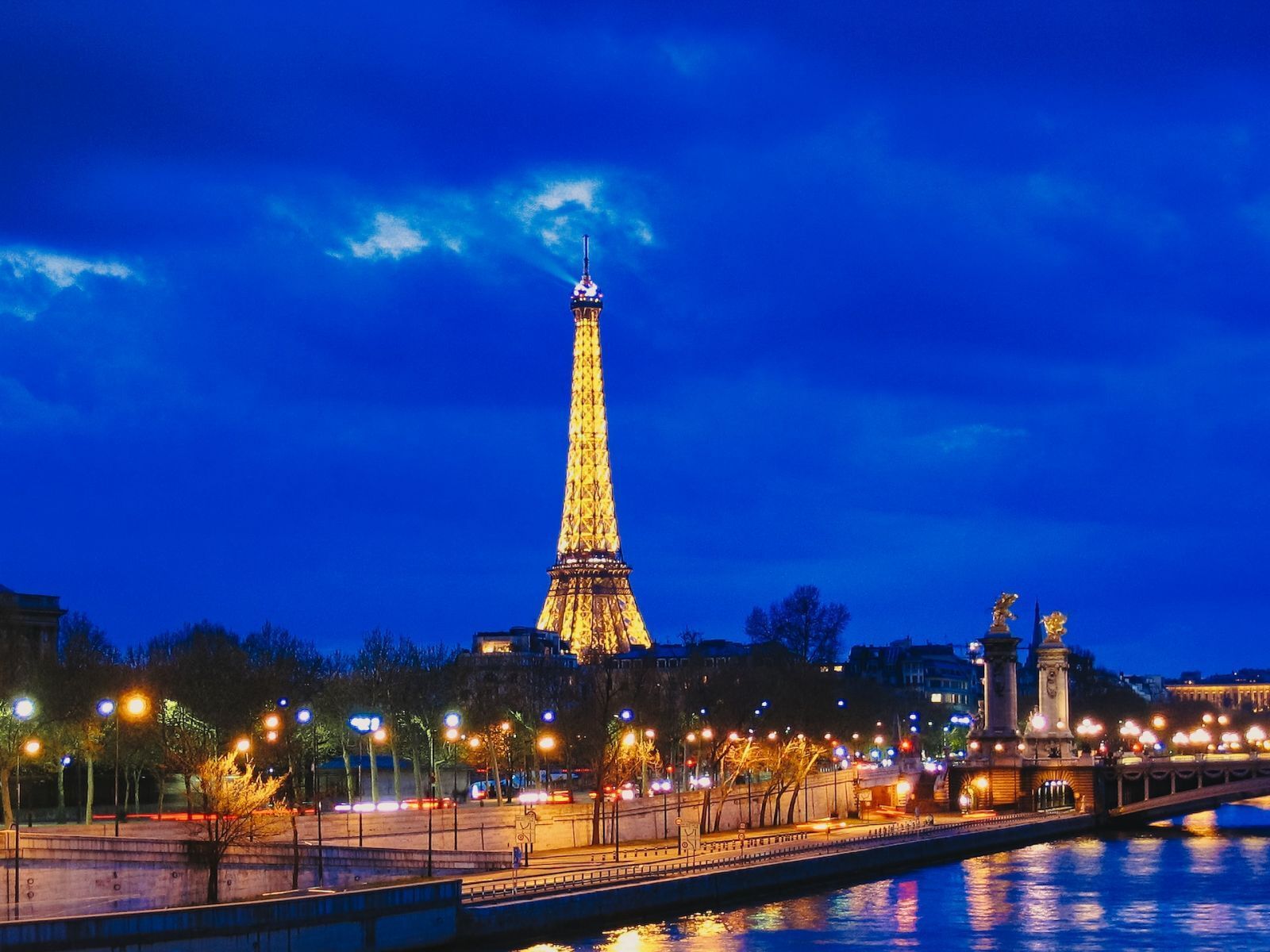 A Romantic New Year on the Seine
New Year's Eve in Paris, known as "La Saint-Sylvestre" in France, is a night of elegance, lights, and celebration. Paris, the City of Light, offers a New Year's Eve as romantic as it is spectacular.
Iconic Celebrations
The Champs-Élysées is the epicenter of New Year's Eve celebrations, where thousands of Parisians and tourists gather to await the turn of the year. The avenue offers a fantastic view of the Eiffel Tower, which is usually the site of a light show and a countdown to midnight.
Fireworks and Eiffel Tower
While Paris does not always have an official fireworks display, the Eiffel Tower itself often becomes the centerpiece of the night's festivities with a special light show. The Trocadéro, across the river, provides a great vantage point for the light show if it occurs.
River Cruises
Many companies offer special New Year's Eve cruises along the Seine River. These can be a romantic and relatively crowd-free way to enjoy the celebrations, often including dinner, dancing, and champagne.
The Champs-Élysées becomes a sea of people all gazing towards the Eiffel Tower, which serves as the centerpiece for a breathtaking light show and fireworks. River cruises on the Seine offer a more intimate setting to view the festivities and toast to the year ahead.
5. Budapest, Hungary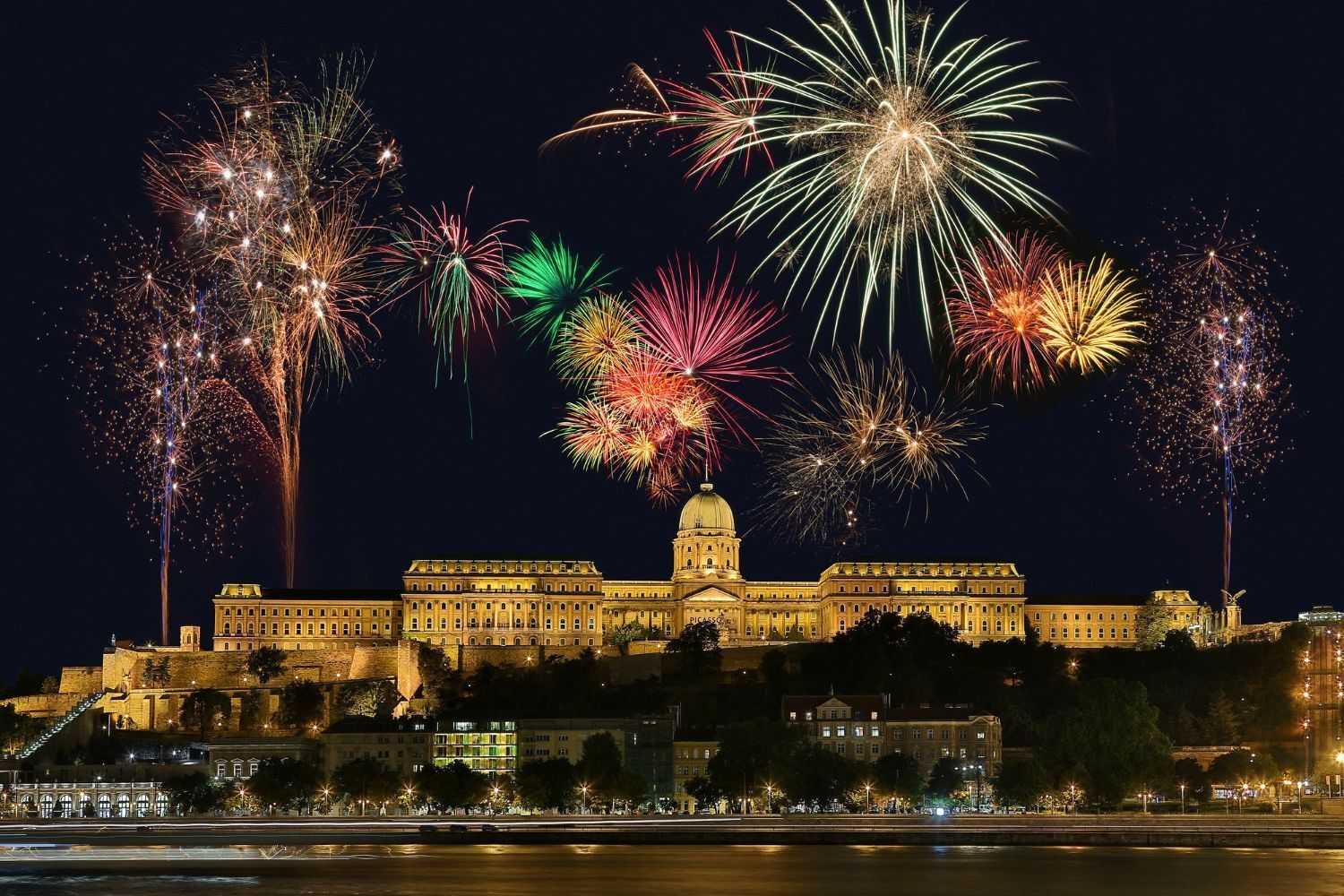 Budapest's Szilveszter Celebrations
New Year's Eve in Budapest is a vibrant mix of tradition and modern celebration, reflecting the city's rich cultural heritage and love for festivity.
Expect a Festive Spirit
Budapest comes alive on New Year's Eve, known locally as "Szilveszter," with a festive spirit that sweeps across the city. From the Danube banks to historic squares, the city buzzes with excitement, music, and anticipation for the New Year.
Public Celebrations
Major public squares such as Vörösmarty Square and Oktogon become hubs of activity, hosting outdoor concerts, folk dancing, and street food vendors offering Hungarian specialties. The atmosphere is convivial, with locals and tourists mingling in the celebrations.
Fireworks Display
As the clock strikes midnight, fireworks light up the night sky. The Danube River provides a stunning setting for the display, with the illuminated Buda Castle and Chain Bridge offering a picturesque backdrop. Many people gather along the riverbanks or on the bridges to watch the show.
River Cruises
The Danube River is central to Budapest's New Year's Eve celebrations. A river cruise on New Year's Eve can offer a more relaxed and scenic way to ring in the New Year, with views of the fireworks and the city's landmarks lit up against the night sky.
6. Prague, Czechia



A Night of Bohemian Rhapsody
New Year's Eve in Prague is a magical time, with the city's historical backdrop providing a stunning setting for the festivities. Known as "Silvestr" in the Czech Republic, December 31st is a day when the enchanting city of Prague comes alive with celebration and cheer.
Expect a Vibrant Atmosphere
Prague is known for its lively atmosphere on New Year's Eve. The city is filled with both locals and tourists ready to bid farewell to the old year and welcome the new with open arms. The streets are bustling, the squares are filled with music, and the air is electric with anticipation.
When you are in Prague, don't forget to sample traditional Czech foods like "chlebíčky" (open-faced sandwiches) or "obložené koblížky" (garnished doughnuts), and toast with a glass of "Becherovka," a traditional herbal liqueur, or Czech beer and visit Prague Castle. This Prague Castle Walking Tour Including Admission Tickets is highly popular.
Fireworks Over the Vltava
While there isn't an official city-organized fireworks display on New Year's Eve itself (the official display often takes place on January 1st), the sky over Prague still lights up at midnight with fireworks set off by residents and visitors. The reflections over the Vltava River add to the spectacle, creating a beautiful scene.
Old Town Square and Wenceslas Square Festivities
The Old Town Square and Wenceslas Square are the focal points of New Year's Eve public celebrations. These historic spots become filled with street performers, vendors selling traditional Czech treats, and pop-up bars serving hot drinks to keep the winter chill at bay.
River Cruises
Many visitors choose to celebrate on a river cruise along the Vltava. These cruises often include dinner, music, and dancing, providing a more intimate setting from which to view the fireworks and enjoy the city's scenery.
7. Barcelona, Spain



Barcelona's Nochevieja Fiesta
New Year's Eve, or "Nochevieja" in Spanish, is a time of lively festivities in Barcelona, a city renowned for its vibrant culture and traditions.
Barcelona is a city that loves to celebrate, and New Year's Eve is no exception. The streets come alive with revelers, and there's a palpable sense of excitement as the countdown to the new year begins.
The Magic Fountain of Montjuïc
One of the main attractions in Barcelona during New Year's Eve is the Magic Fountain of Montjuïc, which offers a spectacular water and light show that is choreographed to music. This is often followed by fireworks and is a family-friendly event.
Plaça d'Espanya and Plaça de Catalunya Festivities
Large crowds gather at Plaça d'Espanya to watch the fireworks and at Plaça de Catalunya to celebrate with cava, the local sparkling wine, and to partake in the tradition of eating twelve grapes—one for each chime of the clock at midnight, which is supposed to bring good luck for each month of the coming year.
Beach Parties
Barcelona's beaches, such as Barceloneta, also become hotspots for New Year's Eve parties. Many beachfront clubs and bars host special events, and impromptu celebrations often take place on the sand.
While Barcelona's climate is milder than many other European cities, it can still be chilly in the evening, so dress warmly. It would be wise to stay at a hotel in the city centre.
If you plan to visit Barcaelona's popular Sagrada Familia, with this English-language guided tour, you can skip-the-line entry.
Wish you A Happy New Year
Celebrating New Year's Eve in Europe is an experience that combines the allure of tradition with the excitement of the future. Each city offers its own unique spin on the festivities, ensuring that no matter where you choose to go, you'll start the year with memories to last a lifetime.
We wish you a happy New Year!