In an era where climate change and environmental conservation are at the forefront of global discussions, the role of sustainable tourism has never been more crucial.
The recently released GDS-Index 2023 Report titled "The Ripple Effect" provides a comprehensive insight into the pioneering destinations that are setting the gold standard in sustainable tourism. These destinations, through their innovative practices and commitment to the environment, are not only mitigating the adverse effects of tourism but are also regenerating their ecosystems. They serve as beacons of hope, demonstrating that tourism, when managed responsibly, can be a force for good.
The GDS-Index, a benchmark for sustainable tourism, has been instrumental in driving positive change across the globe. With an increasing number of Destination Management Organizations (DMOs) joining the movement, the 2023 report underscores the global shift towards more sustainable and regenerative tourism practices. As travelers become more conscious of their environmental footprint, these top destinations are leading the charge, offering experiences that are both enriching and environmentally friendly.
Without further ado, let's delve into the top 20 destinations that have been recognized for their outstanding efforts in sustainable tourism:
Gothenburg – Retaining its leadership spot, Gothenburg showcases its unwavering commitment to sustainable tourism with a score of 94.64.
Oslo – Climbing from tenth to second place, Oslo's score of 92.46 reflects its robust strategy and dedication to sustainability.
Copenhagen – A consistent high-ranker, Copenhagen secured the third spot with a commendable score of 91.73.
Helsinki – Making a significant leap from twelfth to fourth, Helsinki's score of 90.49 is a testament to its sustainable initiatives.
Bergen – Despite a slight drop, Bergen's score of 90.15 emphasizes its continued focus on sustainable practices.
Aarhus – With a score of 88.64, Aarhus stands as a testament to the Nordic countries' commitment to sustainability.
Paris – Scoring 80.12, the City of Lights has made notable strides in sustainable tourism.
Odense – This Danish city secured the 22nd spot with a score of 79.94.
Songkhla, Thailand – A new entrant, Songkhla debuts impressively at 23rd place with a score of 79.56.
Bilbao – With a score of 78.83, Bilbao continues to prioritize sustainable tourism.
Tampere – This Finnish city earned a score of 78.33.
Cork – Representing Ireland, Cork secured a score of 77.86.
Melbourne – The Australian city of Melbourne scored 77.53.
Faroe Islands – With a score of 77.31, the Faroe Islands emphasize their commitment to sustainability.
Sydney – Another Australian city on the list, Sydney scored 77.21.
Svendborg – This Danish destination earned a score of 77.06.
Berlin – Germany's capital city secured a score of 76.69.
Brussels – The Belgian capital scored 75.77.
Montreal – Representing North America, Montreal earned a score of 75.12.
Barcelona – With a score of 74.52, Barcelona continues to make strides in sustainable tourism.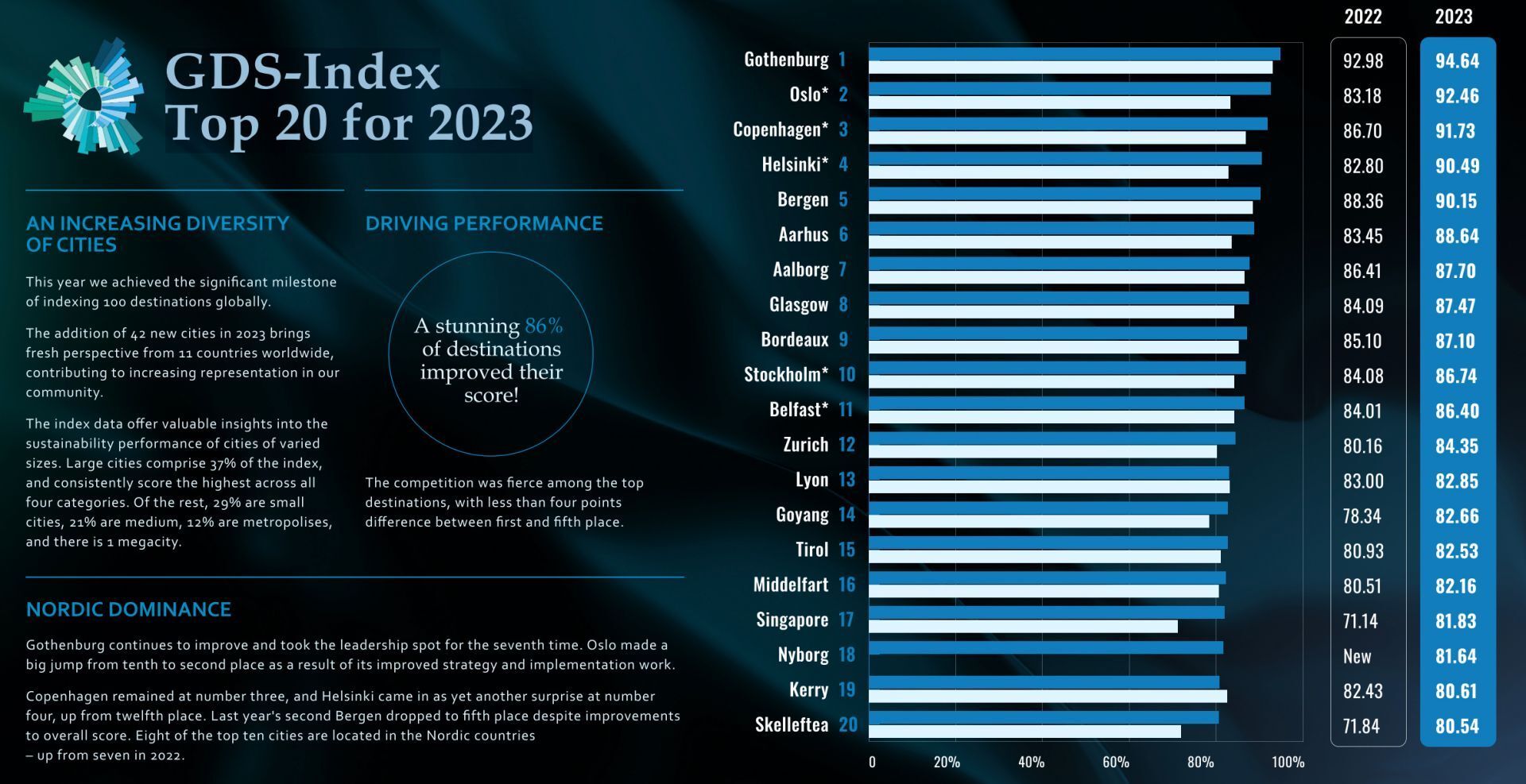 The Nordic countries, in particular, have showcased an unparalleled commitment to sustainability. With eight of the top ten cities hailing from this region, it's evident that the Nordics are setting a benchmark for the rest of the world.
While the top 20 destinations in the GDS-Index 2023 Report have garnered significant attention, the cities ranked from 21 to 40 are equally noteworthy for their sustainability efforts. These destinations, although not in the leading pack, have showcased commendable initiatives and are on a promising trajectory towards achieving higher sustainability standards. The diversity of these cities, spanning from Asia Pacific to North America and Europe, underscores the global nature of the sustainable tourism movement. Notably, newcomers like Songkhla from Thailand have made an impressive debut, ranking 23rd with strong scores in Environmental, Supplier, and Destination Management criteria. Other cities, such as Takamatsu and Kumamoto in Japan, have also marked their presence, reflecting the increasing emphasis on sustainable practices across different regions. These destinations, with their unique approaches and commitment to sustainability, are poised to climb the ranks in the coming years, further enriching the global tapestry of sustainable tourism.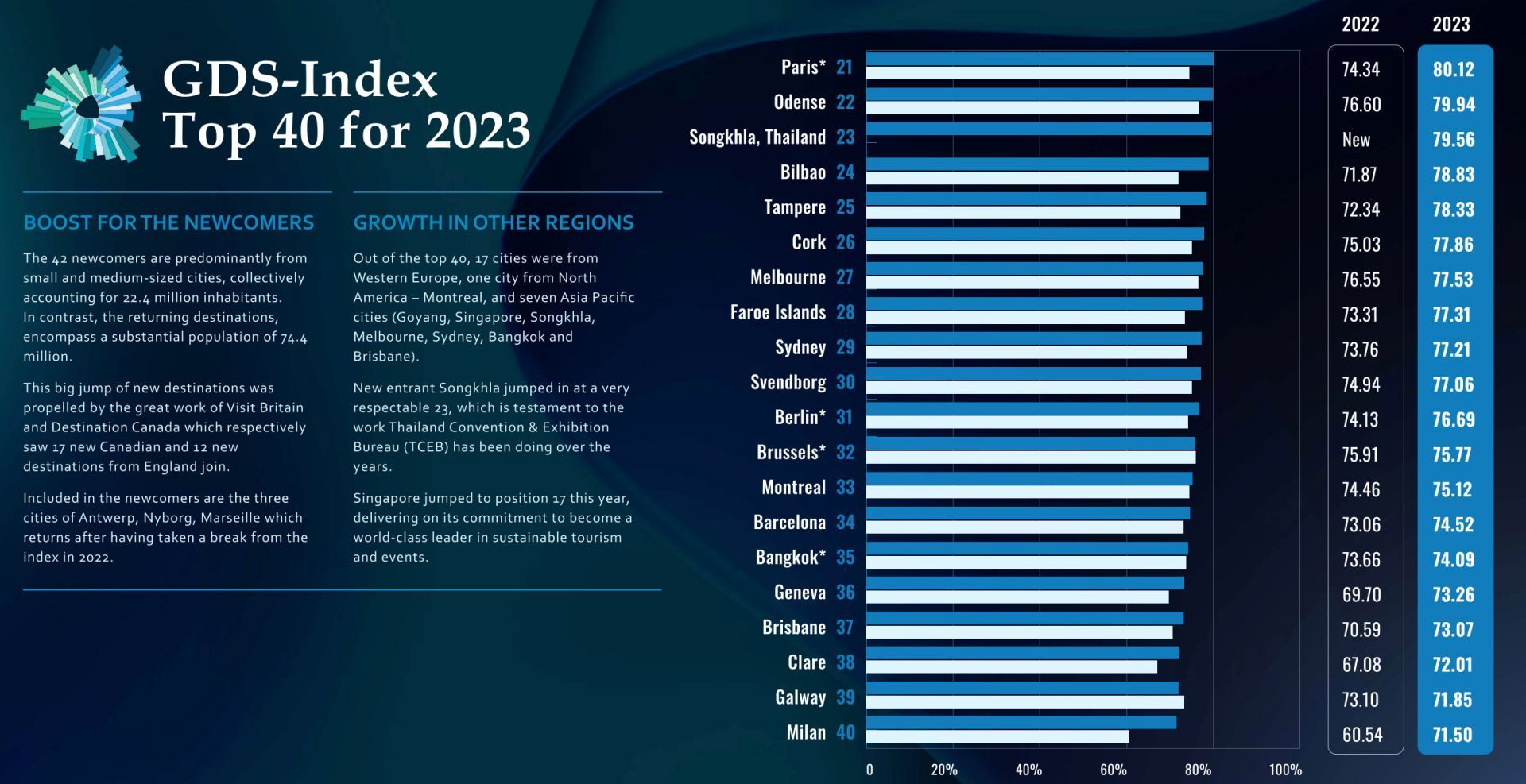 In conclusion, the top 40 sustainable travel destinations for 2023, as revealed by the GDS-Index Report, are a testament to the global efforts in promoting responsible tourism. These cities, through their actions and initiatives, are not only preserving their natural and cultural heritage but are also paving the way for a brighter, more sustainable future in the travel industry.